Strikes over pay paralyze German transport
By JONATHAN POWELL in London | China Daily Global | Updated: 2023-03-28 09:06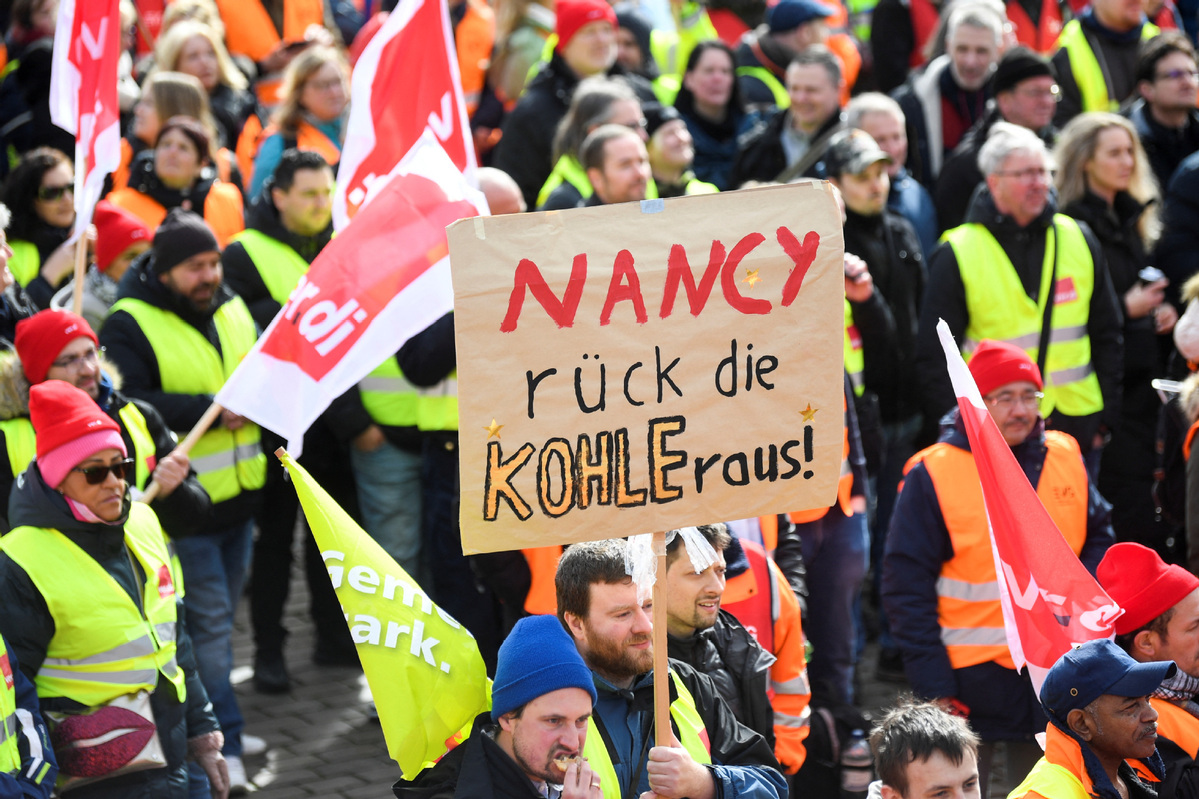 Germany's transportation network was brought to a near halt on Monday, as members of two of the country's largest trade unions went on strike to push for wage hikes.
Airports, ports, railways, buses, and metro lines nationwide ceased to operate after the 24-hour strike began at midnight, bringing travel disruption to millions.
Employees in many sectors are seeking pay rises amid soaring inflation that has increased the cost of living. Germany's inflation rate currently stands at 8.7 percent.
The EVG union, which represents 230,000 railway and bus company workers, called on staff at state-owned railway operator Deutsche Bahn and others to walk out, the Associated Press news agency reported.
General services union Verdi, which represents around 2.5 million public-sector employees, called on airport workers, transit staff, port employees, and highway workers to join the action. Verdi is seeking a 10.5 percent pay raise for workers and EVG wants a 12-percent increase, German broadcaster Deutsche Welle reported. Before a third round of pay talks this week, employers — mostly state and public-sector companies — had offered a 5-percent increase plus one-time payments.
Unions in Germany have had some success winning big pay increases this year, with postal workers recently securing an 11.5 percent pay rise.
"The willingness to strike is very high, and the anger among the workers over being stalled by the employers is huge," EVG negotiating committee member Kristian Loroch said on Monday.
"We are striking today because in collective bargaining, despite the tight financial situation for many workers, we have not been presented with anything that is worthy of serious negotiations."
Deutsche Bahn criticized the strike action, saying it would only hinder negotiations.
"Millions of passengers who rely on buses and trains are suffering from this excessive, overblown strike," Deutsche Bahn spokesperson Achim Strauss said.
Frank Werneke, chairman of the Verdi union, described the action as the biggest strike in decades, the Bild am Sonntag newspaper reported.
"With the strike day in the transport sector, it should be made unmistakably clear to employers once again that the employees stand fully behind our demands," Werneke said.
In response to politicians who said last week the strikes would prove a "burden" on negotiations, Werneke said: "What employees right up into the middle-income groups find to be a burden, above all, are the enormous price increases for electricity, gas, and groceries."