LeBron's leap of faith for Lakers
Share - WeChat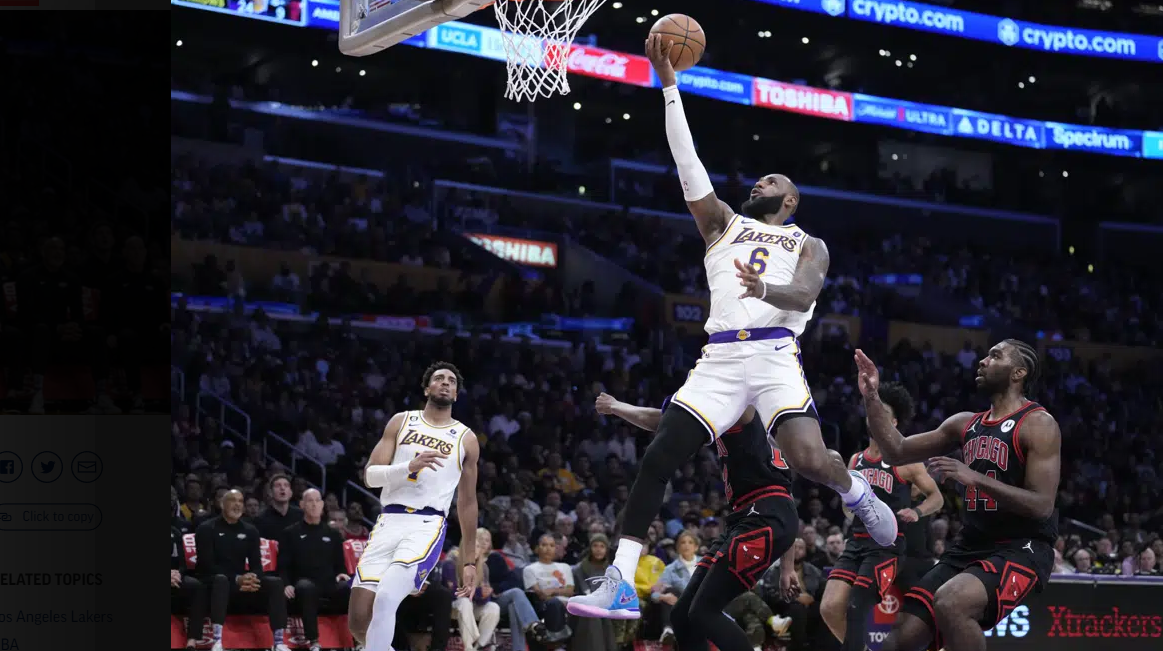 James reveals he opted against foot surgery to pursue LA's playoff push
LOS ANGELES — Los Angeles Lakers superstar LeBron James returned from a four-week injury absence on Sunday, revealing after the team's NBA loss to Chicago he had torn a tendon in his right foot.
James scored 19 points off the bench — just his second game as a reserve in his 20-year NBA career — but the Lakers fell to an energized Bulls team 118-108.
The 38-year-old star, who last month became the NBA's all-time leading scorer, revealed the severity of the injury in postgame comments to reporters, saying two doctors had recommended surgery.
James said he decided against that after consulting "the LeBron James of feet, and he told me I shouldn't".
James said doctors monitoring his progress told him he was healing faster than anyone they'd seen with a similar injury.
He was suddenly upgraded from "out" to "doubtful" on the Lakers' injury report on Saturday night and opted to take to the court after testing his foot in pregame warm-ups.
Now, he said, he'll see how his foot responds after he played 27 and a half minutes.
"It's day to day," James said. "Most important for me is Monday morning. When I wake up tomorrow and step out of bed we'll see what happens with that."
With seven games left in the regular season, the Lakers are in ninth place in the Western Conference — with the seventh — through 10th-placed teams set to battle in the play-in tournament for a berth in the playoffs proper.
They are just two games behind the sixth-placed Golden State Warriors.
The Lakers had gone 8-5 in James' absence, putting together a three-game winning streak capped by a victory over Oklahoma City on Friday that put them at .500 for the first time this season.
That streak ended on Sunday, but Lakers coach Darvin Ham was pleased to see his biggest star back on the floor.
"You could see him get in his rhythm, his timing, his finishes," Ham said. "He's going to be alright. We're going to be alright. It was great to see him back out there."
Ham said the Lakers left a decision on when to return up to James.
"Today just happened to be the day," Ham said.
James said Thursday he was working "around the clock" to regain full fitness but rejected reports he had set a target date to return before the end of the regular season.
On Sunday he said the decision came down to "when I felt comfortable I'd be able to explode and jump and run".
Enhanced mindset
James said watching his teammates battle during his absence had inspired him to work hard to get back on the floor.
"They go 8-5 and obviously had a chance to — the hell with the play-in, we actually can be a top-eight seed," James said.
"It definitely changed my mindset on me coming back and trying to be a part of this. Well, I don't even want to say changed my mindset. It just enhanced what I was trying to do as far as my workouts, as far as my treatment and everything."
James has missed 27 games this season due to various injuries, matching the most of any campaign in his career.
On Feb 26, he went down hard in a game against Dallas, clutching his right ankle and heel and saying he'd felt something "pop".
When healthy this season he's been in solid form, averaging 29.3 points per game, 8.4 rebounds and 6.9 assists.
Chicago largely controlled play despite James' return, streaking to a 20-point lead in the second quarter. Los Angeles briefly got the lead down to single digits down the stretch, but got no closer.
"There are going to be swings, and that was the encouraging part," Bulls coach Billy Donovan said.
"I'm seeing a response back competitively."
Patrick Beverley had 10 points and five assists in his first game against the Lakers since they traded him last month.
Beverley has been outspoken about his desire to hurt the Lakers' playoff hopes during this home-and-home series between the teams, but Anthony Davis and the other Lakers just smiled at his provocative talk.
After making a little hook shot with 1:12 left to boost Chicago's lead back to double digits, Beverley slapped the floor and made the dismissive "too small" gesture sometimes used by NBA players to taunt their opponents — in this case James.
"I was just playing basketball," Beverley said. "Obviously it's good to see some old teammates, old coaching staff."
Troy Brown Jr. and Malik Beasley scored 18 points apiece, but Davis managed just 15 points and nine rebounds as the Lakers (37-38) failed to get above .500 for the first time since Jan 9, 2022.
The Lakers were without D'Angelo Russell, who missed his second straight game with a right hip injury. Los Angeles went 8-5 in James' absence, but his return will force an adjustment of the chemistry built by his teammates in that period.
"We came out a little flat, turned the ball over early, just weren't aggressive enough, physical enough," Ham said.
Agencies
Most Popular
Highlights
What's Hot