US should learn from China's diplomatic success: American scholar
chinadaily.com.cn | Updated: 2023-03-28 14:35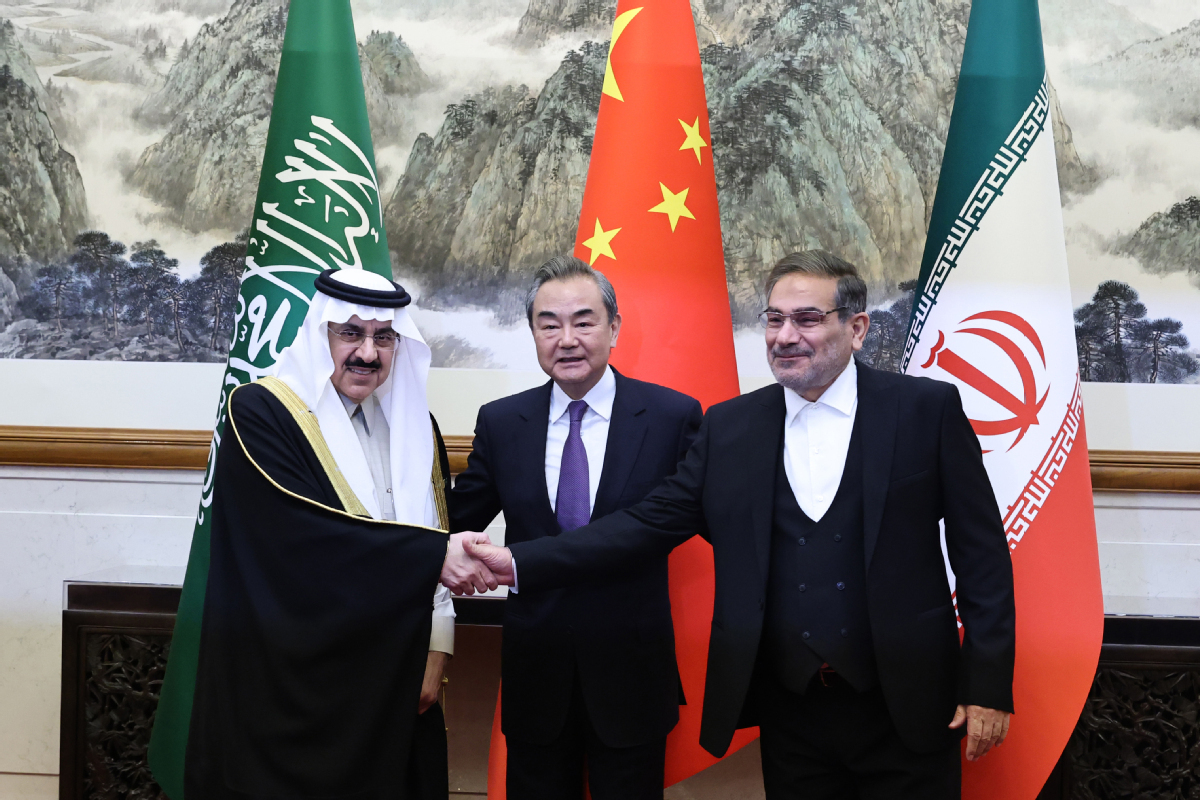 China's successful mediation between Iran and Saudi Arabia should be regarded as a wake-up call for the Biden administration's national security team, particularly Antony Blinken's Department of State, Melvin A. Goodman, a senior fellow at the Center for International Policy and a professor of government at Johns Hopkins University, said in an article published on the website of CounterPunch on March 21.
According to Goodman, China's success lays bare the US flawed national security policy, particularly the policy of non-recognition as well as the reliance on the use of military force to achieve gains in international politics.
Goodman noted that China, by maintaining the importance of correct political relations with all countries regardless of their ideological orientation, has stable relations with most of its friends and adversaries.
The US, in contrast, for the past century has adopted a non-recognition policy based on ideology, Goodman said. "Washington has serious bilateral issues with both Tehran and Pyongyang, although there is ample evidence that both Iran and North Korea are willing to pursue a dialogue with the United States."
Moreover, while China maintains successfully economic relations under its Belt and Road Initiative, Goodman argued, the United States resorts to military force in the implementation of its foreign policy.
Goodman pointed out that ever since the Obama administration, the US has been hyping up the threat of the BRI but without any success whatsoever. The mainstream media has joined the anti-China rhetoric by frequently charging that Sri Lanka is facing a "debt trap" because of high levels of debt in various projects of the BRI. "In actual fact, 80 percent of Sri Lanka's foreign debt is owed to multilateral institutions such as the World Bank and Wall Street investors. Its debt to China is only 10 percent of its total foreign debt."
In addition to brokering the Saudi-Iranian rapprochement, China has increased its trade with the Gulf Cooperation Council, where China has replaced the European Union as the GCC's largest trade partner, Goodman added.
Goodman warned that Biden needs to wake up to the reality that the containment of China has been a remarkable failure. "It is time for the Department of State and the Agency for International Development to pursue new thinking for US diplomacy and to curtail the old thinking that has given institutional pride of place in decision making to the Department of Defense."
China's economic policies pose no threat to the United States, and the US is unable to "contain" China in any event, Goodman concluded. The world's stronger economies contribute not only to international security generally, but benefit the US in particular.