Egypt-China partnership, an inspiring story to people
By Mao Li and Wu zhengdan | People's Daily | Updated: 2023-03-28 17:06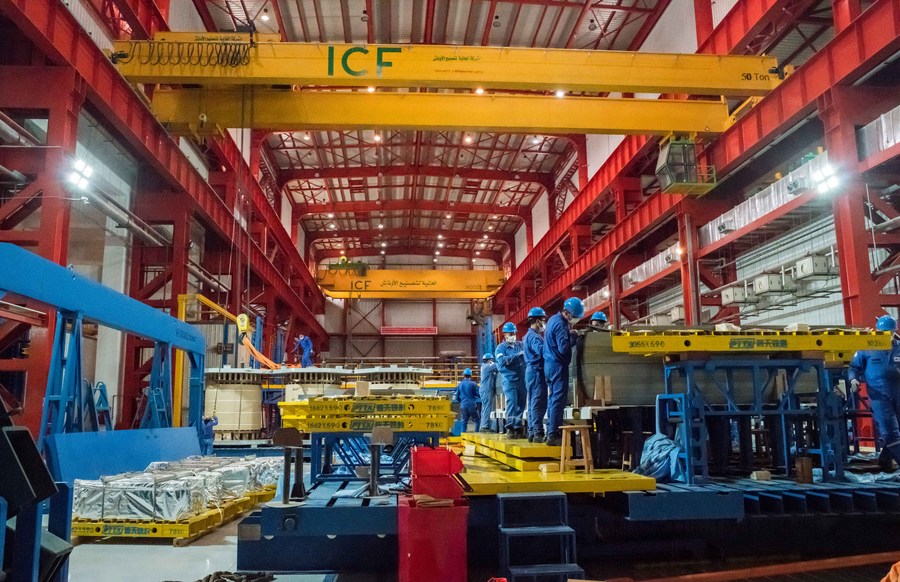 "I use WeChat and my family and friends in Egypt find Chinese short-form video platform very interesting." Assem Hanafi, ambassador of Egypt to China, said that he hopes social media, an important channel for the younger generation to get information, can bring two peoples closer.
"Each day is a new experience to me"
Hanafi's first encounter with China happened at school. "We in Egypt read about Chinese civilization as much as here in China students read about Egyptian history. And we are aware of the ancient Silk Road." During his university years, Hanafi majored in international relations and showed a deep interest in Chinese politics. He studied how the Communist Party of China came into being and how the Chinese struggled for national independence. The similar historical experiences of China and Egypt resonated strongly with Hanafi: "All these times, both Egyptian and Chinese people have been asserting their own national independence and dignity, and defying hegemony and exploitation."
Hanafi arrived in China as the ambassador in September, 2022. "This is my first time to visit China. Each day is a new experience to me, which makes me very excited," Hanafi said. "I've been to Shanghai and Tianjin and I hope to visit more provinces and cities in China to embrace its colorful culture and high-quality economic development."
"Chinese modernization" is the focus of Hanafi's in-depth observation of China. In a few decades China has completed an industrialization process that took developed countries in the West hundreds of years to complete, creating a miracle of rapid economic development and long-term social stability. "I totally understand how the country has come a long way in alleviating poverty, in achieving prosperity and in securing a dignified life for its population. It is not something simple to secure a decent life for 1.4 billion people. All this, a huge undertaking that we have to praise, has been achieved under the leadership of the Communist Party of China."
Hanafi saw new options for developing countries to pursue an independent path to modernization from the Chinese modernization. "I respect China's experience in moving toward modernization," Hanafi said. China's modernization has been deeply rooted in traditional Chinese culture, from which Egypt can learn a lot. "The Chinese people attach great importance to their country and family and we Egyptians cherish family harmony and social unity as well. I'm very curious about how China keeps progressing rapidly while maintaining its traditional values. The mix impresses me."
"We are welcoming China's prosperity"
China's economic recovery is among the topics that Hanafi pays most attention to in 2023. The streets are regaining vitality; the scenic spots, shops and restaurants are back to normal; and the factories and supply chains are fully functioning. From these people can feel the strong pulse of China's economy. "I'm optimistic about China's economic outlook. The world economy has still not been back to its best, but it is encouraging to see that China's economy is expected to recover with strong momentum and vitality this year," Hanafi said. "We are welcoming China's prosperity, which is closely related to global prosperity. Any progress that China makes is progress for all the world."
Talking about the opportunities China's development has brought to the world, Hanafi said, "The joint building of the BRI is an important sign of China's contribution to the world." He said that this year marks the 10th anniversary of the BRI. The initiative has delivered benefits to places around the world over the past decade, which matters a lot to countries involved. Egypt is among the first countries to respond to the Belt and Road Initiative. The two countries' joint efforts in building the BRI have produced fruitful outcomes over the past 10 years. "Egypt-China cooperation has a lot of good projects, covering ports, industry, education and other areas of concern to the Egyptians. The Egyptian people can see the Chinese national flag at project sites and feel the tangible results of the BRI cooperation," Hanafi said.
The 10th of Ramadan Railway in Egypt is one of the flagship projects of China-Egypt BRI cooperation. The railway connects Cairo, the capital of Egypt, with the New Administrative Capital and other pivotal cities, facilitating the movement of nearly 5 million residents along the line since its opening to traffic in 2022. "This light rail has offered experience for Egypt to develop its inter-city rapid transit systems," Hanafi said.
Hanafi also praised the "Tianjin Economic-Technological Development Area", or TEDA project in the Suez Canal Economic Zone. After years of development, a new modern industrial city has been built along the shores of the Red Sea thanks to the joint efforts of Egypt and enterprises from Tianjin. "I have visited the zone, and have had quite a number of talks with officials from TEDA. And I also went to Tianjin not very long ago. I've heard that the economic zone has attracted many industrial enterprises and provided direct or indirect job opportunities for more than 50,000 Egyptians. The achievements they have made are very impressive." Hanafi said, "The BRI stories between Egypt and China are appealing. We are looking forward to many more promising projects under the BRI."
"A good example of South-South cooperation"
Looking back, Hanafi said that Egypt-China cooperation in the international arena has been of strategic significance that goes beyond the two countries, and that "Egypt-China relations set a good example of South-South cooperation."
Taking the global governance on climate change as an example, Hanafi said that the United Nations Climate Change Conference in Sharm El Sheikh (COP27), hosted by Egypt in 2022, has established the Loss and Damage Fund to assist developing countries vulnerable to climate change, an outcome that cannot be achieved without the cooperation of all friendly countries including China. As Egypt and China are coordinating closely under the COP27 framework, a lot can be achieved in the bilateral cooperation on green transition. Both countries are moving toward "carbon neutrality" and are promoting cooperation in the fields of wind, solar and hydrogen energy. "Climate change, crossing borders, affects the safety and well-being of the people all over the world and everyone will benefit from the green transition," Hanafi said.
"Developing countries have great potential to work together for common goals." Hanafi said that Egypt-China space cooperation is another vivid example. Egypt is the first country to conduct satellite cooperation with China under the framework of the BRI. In recent years, Egypt-China space cooperation has produced fruitful outcomes. "China's advanced space technologies can be applied in such areas as disaster prevention and mitigation as well as agriculture. The country's edge in space technologies can help Egypt and many other developing countries."
When talking about his understanding of South-South cooperation, Hanafi emphasized that, "We are not living in a North-versus-South world and countries need to welcome all friendly partners with open arms. If developing countries prosper, we shall have to buy more from the developed world. China has extended its goodwill and supported the BRI, the Global Development Initiative, the Global Security Initiative, and the Global Civilization Initiative, which have helped in presenting China's narrative and outlook for better future of the world."