Sales of new energy vehicles poised to accelerate
By FU SHENG | CHINA DAILY | Updated: 2023-03-29 07:03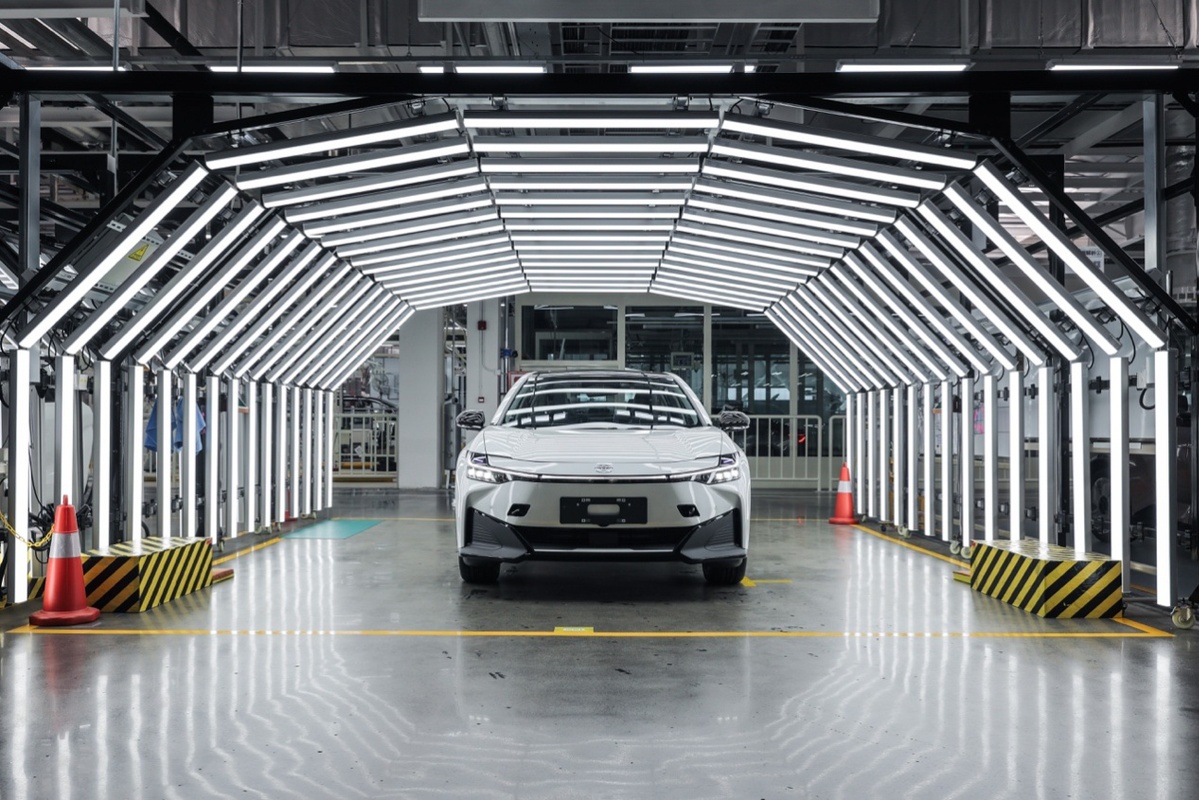 Auto executives optimistic about sector's prospects
China's new energy vehicle sector, the largest in the world, is showing signs of robust development after being weaned off government subsidies at the end of last year.
Financial stimuli introduced in 2009 to help the sector ended on Dec 31 after several rounds of gradual cuts since 2017.
Last year, Chinese manufacturers delivered a total of 6.8 million electric cars and plug-in hybrids, a rise of 93.4 percent year-on-year, according to the China Association of Automobile Manufacturers, or CAAM.
These autos accounted for 25.6 percent of China's overall vehicle sales in 2022, surpassing a goal of 25 percent set for 2025 in a national blueprint.
However, sales of new energy vehicles, or NEVs, fell by 6.3 percent in January, with their share of the total market declining slightly to 24.7 percent, CAAM said.
Such a fall — rare in a market that has seen double-digit growth in recent years — has prompted speculation that the sector may lose steam without financial stimulus measures.
Officials and auto executives agree that the market is feeling the impact from the subsidies ending, but they are optimistic about prospects for the sector.
Speaking at a conference in Beijing last month, Miao Wei, minister of industry and information technology from 2010 to 2020, said the withdrawal of the subsidies last year could not have had a bigger impact than the reductions in 2019, which slashed the stimuli from the level in 2009.
The Ministry of Industry and Information Technology puts forward and revises policies concerning the automotive industry, sometimes in collaboration with other departments.
In 2018, electric cars with a range of 400 kilometers qualified for a central government subsidy of 50,000 yuan ($7,275). One year later, the subsidy for models with this range was reduced to 18,000 yuan, while owners of those with a range of more than 400 km were entitled to an allowance of 25,000 yuan.
Last year, buyers placing orders for models with a 400-km range were eligible for a 12,600 yuan subsidy, which ended at the start of this year.
Miao said, "That amount (12,600 yuan) was much lower than the cut made in 2019, and the government announced the plan to stop the subsidy well in advance. Everybody knew the subsidy was scheduled to go by the end of 2020, but it was extended to the end of last year because of COVID-19."
Yet the 12,600 yuan subsidy — about one-third the per capita disposal income in China last year — and awareness that it would soon end, enticed many buyers to place orders for NEVs in 2022.
Cui Dongshu, secretary-general of the China Passenger Car Association, said the rush to buy, coupled with the Spring Festival holiday, which this year fell in January, dented NEV sales for that month. Cui expects the market to show an improvement from February onward.
The association estimates that sales of passenger NEVs in China will reach 8.5 million this year, up from 6.5 million in 2022. Total NEV sales this year, including those of commercial vehicles, are expected to reach 9 million.
Miao said withdrawal of the subsidy may result in reduced sales for several months, but despite this, he said NEVs could still account for 30 percent of total vehicle sales this year, up from 25.6 percent last year.
Analysts at Cinda Securities said in a research note that January would be the lowest point for vehicle sales this year, which would rise from February to April.
Paul Gong, an auto analyst at UBS, said the Chinese market is now driven primarily by customer demand instead of subsidies, which helped boost the market in the early stage of its development.
In 2012, less than 10,000 NEVs were sold, and most of these sales involved buses. Last year, 6.89 million NEVs were sold, of which 94 percent were private vehicles, according to CAAM.
The number of registered NEVs in China reached 13.1 million by the end of last year, a year-on-year rise of 67 percent, according to the Ministry of Public Security.
Last year, Chinese NEV maker BYD overtook FAW-Volkswagen as the nation's best-selling carmaker, selling 1.86 million vehicles, a year-on-year rise of 149 percent.
Gong said people will be increasingly attracted to NEVs as they see more of these vehicles on the roads.
Wang Lei, an information technology engineer in Beijing, said he is considering trading his Volvo S60 sedan for an electric car. In many large cities, these vehicles are exempt from the "no-drive days" that are enforced once a week.
After taking a ride in an electric model that featured remote starting, voice command, auto parking, a large touchscreen and rapid acceleration, Wang now feels that his gasoline-powered car is like "something from the Stone Age".
Some 27 percent of car owners in China next plan to buy a NEV, global auditing company Deloitte said in an annual report late last month. These owners cite better driving experiences and lower costs as the main reasons for purchasing NEVs.
Deloitte's findings were based on a survey of 1,012 respondents. In 2022, about 17 percent of car owners in China said they would next buy a NEV.
Charging infrastructure also helps persuade buyers to opt for NEVs. The National Energy Administration, or NEA, said China now boasts 5.2 million charging pillars — 1.8 million public ones and 3.4 million that are privately owned.
NEA spokesman Liang Changxin said such infrastructure is an important guarantee for development of the NEV industry.
The China Electric Vehicle Charging Infrastructure Promotion Alliance said there is one charger for every 2.6 electric vehicles in the nation.
China now has the largest and most widely distributed charging infrastructure network in the world, with more than 3,000 companies engaged in the charging pillar business.
Statistics from Deloitte show that last year 280 electric models were available in the Chinese market.
Zhang Yongwei, vice-president of China EV 100, a major think tank in the electric vehicle industry, said manufacturers will launch at least 100 such models this year.
"It takes only a year or 18 months to develop a new electric vehicle, compared with three years for gasoline-powered models," he said.
Robust competition
New models and new players in the industry have brought fierce competition.
Electric vehicles are easier to manufacture than those powered by gasoline, as they do not require sophisticated engines and transmissions, and battery output enables rapid acceleration.
As a result, electric vehicles have an advantage over gasoline models, but they face a problem of how to stand out from the competition.
Nio, a major electric carmaker in China, enjoys a loyal following simply by being customer-friendly.
This may sound simple, but such an approach requires far more than merely putting on a smile when potential buyers visit a dealership.
For example, Nio invites owners of its vehicles to make dumplings at the company's showrooms to celebrate Spring Festival. It also offers them a chance to meet the cast of a smash-hit movie.
During the Spring Festival holiday, Nio sent a rescue vehicle to help a car owner who had a flat tire on an island in Fujian province, where no mechanics were available.
Nio staff members also took care of a vehicle owner's cat during the weeklong Spring Festival holiday, when he flew to visit his parents.
Qin Lihong, Nio's president, said that during the Spring Festival travel rush, the company's 7,563-member service team handled more than 199,000 requests for assistance, ranging from a car wash and valet charging to emergency roadside services.
Jidu Auto CEO Xia Yiping said intelligent driving features are a key selling point for the manufacturer's cars, as they boast years of research and development on intelligent driving from technology giant Baidu.
Smartphone maker Xiaomi is on track to launch its first electric vehicle next year. Lei Jun, the company's CEO, said Xiaomi has advantages in electronics, user experience and network operation, which are important for electric vehicles.
Xiaomi has built an ecosystem incorporating smart devices and smart homes, winning a huge fan base. The company said it will use its internet of things technology for customers to experience this digital ecosystem in its vehicles.
The brand aims to achieve annual sales of 10 million vehicles and be among the top five auto manufacturers worldwide in the next 15 to 20 years.
The sector's rapid development has resulted in a technological breakthrough.
This month, HiNa Battery, a high-tech company affiliated with the Chinese Academy of Sciences' Institute of Physics, unveiled an electric vehicle powered by a sodium-ion battery.
Sodium-ion is an emerging technology that has substantial cost, safety and sustainability advantages over conventional lithium-ion batteries.
Sodium-ion battery packs have an energy density of about 140 watt-hours per kilogram, lower than their lithium-ion counterparts, but the gap is closing as a result of innovations and breakthroughs in battery design and materials science, the company said.
The scarcity and cost of lithium have long been a challenge to the battery industry.
With companies around the world spending years seeking an alternative, sodium-ion battery technology has emerged as one of the most promising candidates.
China is home to the world's largest power battery makers, including CATL and BYD.
New players welcome
As the burgeoning NEV market gains momentum, analysts have warned of the possibility of overcapacity, suggesting that higher qualifications are needed for companies to enter the sector.
However, Miao, the former minister of industry and information technology, is not in favor of raising the threshold for new players to join the competition.
He said they are welcome as long as they use their own money, adding that competition is good for the industry and consumers.
But Miao said that local governments should avoid excessive activity in the sector — be it building plants to woo carmakers, or helping raise funds for them.
"These authorities should focus on their main responsibilities, such as creating a sound business environment and facilitating administrative procedures," he said.
"Local governments don't have much of an understanding of the auto industry," Miao added, citing bankruptcies of NEV startups, including Byton and Qiantu, in which such administrations were deeply involved.
"To err is human, but we should not make the same mistakes repeatedly," he said.
Miao said there is no systematic overcapacity in China's NEV sector, but added that to a certain extent overcapacity is conducive to the market's rapid development.
"We should curb overcapacity in the gasoline vehicle segment, and consider how to tap into their overcapacity for NEV production," he said.
China's annual production capacity for passenger vehicles, including NEVs and gasoline-powered models, stood at 40.89 million by the end of 2021, according to the China Passenger Car Association.
That year, passenger vehicle sales in the nation reached 20.15 million, including 2.99 million NEVs. Passenger NEV sales more than doubled to 6.49 million last year, while total passenger vehicle deliveries stood at 20.54 million, almost the same as in 2020.