China, UK explore options to boost low-carbon cooperation
By XING YI in Belfast | China Daily Global | Updated: 2023-03-30 06:58
Academics, officials, experts gather for forum about new energy solutions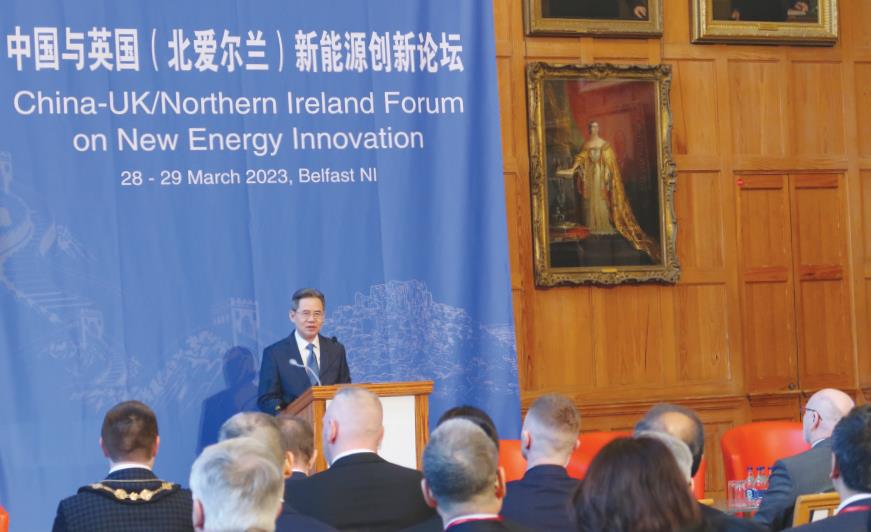 With China having become the world's largest hydrogen consumer and producer, huge potential for cooperation in the sector awaits China and the United Kingdom, officials and experts said in Belfast, Northern Ireland on Tuesday.
They made the remarks at the China-UK/Northern Ireland Forum on New Energy Innovation, which was the first event of its kind and was attended by more than 100 government officials, business representatives, and researchers from the two countries.
"This forum goes well in line with the development direction of both China and the UK… The two countries' policy goals in promoting green and low carbon development are highly aligned," said Zheng Zeguang, China's ambassador to the UK, in his opening remarks at the forum, which ran through Wednesday.
"One of the major principles of China's path to modernization is harmony between mankind and nature. China is firmly committed to the targets to achieve carbon peaking by 2030 and carbon neutrality by 2060," he said. "And our tradition is we mean what we say, and we deliver on what we promise."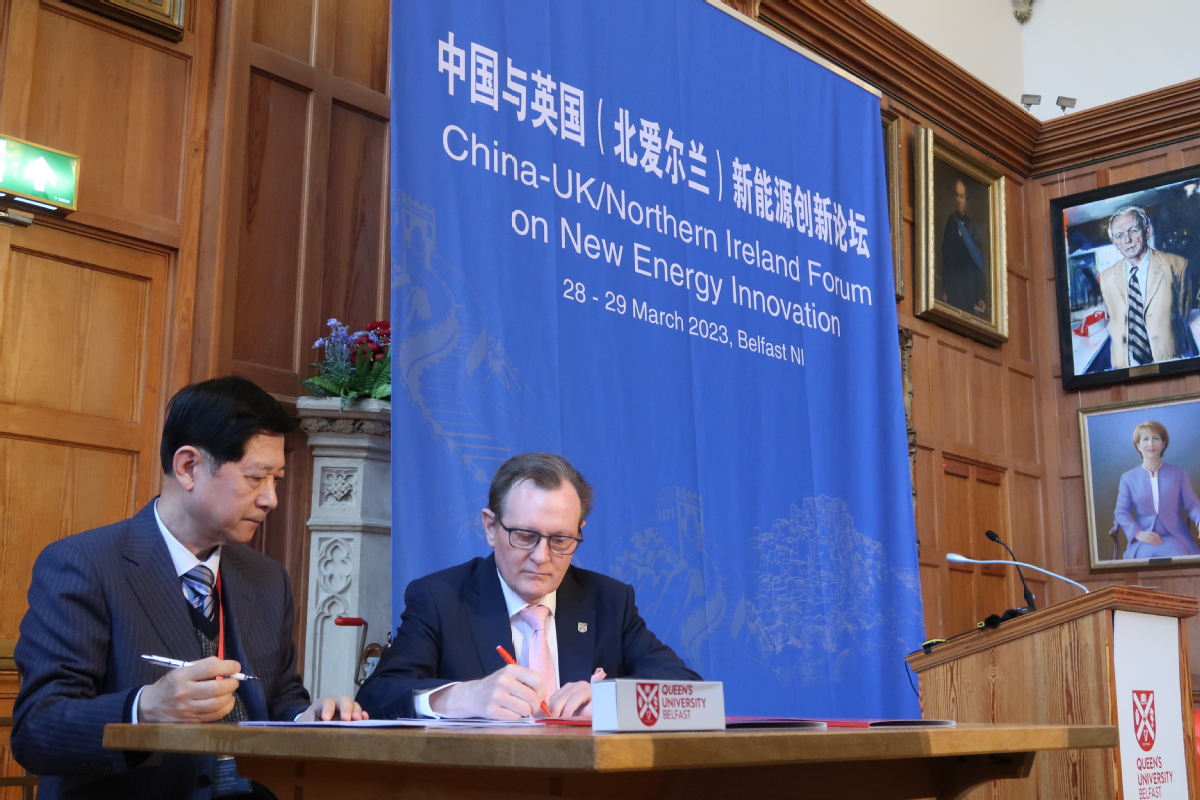 The first day of the forum centered on hydrogen energy, and memorandums of understanding, or MOUs, on research collaboration on hydrogen energy were signed by Queen's University Belfast with its Chinese counterparts, Foshan Xianhu Laboratory and Wuhan University of Technology.
Cheng Yibing, strategic scientist of the Foshan Xianhu lab, said hydrogen energy has been identified as a strategic emerging industry, according to plans made by China's National Development and Reform Commission and National Energy Administration for 2021-2035.
"Chinese government and industries have made significant investment developing hydrogen energy in recent years — more than 250 hydrogen refueling stations have been built, accounting for 40 percent of the global total number, and ranking first in the world," Cheng said.
He added that Foshan city leads in hydrogen energy development, and the lab's research aims to support local hydrogen industry and promote hydrogen applications.
"We sincerely wish the collaboration with Queen's University Belfast will be fruitful and result in the creation of new industry and new jobs, and benefit the people of both countries," said Cheng.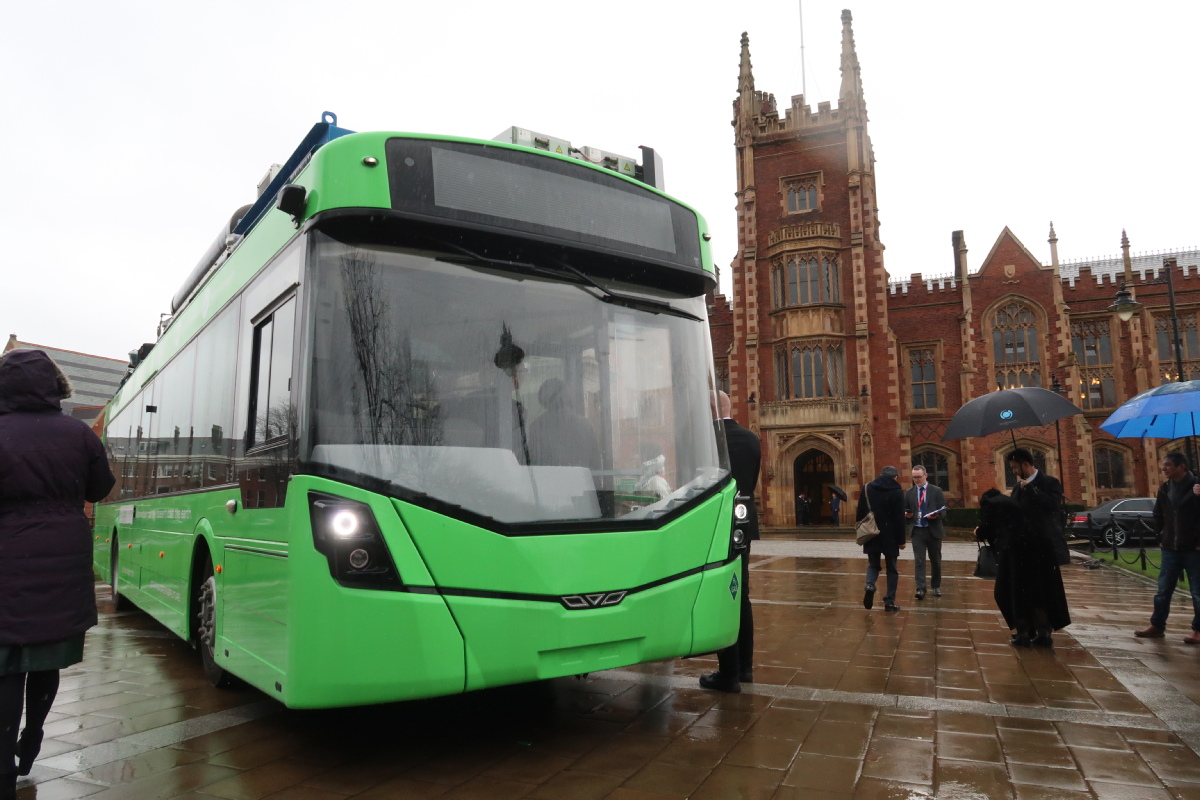 Margaret Topping, pro-vice-chancellor of Queen's University Belfast, said: "Queen's University has partnerships across the globe … and we're extremely proud of our longstanding partnerships with China, which will be extended today through the signing of two new MOUs.
"This will further enable us to truly translate clean energy research into innovation that addresses real-world needs and helps to shape a shared world."
Besides policy and research, it was also noted at the forum that business cooperation is vital in supporting the green economy.
Zhu Wenjin, vice-chair of the China Chamber of Commerce in the UK and managing director of PetroChina International (London), said the chamber and the 300 Chinese companies in the UK it represents are keen to contribute to the UK's net-zero goal, and around 20 Chinese energy companies are investing or operating in the UK.
"The scope of our energy cooperation has expanded from traditional fields like oil and gas exploration and refining to nuclear power, wind power, and green hydrogen power generation, battery storage, and charging network construction," he said.
John Edwards, the UK's trade commissioner for China, said that the two governments' commitment to carbon neutrality is only the start of the global green transition, and in practice, it needs money to flow towards green and sustainable projects.
He praised the 5.4-billion-US dollar green bonds issued by Chinese banks in London during 2021's COP26 climate change summit, and also the UK-China green finance committee, as good examples of bringing world-leading experts from both countries together, to talk about green finances.
"Above all, for it to work it needs people working together at the national level and at the regional level — governments, businesses, academia, citizens," he said. "The future of our world depends on climate action and the future of climate action depends on global collaboration."