Giraud recognized for China's Choix Goncourt honors
Share - WeChat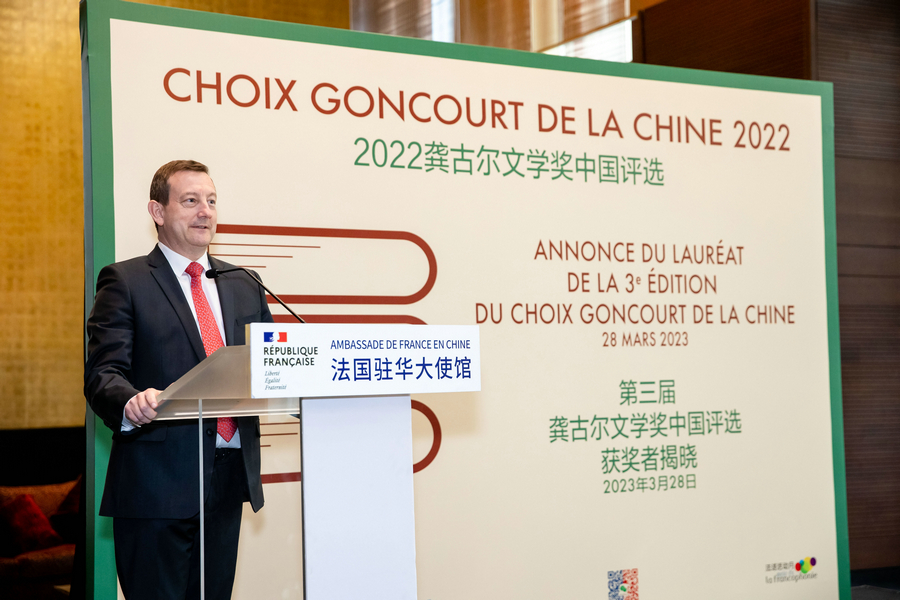 On Tuesday, French author Brigitte Giraud was awarded the Choix Goncourt China 2022, China's choice of the 2022 Goncourt Prize, for her novel Vive Vite (Living Fast) in Beijing.
French ambassador to China Bertrand Lortholary, who took office on March 13, held a press conference for the announcement.
Created in 1903, Le Prix Goncourt is France's highest literary honor recognizing "the best and most imaginative prose of the year". The prize is often mentioned with the Pulitzer Prize in the United States or the Booker Prize in the United Kingdom.
The laureate is chosen by 10 members of the Goncourt Academy. Marcel Proust, Simone de Beauvoir and Marguerite Duras were among past winners. The prize comes with a symbolic award of 10 euros (74.7 yuan), but the win usually results in sharp spikes in sales.
The Choix Goncourt China was set up in 2018 by the French embassy in China, making China the first country in Asia and the 12th in the world where the French literary prize is selected.
For the competition's third edition, more than 100 second-year graduate students and PhD students from the French departments of 10 Chinese universities were invited to form the jury of the Choix Goncourt China 2022. They spent months reading the eight shortlisted works for the year's prize before deliberating on their favorite title through a two-round vote.