Embiid adds to his MVP credentials
Share - WeChat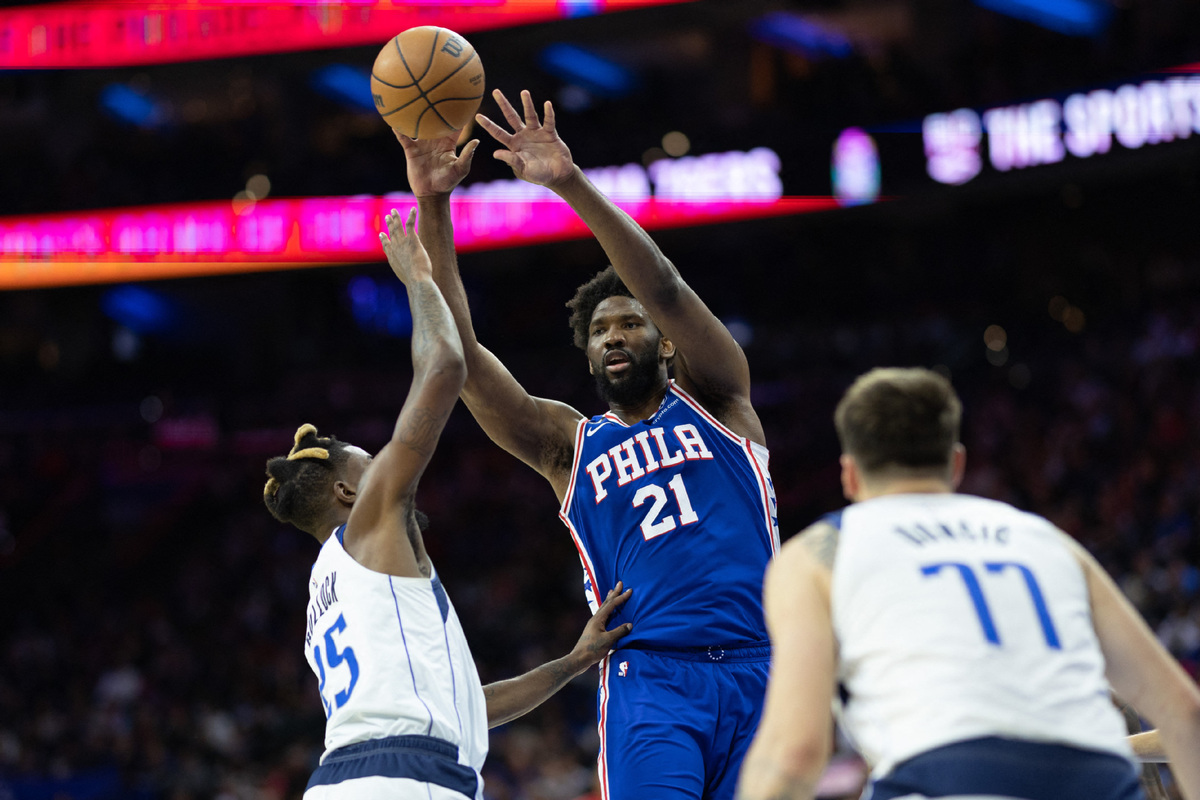 PHILADELPHIA — Joel Embiid got the 76ers to 50 wins in the fewest amount of games since 2001. Maybe like Allen Iverson and the '01 Sixers, perhaps Embiid's next step is an MVP and a trip to the NBA Finals.
Embiid had 25 points and nine rebounds, James Harden added 15 points and 12 assists and Philadelphia beat the Dallas Mavericks 116-108 on Wednesday night.
Embiid flashed his MVP credentials despite playing with a calf injury, and powered the Sixers back in the fourth quarter against Luka Doncic, getting them to 50 wins in 76 games. Embiid hit a 3-pointer to tie it at 103 and followed with a 16-footer (5 meters) the next time down for what ended up being the winning basket to keep the 76ers as the No 3 seed in the East.
Doncic had 24 points, 10 rebounds and eight assists. Kyrie Irving scored 23 points for the Mavericks, who did not score in the final 3:18 of the game.
Tyrese Maxey added 22 points to help the 76ers snap a three-game losing streak. They returned from a 1-3 trip with both Embiid and Harden healthy. Harden (Achilles) missed the last four games.
"They looked good, not great," coach Doc Rivers said of his returning stars.
Embiid returned from a hotly debated one-game absence against Denver and fellow MVP candidate Nikola Jokic because of a sore right calf. Embiid played in both games of a back-to-back set against Golden State and Phoenix. After a day off, Embiid couldn't go in the anticipated showdown of MVP front-runners, leaving the team and the All-Star center open for criticism.
Why not rest Embiid against Phoenix?
Rivers said the issue wasn't simple. The plan was always to play Embiid on the entire trip, but the NBA's reigning scoring champion simply couldn't go against the Nuggets.
That scuttled the highly anticipated showdown between MVP candidates that many felt could have decided whether Embiid, the runner-up in the last two years, denied Jokic a third consecutive award.
Some voters opined Embiid's day off could cost him MVP first-place votes. Rivers said that wasn't a fair decision.
"You're not (MVP) for just one game, that I know of," Rivers said. "It's for the entire season of work, your team's record and how you perform. He's been dominant all year. He's missed other games... Will that hurt him? I doubt it but it could. I don't know what people use as criteria. It seems like it changes weekly what the real criteria are."
Home cooking
The 76ers are not only coming off a four-game trip, they wrapped up a stretch in which they played 12 of 15 games this month on the road.
"Let's get through this game and then I think we can take a deep breath," Rivers said. "I think the first game is hard. Then you can get your legs back."
The Sixers were off on Thursday and play another home game on Friday before the regular season starts to wind down. Embiid and Harden are banged up but can get some time off once the play-in tournament starts.
"I'm not worried about rest as much anymore," Rivers said. "That's the one great thing about the play-in. You do get a little bit of time to practice and rest. We are probably way more focused on conditioning than we are rest."
Agencies via Xinhua
Most Popular
Highlights
What's Hot