HK, mainland discuss feasibility of metro-style high-speed rail service
Share - WeChat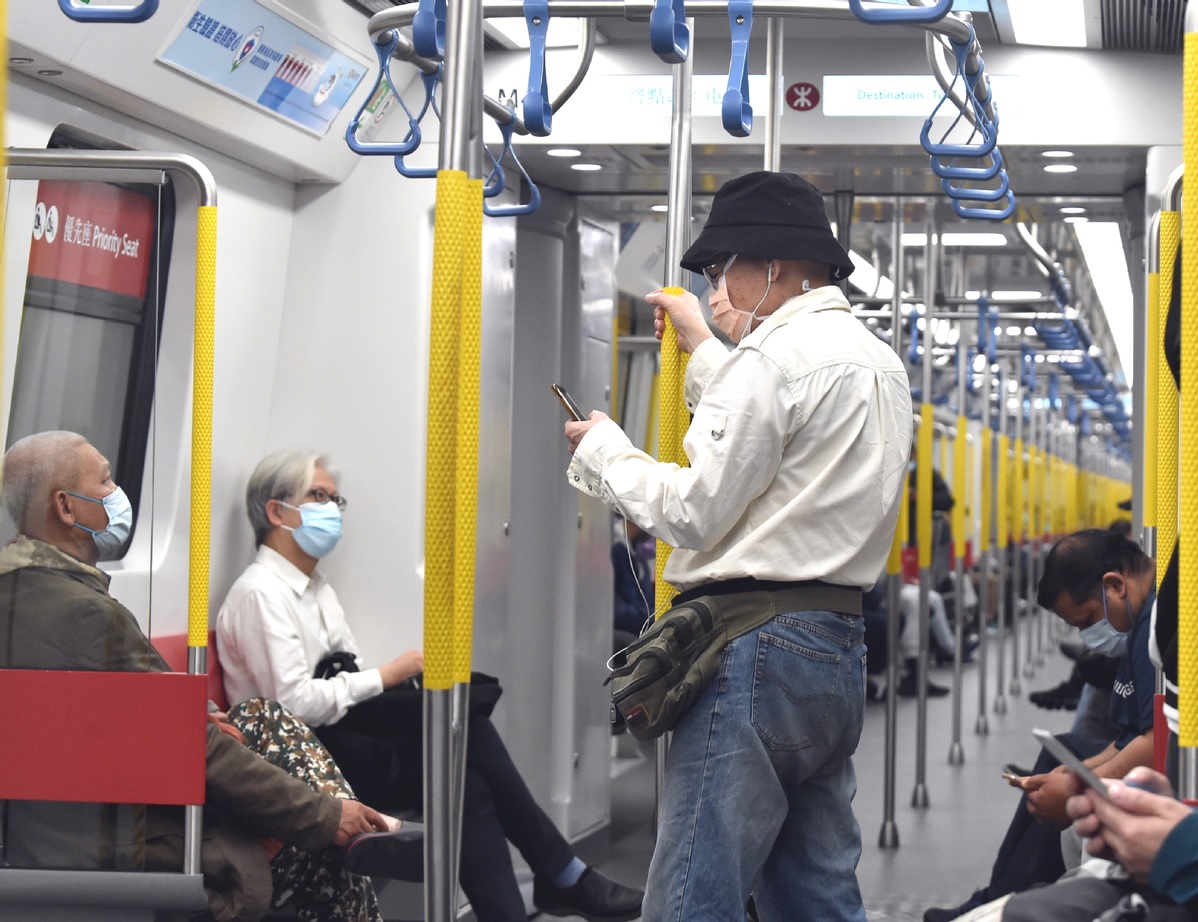 A task force has been set up to study the feasibility of introducing a "metro-style" short-haul high-speed rail service between Hong Kong and the Chinese mainland, and authorities are also discussing standing-only tickets and monthly passes to offer more flexible high-speed rail services, according to Hong Kong's transportation chief.
Lam Sai-hung, secretary for transport and logistics of the Hong Kong Special Administrative Region, said on Wednesday that MTR Corp, which operates the Hong Kong section of the Guangzhou-Shenzhen-Hong Kong Express Rail Link, has set up a task force with mainland railway authorities to discuss the "metro-ization" of short-haul services, which will give passengers the flexibility to choose any train traveling to or from a mainland destination on any particular day.
Lam said the safety of railway operations and passengers is always the top priority, and the introduction of standing-only tickets would depend on the types and designs of trains and the regulations on railway operations on the mainland and Hong Kong. MTR will continue to work with its mainland counterparts to enhance the service, Lam said.
Lam noted that MTR has adopted many improvements to railway operations since the resumption of high-speed train services in mid-January, including the introduction of e-tickets that enable passengers to pass through gates faster.
Having been suspended for three years due to the COVID-19 pandemic, the Hong Kong section of the rail link has progressively resumed services since Jan 15.
Three new destinations have been introduced since then, and five new destinations will be introduced from April 1. Hong Kong West Kowloon Station will then be directly connected to 66 destinations, including 10 short-haul destinations.
From April 1, the daily frequency of high-speed trains between Hong Kong and the mainland will increase from the current 102 trips to 164 trips per day, marking a full return to pre-pandemic levels, according to Lam.
Hong Kong legislator Gary Zhang Xinyu suggested railway authorities lower the fares of short-haul trains and increase their frequency.
The layout and purchasing process of the railway ticketing website can also be improved, Zhang added.
Judy Huang, a Shenzhen-based sports lover who travels to Hong Kong every week to enjoy outdoor sports, looks forward to the increase in service frequency, especially on weekend mornings. She noted that the high-speed railway has become a popular choice for mainland visitors to go to Hong Kong, and it's often difficult to buy a ticket on weekends.
Mainland resident Wang Tianzi, who works in the finance industry, commutes between Hong Kong and the mainland several times a week. He supports the "metro-style" operation mode and hopes the railway authorities introduce monthly passes and standing-only tickets as soon as possible.