Gun sales surge in US even as mass shootings continue
chinadaily.com.cn | Updated: 2023-04-25 06:40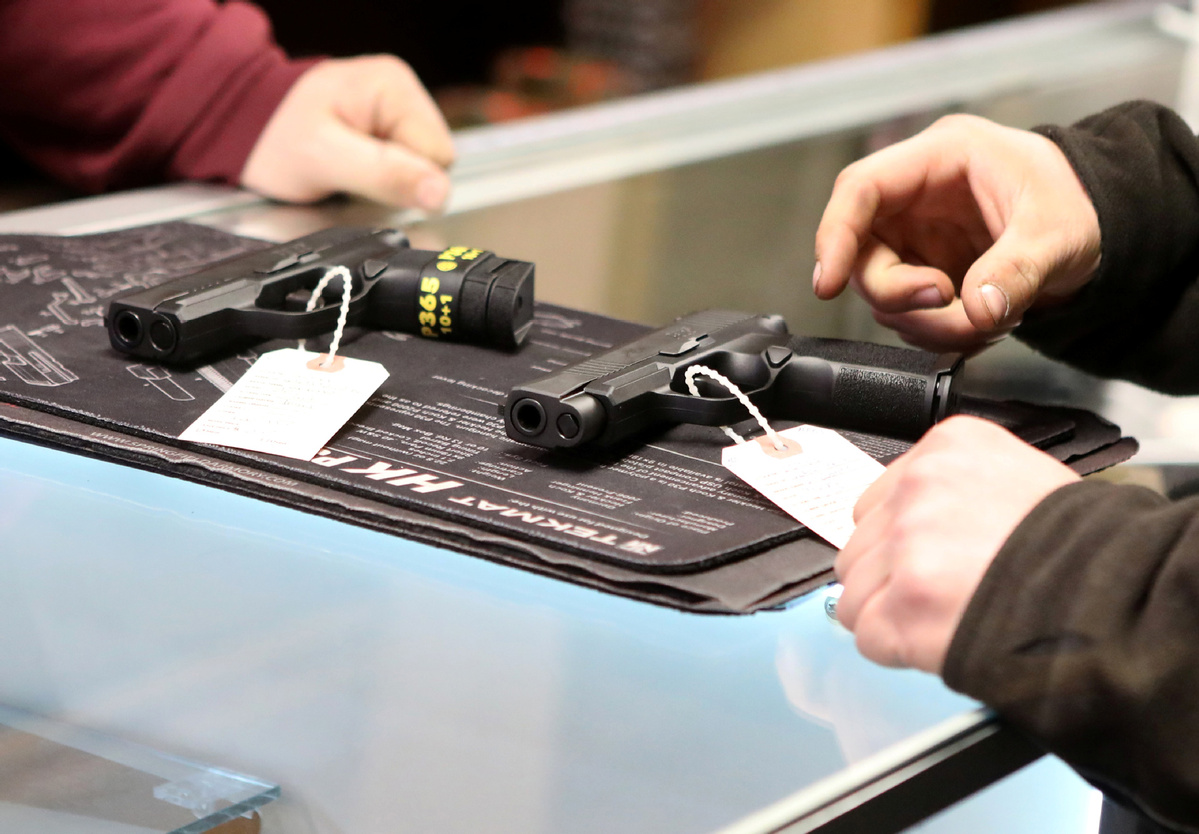 A growing number of Americans, especially women and people of color, are buying guns on a large scale nationwide, with many making their first gun purchases, CNN reported on Saturday.
With mass shootings happening frequently, interest in guns is increasing. According to the latest data from the US Centers for Disease Control and Prevention, there were 48,830 gun deaths compared to 45,404 deaths from motor vehicle accidents. In the past two weeks, four people have been shot and one killed in New York, Kansas City, and Texas after accidentally entering the wrong address or opening the wrong door.
According to the National Instant Criminal Background Check System, the number of instant criminal background checks at the state and national level surged from under 30 million to nearly 40 million during the pandemic. A criminal background check is required before purchasing a gun, which is a rough indicator of how many people are buying or potentially acquiring gun licenses.
"The fear of the unknown and the chaos of the pandemic was the motivating factor," Shelby, a resident of Suffolk County on Long Island, said of her reason for buying a gun.
The uncertainty of the pandemic and nationwide protests after George Floyd's killing by Minneapolis police in 2020 have helped stimulate the demand for guns in the US.
One-fifth of US households purchased guns from March 2020 to March 2022, according to data from the nonpartisan research organization NORC at the University of Chicago. One in 20 Americans bought a gun for the first time during that period.
"I'm not sure the chaos is over, and I feel that a lot of people have guns and that it would be good to have," said Shelby, echoing the concerns of many Americans about the country's uncertain state. "I'm a single female. I live on my own. Why not protect myself?"
In fact, before the health crisis, gun ownership rates among women and African Americans were on the rise, according to a study by Matt Miller, a professor of health sciences and epidemiology at Northeastern University, and Harvard researcher Deborah Azrael.
"Sometime between 2016 and 2019, the new gun owners were more likely to be female and Black than prior to that and, whether it's in response to feeling as though things are going out of control, the country is really divided, that's a tempting speculation to make," Miller said, referring to the changing demographics of gun owners.
The study from Northeastern University and Harvard found that nearly 3 percent of US adults (7.5 million people) bought guns for the first time from January 2019 to April 2021. About half of the new gun owners were female, 20 percent were Black, and 20 percent were Hispanic. Overall, 63 percent of gun owners are male and 73 percent are White.
"The face of gun ownership is changing somewhat and the people who are becoming new gun owners today are less likely to be male and more likely to be non-White, more likely to be somewhat younger than existing and long-standing gun owners," Miller said.
America's run on guns is concerning, according to Miller. His research shows the risk of death from suicide, homicide, and accidental injury increases significantly with gun ownership.
Mike Marinello, who owns a gun range as well as a gun store in Mount Merrick, said 40 percent of his customers come from New York City. Even in New York, a state where gun ownership is tightly regulated, his businesses are booming. Handguns and shotguns are moving at a brisk pace.
"Most people are coming in as new gun owners looking for something for personal defense or we spend a lot of time with inquisitive people. Asking about the process. How do you go about it," said Marinello.
Marinello said gun sales always rise sharply after major shootings because of fears politicians will pass tougher gun control legislation.
Mass shootings have escalated to a record pace in the US, with at least 172 as of April 22, according to data from the Gun Violence Archive.