Hangzhou welcomes delegation heads as preparations for Games gather pace
Share - WeChat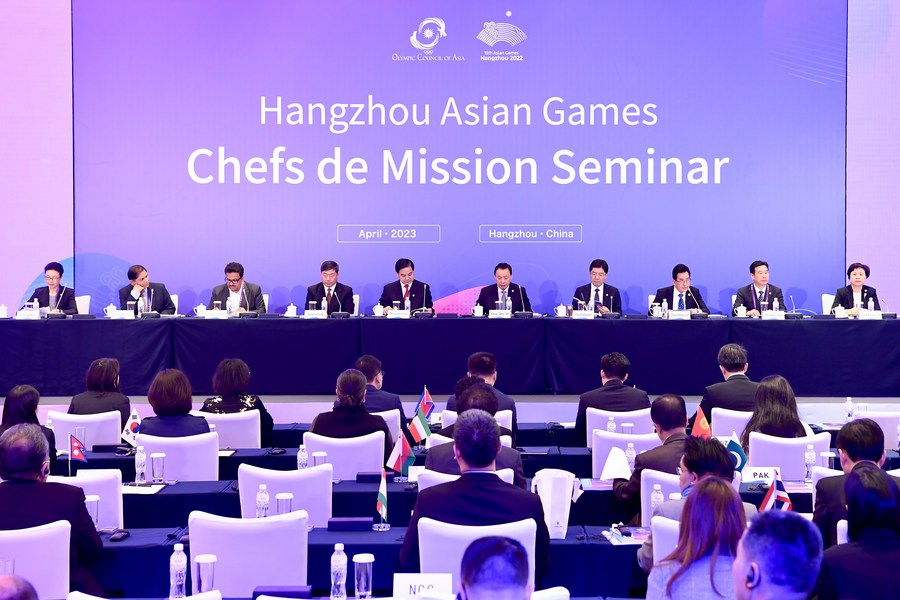 Competitive sports will help build more bridges of friendship among different countries and regions after the COVID-19 pandemic, said Kenneth Fok Kai-kong, vice-president of the Sports Federation and Olympic Committee of Hong Kong.
He was speaking during the three-day Chefs de Mission Seminar that opened in Hangzhou, capital of East China's Zhejiang province, on Tuesday with representatives of the Olympic committees from 45 Asian countries and regions assembling to learn the latest updates on Asian Games preparations.
"Sport is a universal language that can be used to build bridges with the world, expand friendly exchanges and discuss sports development. I think the Hangzhou Asian Games are of great significance in the new era," Fok said.
He noted that more than 860 athletes from Hong Kong are expected to participate in the Games. "We are good at many sports, including martial arts, kayaking, table tennis and badminton. I am very confident."
Fok, who is also the chairman of the Asian Electronic Sports Federation, said: "I am very grateful to the organizing committee as e-sports will make its debut during this year's Games. It will be a historic moment."
On the first day of the seminar, which is being convened by the Hangzhou Asian Games Organizing Committee, or HAGOC, the chefs de mission learned about the organizers' reports on competition services, anti-doping work, venue preparations, accreditation of athletes, accommodation and catering services, finance and media operations.
The latest competition policies and procedures and other relevant information will be announced during the seminar. Delegation chiefs will get the opportunity to share with HAGOC the requirements of their athletes and officials.
During their stay in Hangzhou, the delegation chiefs will visit competition and non-competition venues of the Games, with a series of cultural activities also on the agenda to offer them a better understanding of the host city.
The itinerary includes visits to the Hangzhou Olympic Sports Center, the Huanglong Sports Center, the China Hangzhou E-sports Center, the Asian Games Village and the Asian Games Museum.
Haider Farman, director of Asian Games at the Olympic Council of Asia, said that he received a positive response about the preparations through regular meetings and daily communication with HAGOC officials.
"The Games are going in the right direction and in a very positive way," he said.
Fok said that sustainability remains one of the most important issues for the future development of the Games. "Whether for e-sports or other sports, I hope to see more opportunities for cooperation and bring more friends from Asia to Hangzhou in the future."
The Asian Games, which will see athletes compete in 40 sports, are scheduled between Sept 23 and Oct 8 in Hangzhou and five other cities in Zhejiang province — Ningbo, Wenzhou, Jinhua, Shaoxing and Huzhou.
The 4th Asian Para Games will be held in Zhejiang from Oct 22 through Oct 28.
Xinhua contributed to this story.