HuBingWei brings authentic Japanese-style barbecue to the capital
Share - WeChat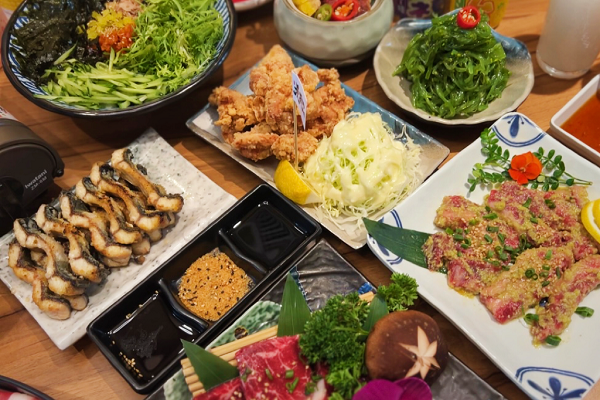 With a total space of 900 square meters, HuBingWei Japanese-style barbecue is bringing an immersive experience and authentic Japanese flavor to diners in Beijing.
The decor of the restaurant creates several scenes including milk trucks, pharmacies, barbershops, tofu shops, curry restaurants, dumpling stores and soy sauce shops.
Most of the soft furnishings are imported Japanese originals, with a staggering number of Japanese-style advertising signs.
Its signature dish is roasted white eel. Fresh eel meat sizzles on the grill, oozing with oil as it is cooked. The visible shrinking of the skin and the gradual transformation of the translucent flesh into a snowy white color are indications of the skillful grilling techniques of the servers at HuBingWei.
The owner, who has lived in Japan for many years, is an expert in sauce preparation. He personally developed three dipping sauces: eel sauce simmered in red wine vinegar, sea salt boiled in sake and "Kansai-style" eel sauce made from dried eel. Each sauce produces a different taste when combined with the eel, yet they all maintain a consistently delicious flavor.
The owner has also prepared three "special sauces" for the grilled meat: the Nagoya sauce is rich and sweet; the Tokyo sauce, made from vegetable broth, has a refreshing taste; and the Fukuoka sauce, made with yuzu vinegar, is light and not too bland.
Most Popular