Interests of people in focus at ASEAN meet
By PRIME SARMIENTO in Hong Kong and LEONARDUS JEGHO in Labuan Bajo, Indonesia | China Daily | Updated: 2023-05-13 07:08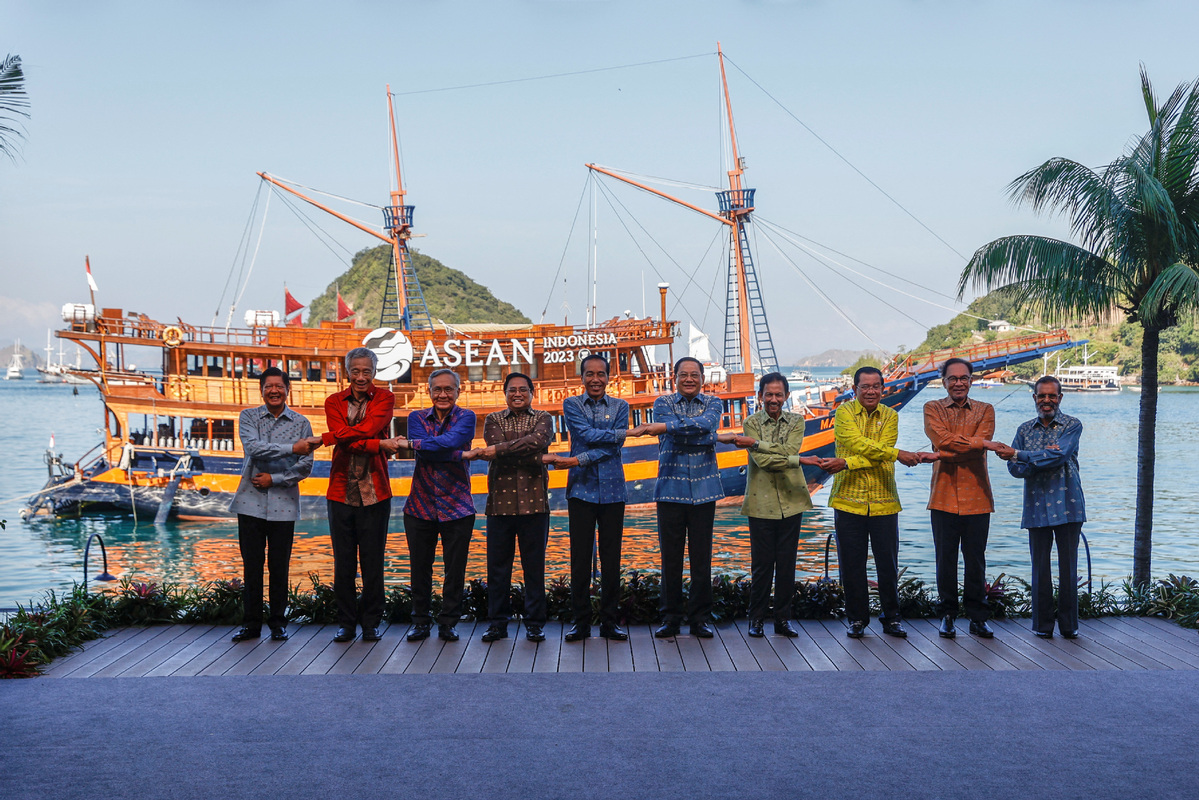 Leaders' commitments at end of summit include greater connectivity, integration
The 42nd ASEAN Summit closed on Thursday with leaders of the regional bloc stressing their commitment to the interests of the common people, and stronger economic and digital connectivity.
Attention to the important issues includes the protection of migrant workers and victims of human trafficking, Indonesian President Joko Widodo told the media at the end of the two-day conference in Labuan Bajo, a popular tourist site on Flores Island, East Nusa Tenggara Province.
Indonesia chairs the Association of Southeast Asian Nations this year. The leaders at the summit also made a declaration on advancing regional payment connectivity and promoting local currency transactions. Seamless and secure cross-border payments, taking country circumstances into consideration, are to be facilitated.
They also agreed to encourage the use of local currencies for cross-border transactions in the region and support the establishment of a task force to explore the development of an ASEAN Local Currency Transaction Framework.
ASEAN must also enhance regional integration and find new ways to strengthen integration at all levels, said Michael Yeoh, president of the KSI Strategic Institute for Asia Pacific, on Thursday.
"ASEAN centrality is one of the most important challenges," he told the 2023 ASEAN Leadership and Partnership Forum in Jakarta.
Senior officials, business executives and experts at the forum urged the delivery of actual benefits for local people while strengthening integration and stressing ASEAN centrality.
Mochamad Ridwan Kamil, governor of West Java, Indonesia's biggest province, noted how regional blocs like ASEAN are part of "globalization 2.0". Kamil said globalization 2.0 is also about more local small and medium-sized enterprises expanding their businesses by going overseas. He said this is why he has established a training center in West Java to encourage more SMEs to use e-commerce so that they can export their products.
Arsjad Rasjid, chairperson of the Association of Southeast Asian Nations-Business Advisory Council, said the ASEAN economy has a growing impact on global trade. ASEAN countries are "broadly regarded as the future base of global production and consumption", or as the Indonesian government has defined it, "as a new epicenter of growth".
Spirit of togetherness
Rasjid said it is in the best interests of ASEAN to approach the future of its development with "a spirit of togetherness and cooperation as a solid community".
Widodo said at the summit that ASEAN has agreed to become an ecosystem for electric vehicles and wants the region to become a key part of the global supply chain. The use of local currencies and better connectivity of digital payments between member countries are in line with the concept of ASEAN centrality, which will make the region stronger and more independent.
The Jakarta forum opened while the summit concluded. Themed "ASEAN Matters — Centre of Growth, Opportunities and Prosperity", the forum was organized by the KSI Strategic Institute for Asia Pacific, ASEAN Business Advisory Council, Indonesian Chamber of Commerce and Industry, ASEAN Economic Club, and Foreign Policy Community of Indonesia. It was supported by the Economic Club of Kuala Lumpur and the World Business Chamber.
Kirida Bhaopichitr, director of economic intelligence service at the Thailand Development Research Institute, said ASEAN needs to focus on building a resilient supply chain in the region that will make it a "very attractive" investment destination.
Lee Sheung Yuen, director-general of the Hong Kong Economic and Trade Office in Jakarta, talked about the close relationship between the special administrative region and ASEAN. Lee said Hong Kong hopes to contribute more in the partnership with ASEAN through its financial, professional services, logistics and transportation sectors.
Leonardus Jegho is a freelance journalist for China Daily.