Security tightened ahead of G7 meet as protests emerge
By WANG XU | China Daily Global | Updated: 2023-05-18 07:19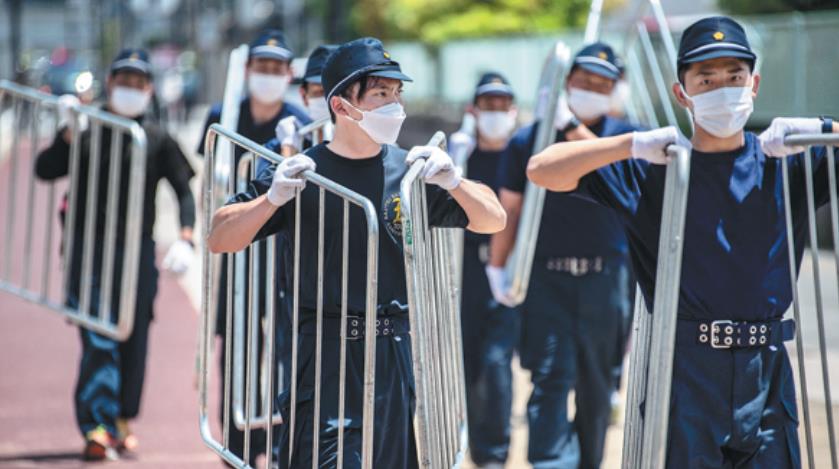 Hundreds of people gathered in Hiroshima as the Group of Seven countries prepare to hold their annual gathering in the city once decimated by a nuclear bomb dropped by the United States in Japan, which holds the rotating presidency this year.
According to police, tight security is in place in the lead-up to, during, and immediately after the summit, during which security forces may randomly search people and vehicles as a precautionary measure.
From the point of view of police, heightened security is a must considering the number of civic groups participating in recent and upcoming protests against the summit.
Meanwhile, recent domestic incidents targeting the incumbent and former prime ministers in Japan also kept them on high alert, although there have not been any publicized threats to the summit.
On Saturday and Sunday, over 200 citizens from different civic groups carrying banners reading "No G7" and "No War" rallied in Hiroshima as Japanese Prime Minister Fumio Kishida visited the city to inspect summit venues. Their demands include a stop to the military buildup, a reversal in dumping Fukushima nuclear-contaminated water, and greater efforts to maintain regional peace instead of hyping up tensions.
Shigeo Kimoto, director of the Japanese civic group Peace Depot, said in a speech that both joint military exercises among G7 members in the Pacific region and Japan's statement that "any contingency for Taiwan is a contingency for Japan" are "absurd and dangerous".
"Japan is politically using Hiroshima, the site of the atomic bombing, to hold the G7 summit. It is time for people in Hiroshima to wake up," said Toshiyuki Tanaka, an emeritus professor at Hiroshima City University, adding that Japan, by repeatedly stressing that it is "the only country that suffered atomic bombings", is deliberately whitewashing its history as an invader and perpetrator.
In a statement by Citizen's Group Questioning the G7 Summit in Hiroshima, the civic group said that the G7 summit in Hiroshima only seeks to advance military alliance under the name of freedom and democracy, and the summit is essentially a meeting where the rich bloc forces other countries to follow its rules.
Provocation slammed
Concerning recent negative messages targeting China by the Japanese prime minister, Beijing on Tuesday slammed Tokyo saying Kishida is "obsessed with provoking and creating bloc confrontation to harm regional interests".
Japan has been attempting to change the status quo by conniving with some of its domestic forces to embellish its aggression history, to whitewash militarism and even to advocate "any contingency for Taiwan is a contingency for Japan", as the Potsdam Proclamation and the Cairo Declaration clearly say that the returning of the Taiwan region to China is an integral part of the post-World War II international order, said Chinese Foreign Ministry spokesman Wang Wenbin.
"If Japan is truly against 'unilateral change to the status quo', one thing it can do is to stop those within Japan trying to turn back the wheel of history, draw serious lessons from the history of Japan's militarist aggression, recommit itself to the postwar international order and adhere to the one-China principle," Wang said.
wangxu@chinadaily.com.cn