Asian scholars prefer mainland for higher studies
By ZOU SHUO | China Daily | Updated: 2023-05-20 07:42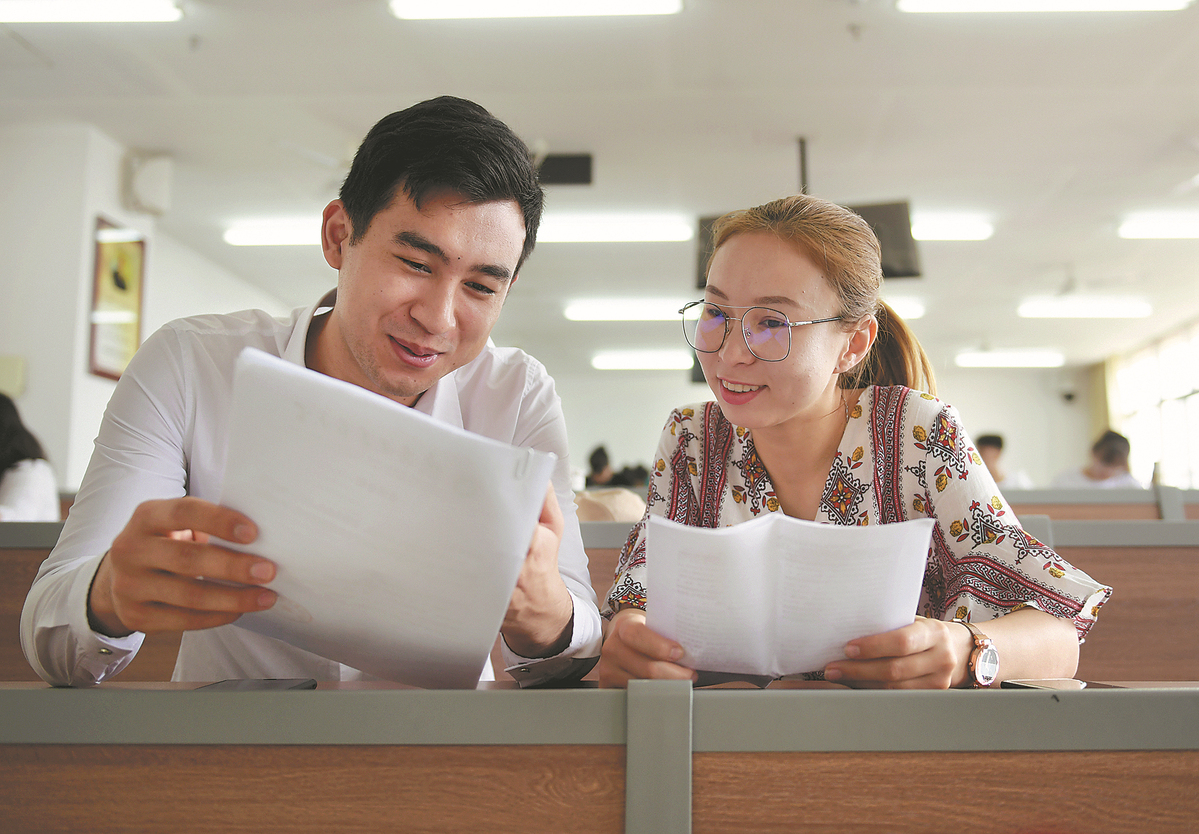 China has become an increasingly popular destination for many Central Asian students thanks to its quality of education and the country's rapid development in recent years, international students from the region said.
They said that under the Belt and Road Initiative, China's huge market and domestic demand will create new and greater opportunities for the recovery and growth of Central Asian countries.
Ivan Sarafanov, a lecturer from Kazakhstan at the University of International Business and Economics in Beijing, has lived in China for almost 15 years. He earned his bachelor's and master's degrees at Xinjiang University of Finance and Economics and a doctoral degree at UIBE, before becoming a lecturer at the university in 2020.
"I remember back in the 1990s and 2000s, parents in Central Asia sent their children to Russia for higher education. Now, many parents are opting for China instead. The country has become an increasingly popular destination for many Central Asian students," he said.
Many students from Kazakhstan have extended beyond Chinese language or cultural programs to degrees in economics and industrial subjects, he said.
A productive and sustainable relationship between China and Central Asian countries needs to be supported by well-trained professionals, especially against the background of industrial cooperation, he said.
The vision of a community with a shared future for mankind is about building a world of prosperity and promoting the common development of all countries through every country's development. China will play an extremely important role in this process through the Belt and Road Initiative because its economy is stabilizing with good momentum, Sarafanov said.
"With an inclusive mindset, China is doing its best to promote all types of exchanges, mutual learning, understanding and accepting in this increasingly divided world to break down the barriers of prejudice and isolation," he added.
Akniyazov Tamerlan, a 34-year-old doctoral student from Kazakhstan at UIBE, has lived in China for 13 years and said he was impressed by China since his first day in the country.
Central Asian students choose China because trade is improving and China's influence in the international arena is growing, he said.
The Belt and Road Initiative is very logical and simple, but at the same time, it requires tremendous work in all areas — politics, economics and culture, Tamerlan said.
"Given difficult geopolitical and financial situations around the world, I sincerely believe that the initiative can become an alternative to the model of Western globalization."
Alina Sydykova, from Kyrgyzstan, is a third-year undergraduate student in international relations at Beijing Language and Culture University.
She is impressed by China, especially its culture, which is very beautiful and colorful, she said. "The Chinese people are the friendliest people I've ever met. They're always warm and willing to offer their help when you ask."
Central Asian students choose to study in China because of the quality of education in the country and also because it is one of the safest countries in the world, Sydykova said.
The building of a global community with a shared future is characterized by lasting peace, universal security, common prosperity, openness and inclusiveness, and a beautiful environment, she added.
Tachev Arslan, from Turkmenistan, is a 26-year-old undergraduate student at Beijing Foreign Studies University.
Since its reform and opening-up policy, China has developed rapidly and achieved the top level in many aspects, he said.
The economy is the sector of development that impresses him most because China transformed from one of the poorest countries in the world into one of the most prosperous economies in just several decades, Arslan said.