A man who never surrenders
By YANG YANG | China Daily | Updated: 2023-05-20 08:17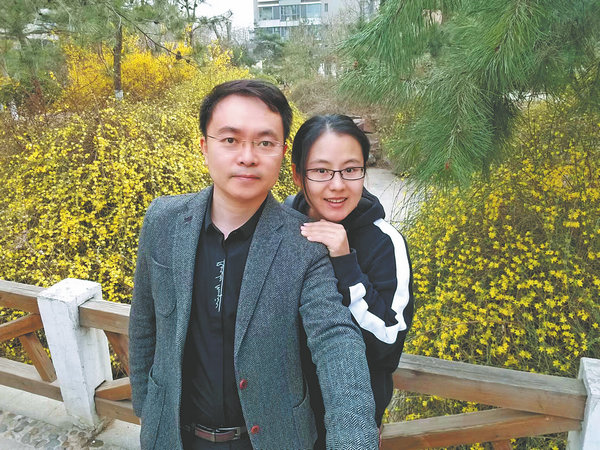 Developing new treatments
In the first six months after the diagnosis, Cai couldn't sleep well. He did not stop his work at JD. One night in the hospital, he was still working though it was nearly midnight. Raising his head up, he found his wardmate, surnamed Zhu, who usually slept earlier, was still awake.
Cai asked him: "Why don't you sleep?" Zhu replied: "I'm waiting for you."
It suddenly occurred to Cai that, in a previous chat, Zhu had asked him whether he would be disturbed by snoring. Cai had replied without much consideration: "Sure. But it won't bother me if I fall asleep first." He realized that Zhu had kept his casual words in mind and was waiting for him to sleep first.
Zhu was just one of Cai's fellow ALS patients in China. Fan's team from Peking University Third Hospital estimated in 2021 that 2.97 out of every 100,000 people in the country suffer from the disease.
Since being hospitalized, Cai has come to know a lot of patients like Zhu from across the country, and some of them were illiterate. He wanted to help them.
ALS is a neurodegenerative disease, usually caused by the gradual death of neurons. Human muscles are controlled by motor neurons and when they die, muscles will gradually atrophy, so that normally easy movements like drinking water, eating, wearing clothes, going to the bathroom, typing or speaking will become impossible. In the end, the body will collapse like a melting candle. Unable to speak or swallow, patients will completely rely on machines and others' help to survive.
So far, there have been only two medicines that are effective enough to be approved to treat ALS, but they can at most extend patients' life for two to three months without improving their living quality.
To develop effective therapeutic agents might be the only way to save ALS patients. However, although ALS was first discovered in the 1820s, after nearly two centuries, its cause and cure still remain unidentified.
This is partly due to the intense effort required, which is unprofitable for so rare an illness.
It usually takes 10 to 15 years to complete the research cycle for a new therapeutic agent. The cost is between $1-3 billion. Take Alzheimer's disease for example. According to the Pharmaceutical Research and Manufacturers of America, between 2000 and 2017, investment in new therapeutic agents for this much more common disease passed $600 billion, and 99.6 percent of the research on more than 300 agents failed.
Cai decided to take matters into his own hands. In 2019, he started his own medical technology company, and built his own research team.
In April 2021, Cai and his team hosted an event about rare diseases, inviting big pharmaceutical companies to attend. He found that almost none of them had an R&D pipeline for ALS.
"This is the cruel reality, but we can't wait. We need to fight to save ourselves rather than count on others," he said.
For him, accelerating the R&D of new medicines and letting as many patients as possible take part in clinical tests can serve as a silver lining for his fellow patients.
"In the last three years, we have advanced the R&D pipelines of more than 70 therapeutic agents and half of them have failed," he says. Cai himself has volunteered to try more than 30 new medicines that passed hospitals' ethical assessment, which all failed.
However, he is optimistic, because failures mean he is getting closer to truth, he says.
Another breakthrough he has created is removing the data barriers between hospitals which made it difficult for experts to efficiently monitor and analyze patients' situations or to test new drugs.
Cai, having worked in the IT industry for years, naturally thought of building a big data platform that could collect the information of ALS patients and process it for research purposes. They have invited experts to help design the platform.
Since being established in 2020, the platform has collected data from about 10,000 ALS patients, making recruiting volunteers for clinical testing of drugs much easier. Last year, two hours after releasing a volunteer recruitment notice on the platform, more than 700 patients signed up.
However, as a project that is, in Cai's words, "more difficult than a mission to the moon", developing a new therapeutic agent needs a great amount of money.
Having raised billions of yuan worth of funding in his professional career, Cai thought he could easily achieve the goal of one billion yuan ($142 million), but after 200 road shows, no investor wanted to waste their money on a mission impossible.
"That's why we shifted our focus from investment to charitable funds and a welfare trust one year later," Cai says.
Investors are willing to pour money into a promising project, which means "you should complete the first stages with scientific breakthroughs, experiment results and data. So now we mainly focus on the first stages, helping people with technical capabilities to conduct their experiments," he says.