Martinez masterclass sounds warning to City
Share - WeChat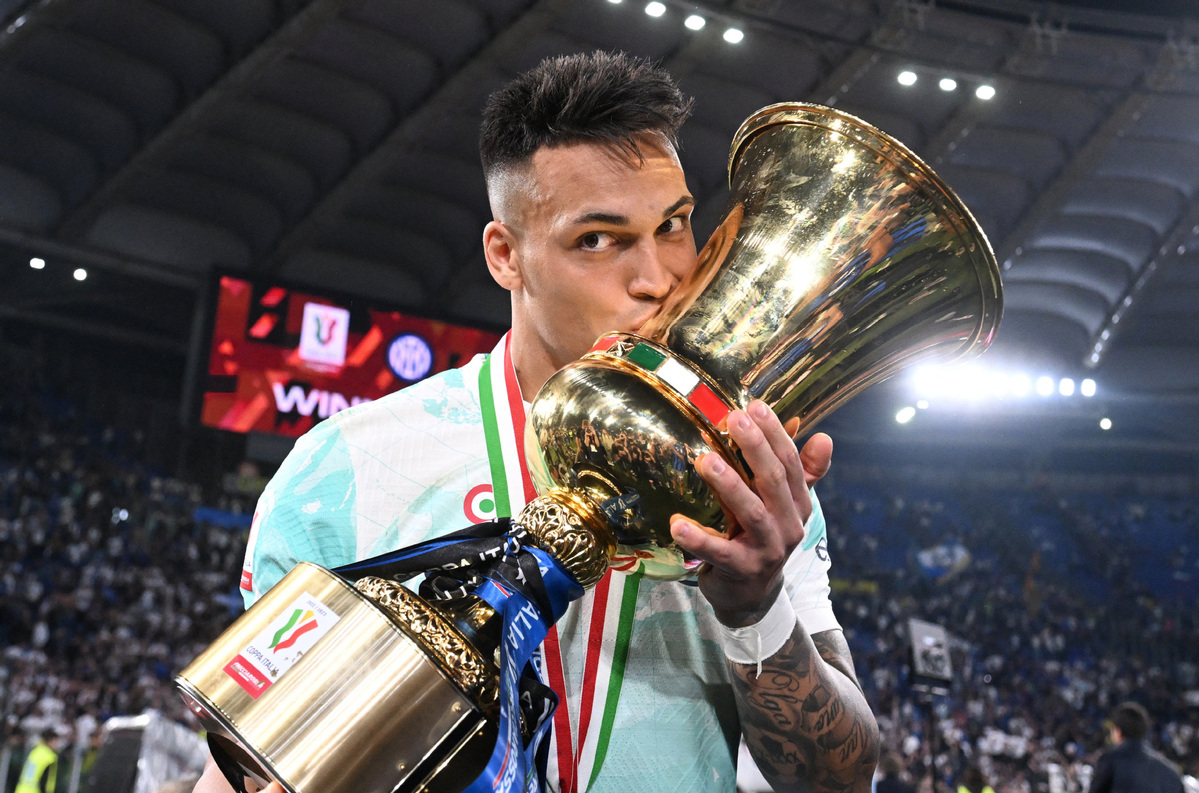 ROME — Take note, Manchester City: the bigger the match, the bigger the performance from Lautaro Martinez lately.
After scoring key goals against Benfica and city rival AC Milan to help secure Inter Milan a spot in the Champions League final, Martinez netted twice as the Nerazzurri produced a 2-1 comeback win over Fiorentina to retain the Coppa Italia on Wednesday.
It's the second trophy that Inter has won this season after beating Milan in the Italian Super Cup in January — when Martinez also scored. After a couple of matches to conclude Serie A, Martinez and Inter will be aiming for one more trophy when they face City in the Champions League final on June 10 in Istanbul.
"In all honesty, I am moved, because for a couple of years we have been bringing trophies to this great club and we've got to continue this way," said Martinez, who also played a big role when Inter won Serie A in 2021. "I want to keep contributing for Inter, because that's what matters."
Martinez now has a career-best 27 goals across all competitions for Inter this season, having also helped Argentina win the World Cup in December. He's the only player to have appeared in all 54 of Inter's matches this season.
The match at the Stadio Olimpico in Rome was lively from the start as Nicolas Gonzalez put Fiorentina ahead after just three minutes following a lapse by Inter's defense. A cross from Jonathan Ikone was allowed to float across the area for Gonzalez to knock in at the far post.
Then Martinez took over to put Inter ahead before the break.
First, a perfectly placed through-ball from Marcelo Brozovic set up the equalizer as Martinez ran onto the pass and scored with an angled shot into the far corner for his 100th goal with Inter. Then Martinez produced an acrobatic volley to redirect in a pass from Nicolo Barella.
Martinez nearly produced another goal when he set up Edin Dzeko with only the goalkeeper to beat. However, Dzeko's shot sailed high over the bar.
It is the ninth Italian Cup title for Inter, while Nerazzurri coach Simone Inzaghi has now won seven of his eight finals as a manager.
"We started poorly and had the wrong approach, which is rare for us, but the guys did well to stay in the game anyhow and then turn it around," Inzaghi said. "The team is improving match by match."
Learn from loss
Fiorentina will play West Ham in the Europa Conference League final on June 7.
"We were hoping for a different result but this will serve as experience and preparation for what to expect on a mental level and how to handle the match for the Conference League final," Fiorentina coach Vincenzo Italiano said.
"It's disappointing, but we have another final to prepare for and two Serie A games, so we cannot let go now; we must remain concentrated," Italiano added. "We will try to avoid making the same mistakes that we saw tonight because that too will be a one-off match against a quality team, but if we play with the same spirit seen tonight, I think we can again cause problems for our opponent."
Fiorentina became the first club to reach the finals of four different UEFA competitions with its victory over Basel last week in the Conference League semifinals. The Florence-based side made its first European final in 33 years.
Italiano remains confident that his team's Coppa Italia final defeat will not have a negative impact on his players' morale.
"We are accustomed to ... getting right back on track," he said. "I tell the players that when you fight with heart and sweat for the shirt, you never really lose."
By reaching the final, Inter and Fiorentina had each already qualified for next season's expanded Italian Super Cup, which will feature four teams, also including Serie A champion Napoli and the league runner-up (currently Lazio).
Agencies