Impressed by the real China
Share - WeChat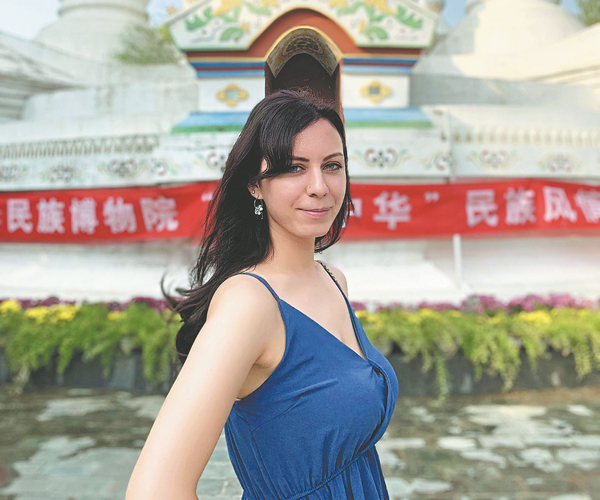 With a father fond of China constantly telling her of its great development potential, Jekaterina Volkova, 29, decided to come to study in China in 2015.
China's rise has long been a popular subject among Western scholars and experts, including in Latvia — Volkova's home country. But this rise is more often than not described as a bad thing, the so-called "China threat", by some forces in Western countries. This is part of the reason that Volkova chose to study international relations at the University of International Business and Economics in Beijing. And what she's already learned there is very different from what she sees in media reports back home.
"On the diplomatic stage, China shows respect and emphasizes its friendly nature and objective perspective. It offers many great economic opportunities for developing countries, and it's also committed to promoting regional peace and cross-cultural communication," said Volkova.
She took Latvia as an example. Located in the heartland of continental Europe and bordering the Baltic Sea to the west, Latvia has long been an important hub for trade in Europe. Now that it's part of China's Belt and Road Initiative, it has a new role in connecting Asia and Europe, a role that comes with new benefits and opportunities.
"What has impressed me most is the opening of China-Europe freight rail services going from Changsha (the capital city of China's Hunan province) to Latvia in April 2022," said Volkova. "Hopefully, both countries can keep developing close cooperation in trade, transport and logistics sectors."
When it comes to China's efforts in maintaining world peace, the Shanghai Cooperation Organization (SCO) comes to Volkova's mind as it is one of the topics of her PhD thesis.
When the organization was established in 2001, the member states jointly signed the Shanghai Convention against Terrorism, Separatism and Extremism at the first summit. The organization also makes great achievements in regional cooperation in trade, science and technology. In her PhD research, for example, Volkova learned that as of 2021, the 20th anniversary of its foundation, the SCO member economies have produced more than $20 trillion, 13 times more than 20 years ago.
"During my research, I was really surprised by China's wisdom in international relations," said Volkova. "China aims to achieve regional peace by maintaining stability and promoting development through cooperation and dialogue, which is the main achievement of the SCO."
That's why Volkova doesn't see China as a threat at all. "On the contrary, [China's rise] brings many opportunities for people around the world," she said.
chenxue@i21st.cn

Most Popular