G7 'de-risking' policy risky for Sino-US ties
By Harald Brüning | China Daily | Updated: 2023-05-31 07:57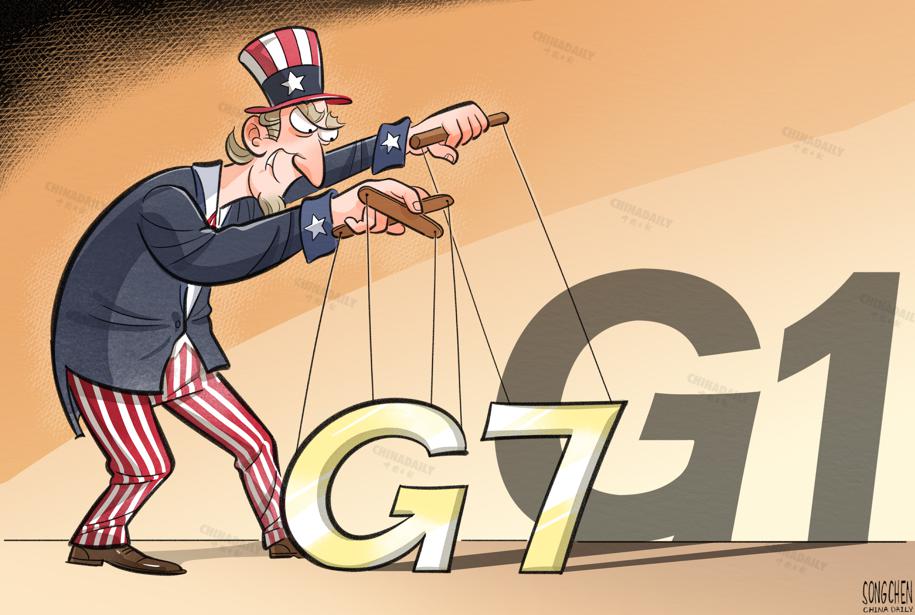 The recent G7 summit in Hiroshima, Japan, concluded with the release of a Leaders' Communique, which among other things, said the Western powers "stand together" on nine "elements underpinning" their respective relations with China, apart from claiming that "there is no legal basis for China's expansive maritime claims in the South China Sea".
On the one hand, the communique seems to extend an olive branch to Beijing by pledging that "our policy approaches are not designed to harm China nor do we seek to thwart China's economic progress" and insisting that "we stand prepared to build constructive and stable relations with China" and that G7 states are "not decoupling" from China.
On the other hand, it says: "We recognize that economic resilience requires de-risking and diversifying". The term "de-risking" sounds like a politically innocent reference to a practice common in the business world, especially the financial sector. The US Department of State describes de-risking as the phenomenon of financial institutions terminating or restricting business relationships with clients or categories of clients to avoid, rather than manage, risk.
A 2016 article by the World Bank, titled "De-risking in the Financial Sector", warned that "de-risking practices by global financial institutions threaten to cut off access to the global financial system for remittance companies and local banks in certain regions, putting them at risk of losing access to the global financial system".
And according to the Council of Europe, "'De-risking' should never be an excuse for the private sector to avoid implementing a risk-based approach." Vistage Worldwide, Inc, a US-based executive coaching organization, points out that for entrepreneurs de-risking and re-risking are a "liberating decision-making strategy", that is, a way to repeatedly adjust risk levels. Inherently, both de-risking and re-risking are risky operations.
"De-risking", incidentally, has become the latest favorite term of many Western politicians (European Commission President Ursula von der Leyen has developed a particular liking for the term) to describe their relations with China. It is no longer just a business term but a political shibboleth in Washington, Brussels and elsewhere in the West.
According to the G7 communique, "de-risking" means the G7 countries "will reduce excessive dependencies in our critical supply chains". The terms "excessive" and "critical" are, of course, a matter of opinion. As the world's biggest and second-biggest economies, the US and China play a preeminent role in global trade and investment relations.
But since the European Union is a supranational entity whose 27 member states compete with each other for economic opportunities in, for instance, China, EU countries should be extra cautious in "de-risking" their economic ties with China, because rival EU states' governments are likely to compete through their different "de-risking" strategies with each other in overseas markets.
Besides, some Western politicians may be using the term "de-risking" as a convenient euphemism for "de-coupling" with China perhaps because the latter term has gone out of fashion.
Accusing China of "economic coercion" without mentioning at least one alleged case is both insolent and impudent — and an insult to 1.4 billion Chinese people.
The G7 summit concluded with a ray of hope, though, that Sino-US relations could be on the mend, with US President Joe Biden saying at a news conference on Sunday: "I think you're going to see that (Sino-US ties) to begin to thaw very shortly." Let's hope his words become reality soon. The world would be a better place if that happens.
China's new ambassador to the United States, Xie Feng, got to the heart of the matter upon arriving in New York en route to the embassy in Washington early last week. Xie said the Sino-US "relationship is too important for us to let it fail", adding that "working together, both will come out as winners; fighting each other, both will lose, and the world will be hurt as well".
I hope political realists still hold enough influential positions in the US to be able to put the world's most consequential bilateral relations back on the right track.
The author is the director of the Macau Post Daily.
The views don't necessarily reflect those of China Daily.
If you have a specific expertise, or would like to share your thought about our stories, then send us your writings at opinion@chinadaily.com.cn, and comment@chinadaily.com.cn.