Miami's dream run reaches Finals as Celtics comeback crumbles
Share - WeChat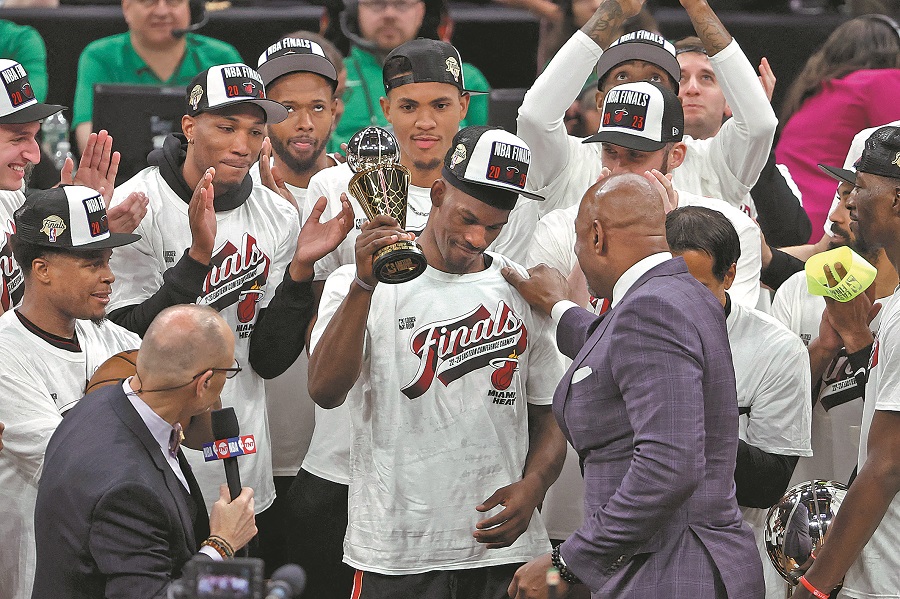 BOSTON, Massachusetts — The Miami Heat sustained a gut-wrenching, last-second loss on their third attempt to clinch the Eastern Conference finals, tilting momentum in favor of the Boston Celtics.
However, the Heat who had to take the play-in route to even reach the playoffs, and then upset the top-seeded Milwaukee Bucks to fuel their postseason run, found another gear in their seemingly never-ending fountain of resiliency.
Series MVP Jimmy Butler scored 28 points, Caleb Martin added 26 and the Heat became the second No 8 seed to reach the NBA Finals by posting a convincing 103-84 victory over the host Celtics in Game 7 on Monday night.
Miami was wobbling after a 104-103 setback on Saturday that featured Boston's Derrick White scoring on a putback just as time expired, evening the best-of-seven series.
Yet even the raucous home-court atmosphere in Boston couldn't prevent the Heat from reaching the NBA Finals for the second time in four seasons.
"That could puncture a team's spirit," Heat coach Erik Spoelstra said of the Game 6 loss. "But instead, it drove us to more resolve to try to get the job done."
Bam Adebayo recorded 12 points, 10 rebounds and seven assists as Miami finished the job. Teams that held a 3-0 series lead improved to 151-0 all-time in the NBA playoffs.
Jaylen Brown had 19 points and eight rebounds and White scored 18 points for second-seeded Boston, which was just the fourth team in NBA history to force a Game 7 after losing the first three games.
Jayson Tatum had 14 points and 11 rebounds for the Celtics, but he sprained his left ankle during the game's first possession and hobbled throughout the contest.
"That was tough because it kind of impacted me the rest of the night," Tatum said. "It swelled up. It was frustrating that I was a shell of myself. It was tough to move. It was frustrating, especially happening on the first play."
The Heat will face the Western Conference champion Denver Nuggets in the NBA Finals. Game 1 is Thursday in Denver.
"Nobody's satisfied. We haven't done anything," said Butler, who averaged 24.7 points, 7.6 rebounds, 6.1 assists and 2.6 steals in the series. "We don't play just to win the Eastern Conference. We play to win the whole thing."
The New York Knicks (1999 postseason) were the only other No 8 seed to reach the NBA Finals.
Meanwhile, the Celtics struggled throughout the do-or-die game.
"I thought we played tight," Boston guard Malcolm Brogdon said. "When you play that way, it makes you hesitant on both ends of the ball. I thought Miami played the opposite. I thought they played loose."
The other three teams to force a Game 7 after falling behind 3-0 were the New York Knicks (lost to the Rochester Royals in the 1951 Finals), Denver Nuggets (fell to the Utah Jazz in the 1994 second round) and Portland Trail Blazers (lost to the Dallas Mavericks in the 2003 first round).
Miami shot 48.8 percent from the field, including 14 of 28 from 3-point range. Duncan Robinson and Gabe Vincent added 10 points apiece. Martin made four 3s and collected 10 rebounds and Butler also had seven rebounds, six assists and three steals.
The Celtics connected on 39 percent of their shots and were 9 of 42(21.4 percent) from behind the arc. Boston went 16 of 77 (20.8 percent) from 3-point range over the final two games of the series.
Brown shot just 8-for-23 from the floor, 1-for-9 from long distance, and had eight turnovers. "We failed. I failed," Brown said. "We let the whole city down."
Title showdown
Miami has three players with championships — Udonis Haslem has been part of all three Heat titles, Kevin Love won a championship with Cleveland and Kyle Lowry got a ring with Toronto. The Nuggets have one champion on their roster; Denver's Kentavious Caldwell-Pope got one with the Lakers at the NBA's restart bubble in 2020 against the Heat.
Also back from that Heat team: Butler, Adebayo, Duncan Robinson, Tyler Herro and Gabe Vincent. The only Denver player besides Caldwell-Pope with NBA Finals experience is Jeff Green, who played in the title series alongside Love with Cleveland in 2018.
So, most players will be seeking their first ring. Haslem is trying to end his career with a fourth, and Lowry is among the lucky few who are trying to smudge the Larry O'Brien Trophy for the second time.
He remembers how long it took him in 2019, after the Raptors won their title, to start thinking about winning his next one.
"Maybe like the day after," Lowry said. "And every champion, every NBA champion, would tell you this: There's a high that you never have felt and you want that high again. And there's nothing like that."
Denver swept both games against Miami in the regular season. And both sides will inevitably say that those games won't matter much starting on Thursday.
"The Heat are playing an unbelievable high level," Nuggets coach Michael Malone said. "Jimmy Butler, what he's been doing since round one against Milwaukee, continued that round two against New York and now what he's doing against Boston is just historic in nature. And Erik Spoelstra … obviously Spo is one of the best coaches in the league, someone who I have a tremendous amount of respect for as a coach but also just as a friend."
Agencies