China, Singapore defense chiefs meet
Share - WeChat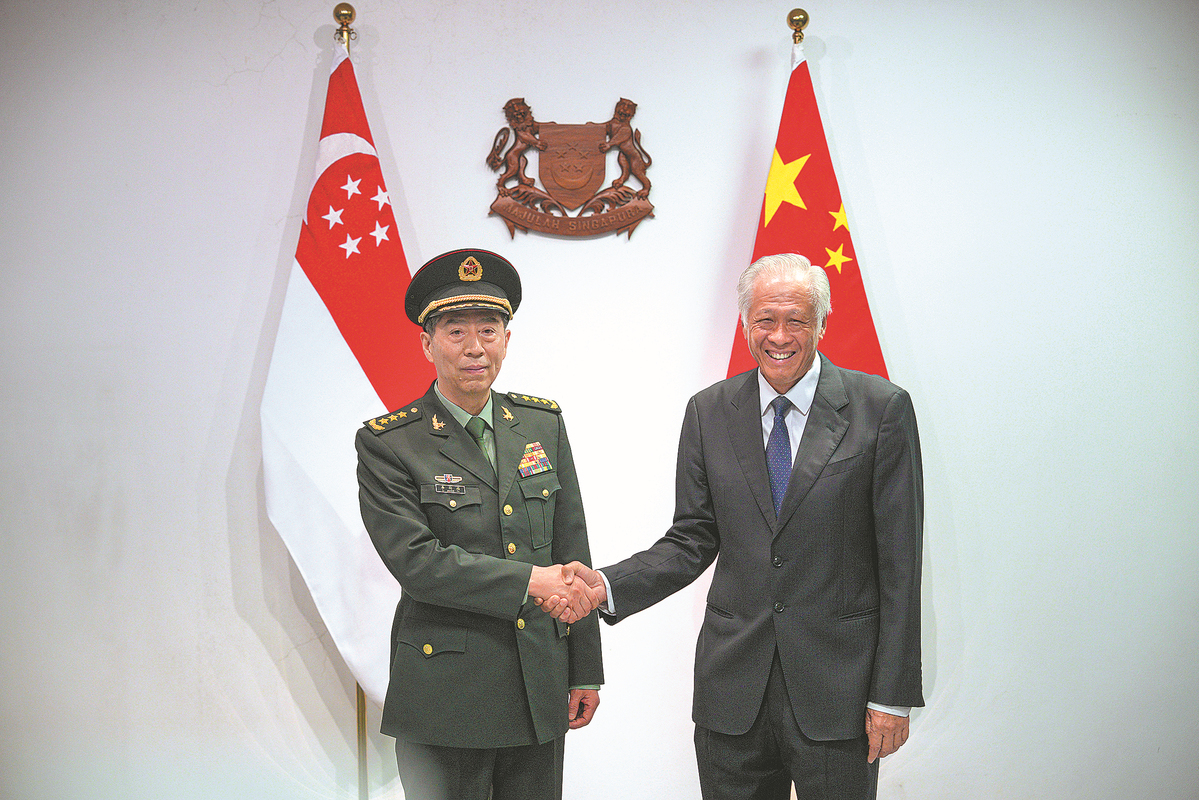 Experts said the Association of Southeast Asian Nations should not fall into the geopolitical trap set by the United States, which is "coercing" regional countries to choose sides between China and the US, as China's defense minister told his Singaporean counterpart that Beijing firmly supports the strategic independence of ASEAN.
State Councilor and Minister of National Defense General Li Shangfu is paying a visit to Singapore and has been invited to attend and deliver a speech on China's new security proposals at the three-day Shangri-La Dialogue security forum, which opened on Friday evening, according to the Defense Ministry.
During his meeting with Singaporean Defense Minister Ng Eng Hen in Singapore on Thursday, Li said that the Chinese side firmly supports ASEAN centrality in regional architecture as well as its community building and strategic independence.
ASEAN is an important force for safeguarding peace and promoting development in both regional and international communities, Li said, according to Tan Kefei, a spokesman for China's Defense Ministry, who spoke at a Thursday news briefing in the city-state.
"Li said the Asia-Pacific is the common home (of China and ASEAN) and prosperity and stability are shared aspirations of people of all countries," said the spokesman.
Zuo Xiying, a professor of international relations at Renmin University of China, said that Beijing is willing to see Singapore and ASEAN maintain their strategic independence and not be "coerced" by Washington.
"The US is now attempting to force ASEAN countries to take sides between China and the US, so as to utilize them to contain China in various fields," he said, adding that such moves infringe on ASEAN's strategic independence.
Last week, the ministerial meeting of the so-called Indo-Pacific Economic Framework for Prosperity that concluded in Detroit produced a pact on supply chains for key products. Launched last year, the IPEF is made up of 14 countries, and has been repeatedly criticized as a geopolitical tool of the US, which is seeking to isolate China in the region.
In addition, the coast guards of the US, Japan and the Philippines held trilateral maritime exercises in the South China Sea this week, the first such maneuvers among them.
Yuan Zheng, deputy director of the Chinese Academy of Social Sciences' Institute of American Studies, said the US has been trying to form "camps and cliques" in the Asia-Pacific region.
"But most Southeast Asian countries are not willing to get involved in the strategic game or even confrontation between China and the US, which would pose great threats to peace, security and prosperity," Yuan said, adding that China has actually benefited the region through political, economic and military exchanges with ASEAN countries.
Tan said Li and his Singaporean counterpart exchanged views on relations between the two nations and the two militaries, regional security situations, and issues of shared interest, noting that the meeting was "candid, in-depth and productive strategic communication".
The two defense ministers also witnessed the signing of a Memorandum of Understanding on the establishment of a secure defense telephone link.
Li also reiterated China's positions on the Taiwan question at the meeting, stressing that Taiwan is China's Taiwan and that the Taiwan question is at the core of fundamental interests for China.
China will continue to strive for peaceful reunification with the "greatest sincerity and utmost efforts", but will never renounce the use of force, he said.