A current of culture
Share - WeChat Arguably the best way to enjoy the beauty of the Yangtze River, one of China's "mother rivers", is to embark on a tourism cruise. Away from the hustle and bustle of daily life, tourists can savor tea and snacks onboard while enjoying the awe-inspiring currents and picturesque scenery on both banks of the river.
The cruise starts at Yichang city in Central China's Hubei province, known for the role it played in the wars of the Three Kingdoms (220-280) period. It is now home to some of the country's key water control projects.
"Two dams and one gorge", which refers to the Gezhouba Dam, the Three Gorges Dam, and Xiling Gorge between the two dams, has become a classic travel itinerary.
Gezhouba Dam, the first large-scale water control project constructed on the Yangtze River, was put into operation in 1981. The Three Gorges Dam, the world's largest hydropower project, has received over 10 million tourists in the past five years.
The cruise pulls in to shore and takes passengers to the Tribes of the Three Gorges, a scenic area that offers encounters with a variety of cultural experiences related to ethnic groups, such as those of the Tujia people.
There, tourists can visit different villages while hiking along the Yangtze River. Dressed in traditional ethnic costumes, performers sing folk songs, dance in groups and share folk customs with audiences.
Standing on a wooden bridge above a stream, one can enjoy an idyllic natural scene, the stuff of ancient Chinese poems.
Through the fog emerges a young woman in hanfu (traditional Chinese dress), playing a stringed instrument on a boat. Her peers dance on shore, traditional oil-paper umbrellas in hand.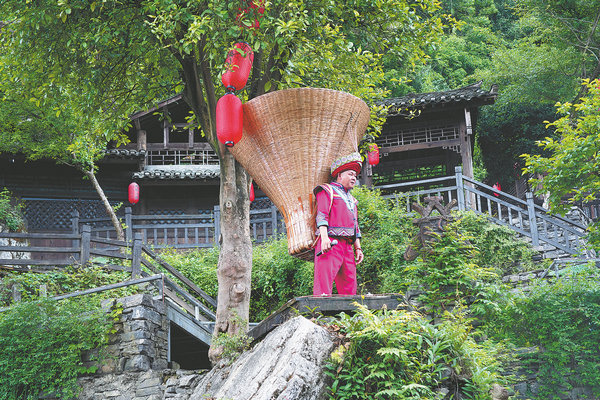 Hop back onboard for the most amazing part of the journey — cruising downstream to upstream through the Three Gorges Dam, a vertical ascent of up to 113 meters.
The climb is made possible by the largest and most sophisticated vertical-hoist ship lift in the world. It allows small and medium-sized ships, with a maximum displacement of about 3,000 metric tons, to pass the dam within 40 minutes.
The Three Gorges Dam also has a five-tier ship lock exclusively for cargo ships. These large-sized vessels can traverse the dam within four hours.
As the tourist vessel, measuring 16.2 meters in width, slowly enters the 18-meter-wide ship lock, passengers have about 12 minutes to observe the water level change until it reaches its maximum height.
Standing on the deck, a breathtaking panorama unfolds before one's eyes, showcasing the grand dam and the surrounding scenery, which stretches to the horizon.