Students take to the road to broaden their horizons
Share - WeChat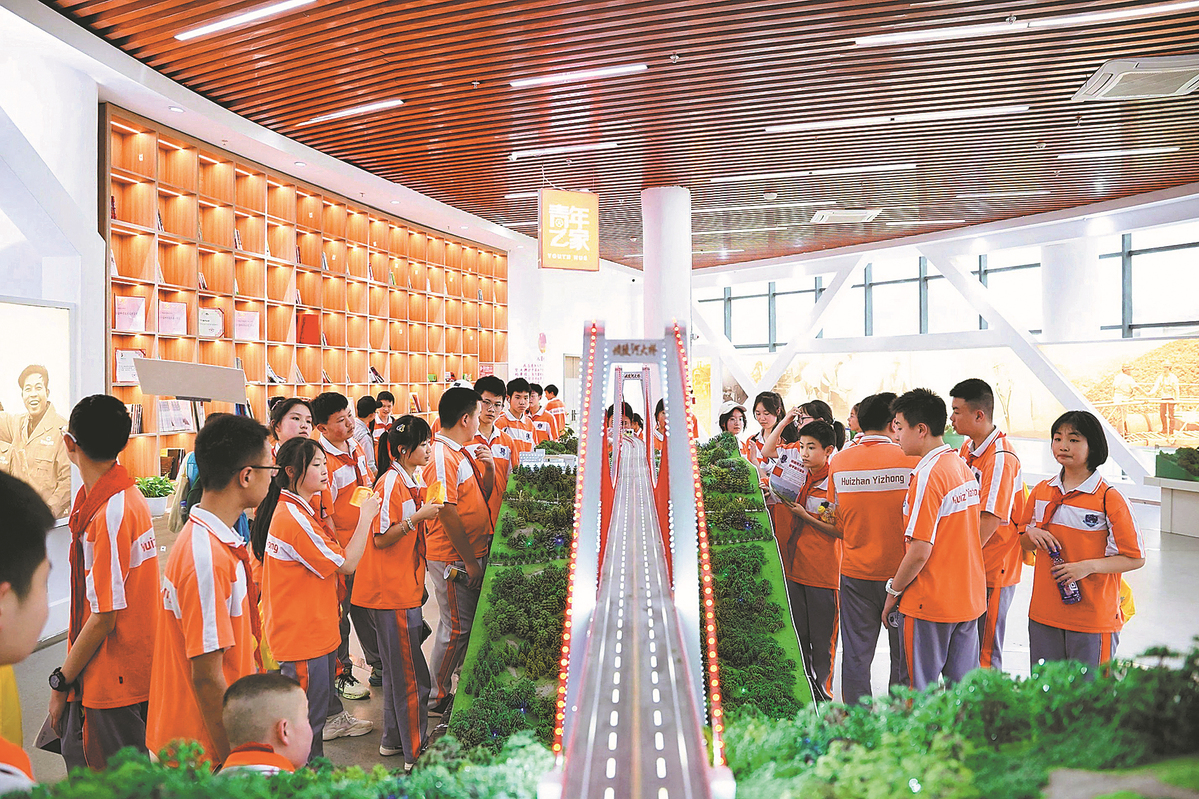 Learning tours prove popular with primary, secondary school pupils
Zhang Wanling recently learned a lot more about bridges.
The primary school student from Anshun, Guizhou province, toured the Balinghe Bridge in the city's Guanling Bouyei and Miao autonomous county. She saw various sections of this massive steel structure and learned how physics, chemistry and geology play roles in allowing suspension bridges to be built in mountainous areas.
"By studying the Balinghe Bridge, I learned about the differences among beam, arch, cable-stayed and suspension bridges," Zhang said. "The engineers responsible for such constructions are truly remarkable."
With its deck standing at a height of 370 meters, the Balinghe Bridge is one of the tallest nationwide. Visitors strolling among the clouds along a sightseeing pathway on the bridge appreciate the mountain valley scenery and the convergence of nature and modern technology.
Policy incentives, diverse experiences and improved services are fueling such student learning trips.
A recent report from the China Tourism Academy showed that a rising number of tours offer learning experiences for students.
More than 6 million people embarked on study tours last year, more than the pre-pandemic total of 4.8 million in 2019, data from the National People's Congress' Education, Science, Culture and Public Health Committee show.
Reservations for such trips more than doubled for the May Day holiday, domestic online travel agency Trip.com Group reported, and as summer approaches, inquiries about such tours continue to grow.
Wu Ning, an official at the bridge science museum situated next to the Balinghe Bridge, said, "We have developed study programs for children of different ages, from elementary to middle and high schools."
The museum showcases the history, technical innovation and craftsmanship of the numerous bridges in the province. It also displays model bridges and the components required for building bridges.
Wu said the Balinghe Bridge study tour helps students improve their understanding of bridge construction, while stimulating their imaginations and creativity.
Since last year, the museum has been visited by more than 600 schools for educational activities. On campuses with a total of some 50,000 teachers and students, it has also introduced over 100 activities themed on the science involved in building bridges.
"We've received very positive reviews from our visitors," Wu said.
The bridge is among the growing number of educational tourism hot spots across the country.
In Shanghai, Wang Xingyu has seen his business, which integrates education with rural experiences, surge this year.
"The pandemic is over and everyone wants to get out to commune with nature again," Wang said.
In 2017, he started Beyond the City, a company that arranges for middle and high school students to experience rural life.
Discussing the reasons for starting his business, Wang said, "I found that each village has its own distinctive culture and history, which can complement the knowledge imparted to students in the classroom.
"It's like moving training from the classroom to the grand auditorium of nature — enabling students to commune with rural culture."