University Games set for start of torch relay
Share - WeChat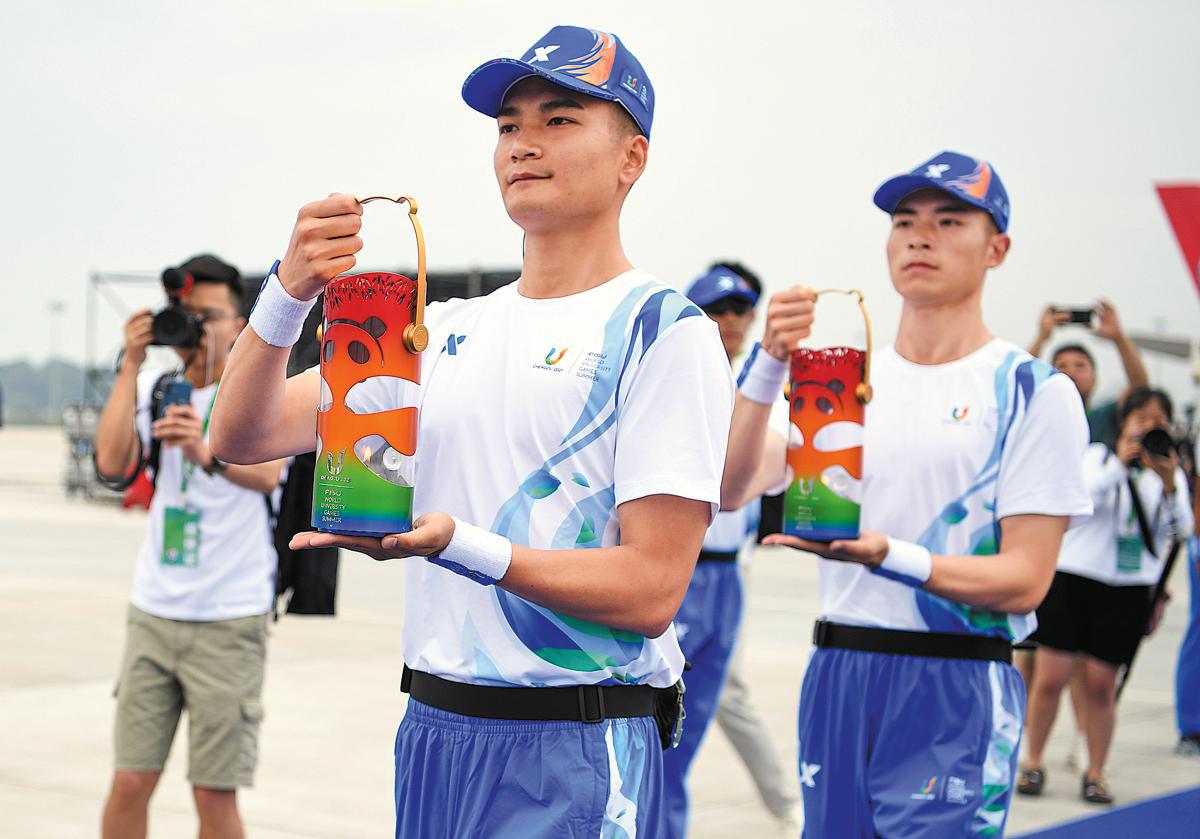 The official flame for the 31st Summer World University Games was flown from Chengdu, capital of Sichuan province, to Beijing on Thursday for the torch relay due to start at the weekend.
Under escort, the flame, carried in sealed pots, was taken aboard a plane specially named Universiadeat Chengdu Tianfu International Airport.
As the official partner of the University Games, Chengdu-headquartered Sichuan Airlines selected eight crew members to transport the flame, said Wang Ke, general manager of the airline's cabin service department.
The crew, with Wang serving as chief steward, included four pilots led by Liu Chuanjian.
Liu was awarded the title of "hero captain of China's civil aviation" by the Civil Aviation Administration of China and the Sichuan provincial government last year.
On May 14, 2018, he safely landed an Airbus plane with 128 people on board after a cockpit window broke at 9,800 meters and his co-pilot was sucked halfway out of the aircraft.
The torch relay of the University Games will be launched in Beijing on Saturday. The relay involves five cities: Beijing; Harbin, capital of Heilongjiang province; Shenzhen, Guangdong province; Chongqing; and Yibin, Sichuan.
The torch will then return to Chengdu and ignite the main cauldron tower of the games on July 28.
In January 2022, the torch for the Chengdu games was collected in Turin, Italy. On Feb 25 that year, a welcoming ceremony for the torch of the 31st Summer World University Games was held at Jinsha Site Museum in Chengdu. The museum is located in the Jinsha Ruins, one of Sichuan's most important archaeological sites.
The games will be held from July 28 to Aug 8 after being deferred twice due to COVID-19. Chengdu is the third Chinese mainland city to host the biennial Summer University Games, following Beijing in 2001 and Shenzhen in 2011.
Chengdu has built 13 new venues and renovated 36 existing ones for the games. All the facilities, including the Dong'an Lake Sports Park where the opening ceremony will be held, were put into use by early 2021.
Athletes from universities across the globe are expected to compete for 269 gold medals in 18 sports.
To boost interaction among young athletes from all over the world, cultural events will be staged during the games, including an art exhibition themed on "Chengdu, a city of parks", an intangible cultural heritage exhibition, music, dancing and Sichuan Opera performances. Visits for the athletes to a panda sanctuary and local museums are also planned, the organizers said.
The Chinese delegation is expected to number more than 800 members, including around 500 athletes competing in all 18 sports.
Most Popular
Highlights
What's Hot