US cities remain clueless as thousands go homeless
Share - WeChat Editor's note: As the United States is beset by soaring homelessness, this page takes a closer look at this crippling issue in New York and Los Angeles, two of its largest cities.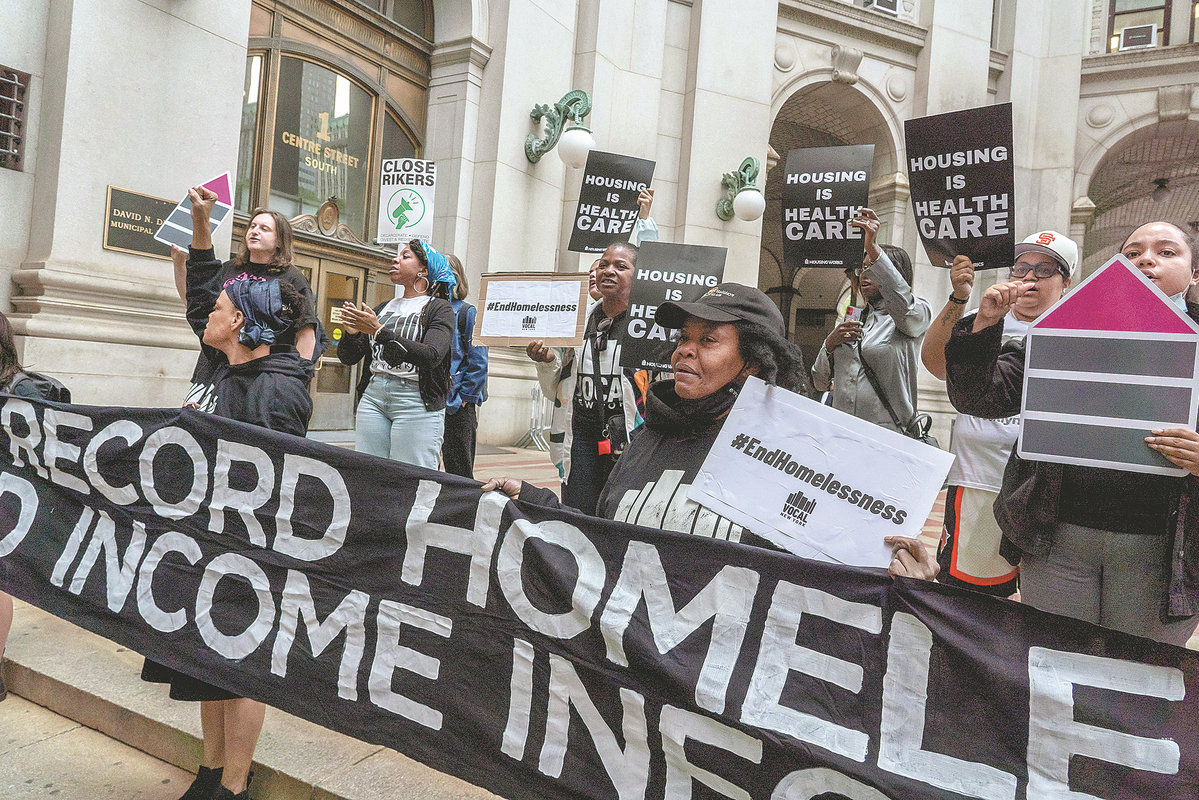 NYC, LA faced with fund crunch to tackle problem caused by migrant influx, layoffs
In a tale of two cities, New York and Los Angeles, the largest and second-largest cities in the United States, where the rich live alongside the less fortunate, homelessness has become a crippling issue that local governments are struggling to deal with.
The number of homeless people in New York has reached levels not seen since the Great Depression of the 1930s, said the Coalition for the Homeless based in New York, the country's oldest advocacy and direct service organization that helps the homeless.
A record 100,000 people are living in homeless shelters for the first time, city officials said on June 28, mainly after a huge influx of migrants from the southern border were mostly bused into the city from Republican states beginning in spring last year.
Jose, a migrant from Venezuela who asked to drop his last name for fear of his family's safety, arrived in New York in October. He has no official status, cannot work and has no place to live.
However, he is adamant that he cannot return to Venezuela where he was a truck driver, as gangs told him they would kill him, nonprofit National Public Radio reported in March.
About 52,000 migrants are among New York's homeless population, making them the largest group of unhoused people in the city's system. More than two-thirds have families and children with them, Deputy Mayor Anne Williams-Isom told a news conference last month.
To handle the crisis, Mayor Eric Adams said $1.4 billion has already been spent to provide housing for migrants this year. The city expects to spend at least $4.4 billion overall to address the issue by next year. He acknowledged that the funding is taking away from social services.
"I just think it's unfair — $1.4 billion that could have gone into some of the priorities that we all share," he told The New York Times on June 29.
City Relief, a nonprofit founded in 1989, provides meals from a local mobile van at eight locations, including Chelsea, the Lower East Side and Chinatown, West 14th Street, South Bronx and Harlem in New York City as well as several more places in New Jersey. It relies on donations through its website and encourages people to volunteer.
Corey Hayes, creative director for the organization, told China Daily: "We have seen an uptick in the number of people needing help over the past 10 months. Part of that has been migrants, but also as the cost of rent in the city continues to skyrocket, more and more people are just not able to afford rent."
Many of the people who have newly arrived are living in 166 locations, including converted hotels, hospitals or one of 11 large relief centers across the city. It costs the city $8 million a day.
On July 11, Adams announced two new Humanitarian Emergency Response and Relief centers that will cater to migrants, including 330 families with children seeking asylum.
"New York City continues to receive thousands of asylum-seekers each week, and we continue to do everything in our power to respond accordingly, but we are still in dire need of assistance from our state and federal partners," he said in a statement.
Adams, along with lawmakers, also announced a $107 billion budget for the new fiscal year beginning on July 1. But it includes cuts to nonprofits that the Department of State uses to run its shelters. This was criticized by several organizations, including Homeless Services United, a nonprofit in New York.
Last month, the mayor used an executive order to eliminate a rule that had required homeless shelter residents to wait 90 days before they could get a "Family Homelessness & Eviction Prevention Supplement", or a rental assistance voucher funded by the city.
He also vetoed other bills aimed at expanding eligibility for the vouchers to people at risk of eviction and to alter the income requirement of people who wanted them.
However, his veto was overridden by the New York City Council on July 13. He estimated that all the bills could cost the city $17 billion over the next five years, which he said was unsustainable.
The mayor has also faced criticism for supporting rent increases for 2 million people in rent-stabilized apartments, which advocates believe will affect those on a low income already struggling to pay rent and buy food.
"Often people will come to us just because the rent doesn't allow them enough money to eat," Hayes said. "The city has failed to invest in increased housing over the past number of years and wasn't ready for either situation."
Junior Phillips, 49, from Brooklyn, installs flooring in homes and businesses for a living. He has a full-time job and does part-time work to cope with the cost of rent and rising bills.
"At my main job, I work about 30 hours a week," Phillips told China Daily. "My other job is along the same lines. The thing is the money I make on the side is not extra money because living in New York is really very expensive. I just have enough to cope."
In addition to asylum-seekers, 80,000 non-immigrants are homeless in the Big Apple, which equates to 1 in 80 people not having a permanent home. Many would go hungry if it were not for the help of homeless outreach programs such as City Relief.
"Our main focuses are providing hot meals for people to make it through the day, and connections to local resources to help them create a future off the streets," Hayes said. "I've had many people tell me over the years that they would have died without our assistance."