Hawaii inferno unleashes fury, misery
Share - WeChat Editor's note: As Lahaina in Hawaii reels under the impact of devastating wildfires, this page reviews the US government's emergency response and horror stories from survivors, and looks at a US study that highlights the link between air pollution — exacerbated by wildfires — and a higher dementia risk in seniors.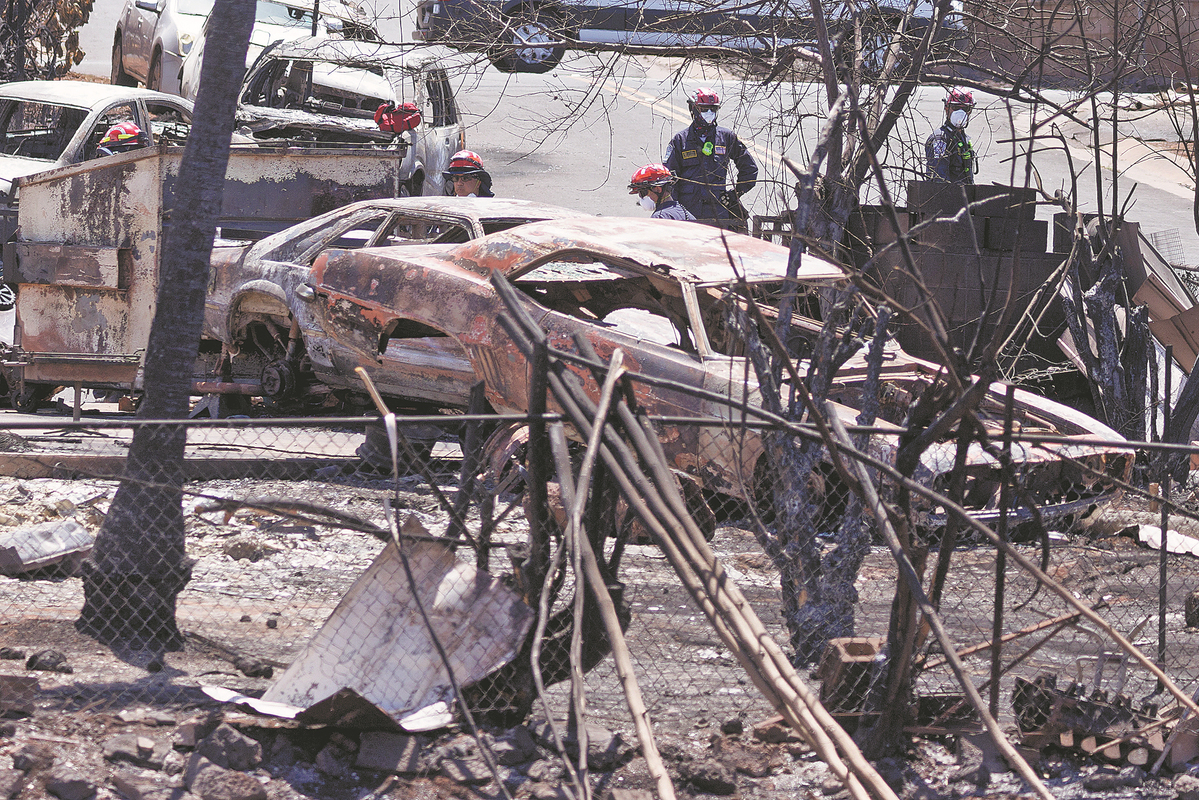 Residents hit out at failure of warning system and lack of government response
The death toll on the Hawaiian island of Maui from the deadliest US wildfire in more than a century is expected to go beyond 106, as residents seek answers and express anger that government inaction contributed to the heavy loss of life.
Some survivors in Lahaina, the historic coastal town that was almost entirely destroyed by the fast-moving inferno on Aug 8 and 9, said there had been no warnings.
Others have complained the government response has been lacking and that survivors' crucial needs are going unmet.
There are questions about whether wildfire warnings were loud enough and early enough and whether government officials were adequately prepared.
Fueled by winds gusting up to 129 kilometers per hour, the inferno reached temperatures of 538 C when it raced on Aug 8 from the dry grasslands outside into Lahaina, a town that had 13,000 residents.
The deadly blaze destroyed or damaged more than 2,200 buildings, 86 percent of them residential, causing an estimated $5.5 billion in damage, authorities said.
Only a few residents have been permitted back into Lahaina to visit their properties. Maui County had briefly relaxed restrictions but quickly suspended the visits on Monday after people crowded streets being used by rescue workers, officials said.
"For those people who have walked into Lahaina because they really wanted to see, know that they're very likely walking on iwi," Hawaii Governor Josh Green said at a news conference on Maui, using the Hawaiian word for bones.
Hawaiian Electric Industries has come under scrutiny over whether its power equipment played any role in setting off the fires, the cause of which has not been pinpointed.
The utility on Monday defended its decision to keep power flowing, even though Maui was buffeted last week by powerful winds fanned by a distant hurricane, raising the risk of downed lines.
Hawaiian Electric CEO Shelee Kimura said there is no program in place to shut off electricity. Shutting power would have created problems for residents who rely on medical equipment, she said. Electricity also powers pumps that provide water in Lahaina.
Some state officials said there was not enough water for firefighters in central Maui and blamed a recent ruling by an environmental judge. The ruling by Judge Jeffrey Crabtree did not directly affect water supplies to Lahaina, the attorney general's office said on Monday.
Hawaii officials have also vowed to review the state's emergency notification systems, after Lahaina residents said they received little or no advance warning before the fire engulfed their homes.
The American Red Cross had received more than 2,500 calls from people trying to find and reunite with missing relatives and friends, and about 800 of those have been resolved, said Chris Young, senior director for operations and readiness.
Some of the displaced have grown frustrated with the pace of the government response.
Kanamu Balinbin, a local sports coach, set up a relief camp where people who lost their homes and belongings could find water and food.
"I was devastated," Balinbin said. "I consider myself a strong leader, but it broke me.
"This is what keeps me going, helping people. A lot of us are at that stage."