Chengdu games showcase many achievements of nation
Share - WeChat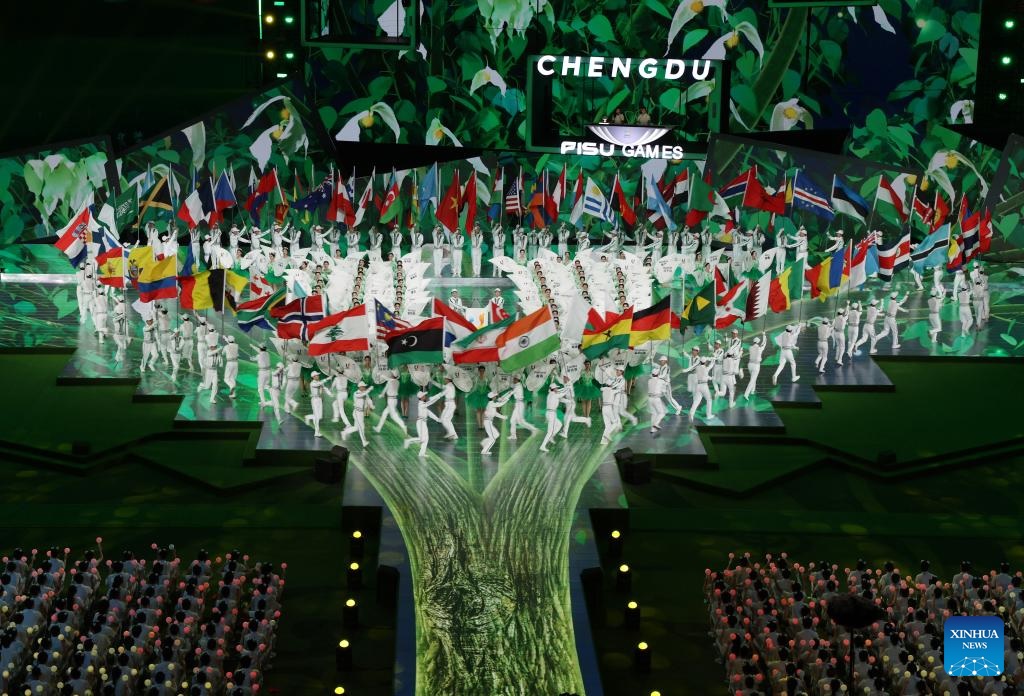 CCTV's Sports Channel uses the slogan "sport is power", and these words proved true when China hosted the FISU World University Games in Chengdu, Sichuan province, from July 28 to Aug 8.
A total of 6,500 student-athletes from 113 countries and regions attended the event.
Nothing is more powerful than letting thousands of foreign athletes, team members and visitors from around the world witness and experience the vibrancy and prosperity of China. The games successfully showcased China's achievements to the world.
The games were a resounding success for China for several reasons.
First, they projected national pride and patriotism with outstanding results. China led the medal tally with 103 gold, 40 silver and 35 bronze, while Japan came in second with 21 gold medals. South Korea and Italy both won 17 gold and 17 silver, coming in third and fourth, respectively, because South Korea won two more bronze medals than Italy.
However, these excellent results did not come easily. Many victories — such as the women's volleyball final against Japan and several swimming events won by mere tenths of a second — were achieved through years of dogged training, exemplary sporting spirit and determination.
One particularly impressive performance was from a runner from Tsinghua University who came from behind most of the race to win the women's 10,000 meters.
Second, the games showcased China's magnificent stadiums, spectacular opening and closing ceremonies, cutting-edge technologies and excellent organizational expertise to ensure the comfort and well-being of every athlete. Many athletes heaped praise on just about every aspect of the games, from the excellent competition facilities and venue to the efficient operation and organization of the athletes' village, where they had the opportunity to enjoy Chengdu's famous spicy food and participate in cultural activities.
The games also fostered cultural exchanges, mutual understanding and friendships that transcend borders. There were many scenes of competitors hugging each other while offering their rivals encouragement and warm congratulations.
Numerous stories of sportsmanship also emerged during the games.
Overseas journalists were pleasantly surprised upon their arrival when each received a handwritten personal letter from individual students in Chengdu who expressed their welcome and extolled the history and attractions of the provincial capital. In an era dominated by emails and texts, these handwritten letters-3,000 in total — truly touched the hearts of many journalists.
In his speech at the closing ceremony, Leonz Elder, the acting president of the International University Sports Federation, said the event had made the dreams of student-athletes come true, and their experience was of a gold-medal standard.
Eric Saintrond, secretary general of the federation, said the Chengdu games offered young people from around the world the opportunity to see and explore China for themselves.
"This is particularly important, given that people sometimes harbor erroneous pictures of the country through Western media," he said.
Many athletes and visitors were impressed with China's modern architecture, its efficient transportation system, friendly service, excellent cuisine and the vibrancy of Chengdu. These athletes and foreigners undoubtedly generated countless messages, pictures and videos shared on their social media platforms, reaching family members, friends and social circles worldwide. As one athlete said, "I had never been to China before, but now I love China."
Chinese media should capitalize on the success of the games by producing more video clips that highlight the spectacular and touching aspects of the games and sharing them on social media platforms. This will help spread China's success stories around the world.
For China, the games will facilitate the growth of university sports in the nation, which is crucial for improving the physical health of its students. It is most fitting that China has designated Aug 8 as National Sports Day.
Additionally, the games contribute to developing the sports industry in China. According to the National Bureau of Statistics, the total revenue of the country's sports industry increased from 952.6 billion yuan ($131.2 billion) in 2012 to 3.1 trillion yuan in 2021, with an annual growth rate of over 14 percent.
China now boasts an excellent track record of hosting major global sports events, including the Beijing 2008 Olympics, the 2022 Winter Olympics and the Chengdu games. These events demonstrate China's capabilities and strength on the international stage.
It is only natural for the nation to strive to host more international sports events, as these provide the perfect platform to showcase China's successes. There are already upcoming opportunities, such as the 19th Asian Games in Hangzhou, Zhejiang province, in September and October and the Badminton World Tour Final in Hangzhou in December. China should also aim to host a FIFA World Cup, regarded as the most spectacular international sporting event.
The author is an adjunct professor at the University of Hong Kong's School of Professional and Continuing Education and honorary adviser of the Squash Association of Hong Kong. The views do not necessarily reflect those of China Daily.