Tech firms double down on LLMs
By FAN FEIFEI | China Daily | Updated: 2023-09-07 09:36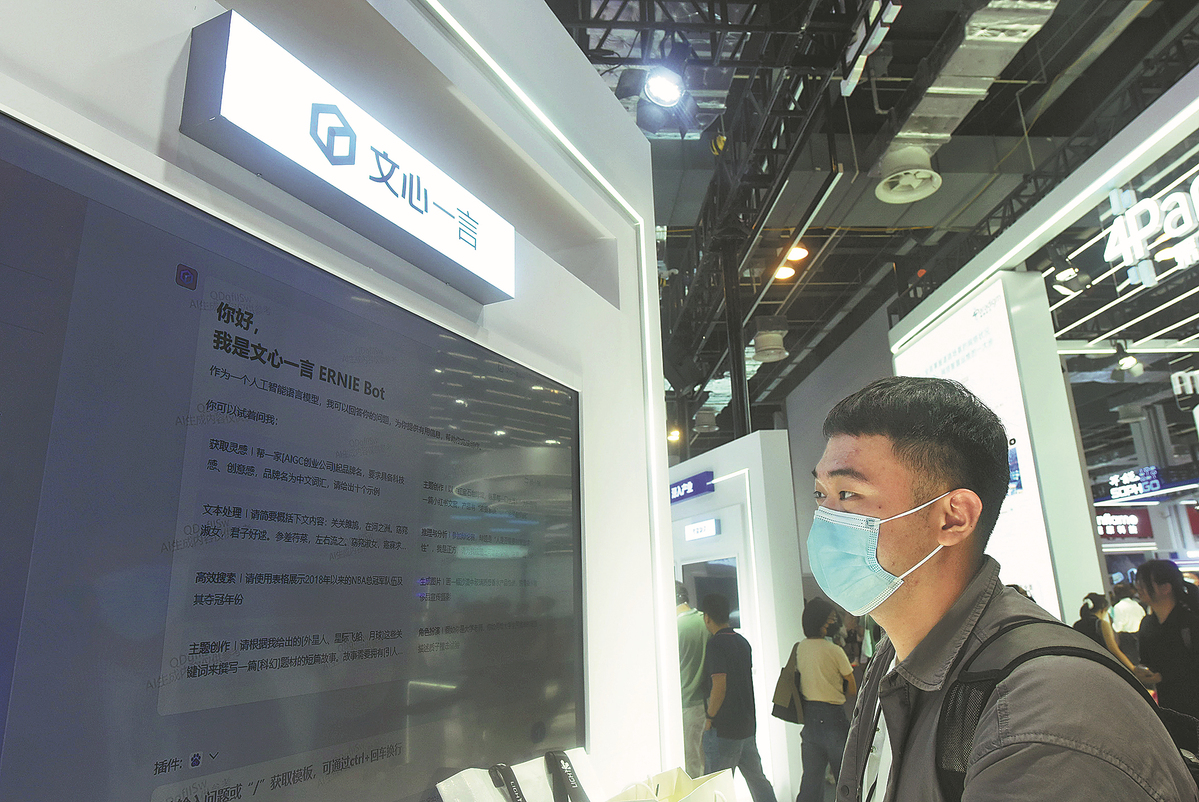 Large language models powered by artificial intelligence will speed up the integration of a wide range of industries with application scenarios, as major Chinese technology companies step up efforts to develop industry-specific LLMs and promote the large-scale commercial use of such models, experts said.
LLMs refer to computer algorithms that are trained with huge amounts of data and are capable of generating content such as images, text, audio and video.
Chinese tech heavyweight Baidu Inc has updated its enterprise-level LLM platform Qianfan, which covers more than 400 application scenarios across sectors including finance, manufacturing, energy, government affairs, and transportation.
Baidu aims to build the fundamental capabilities of LLMs, and support the development of AI-native applications, said Robin Li, co-founder and CEO of Baidu, at the 2023 Baidu Cloud Intelligence Conference held in Beijing on Tuesday.
Li said the company will launch the latest version of its LLM, Ernie 4.0, soon.
Last week, Baidu opened its ChatGPT-like LLM Ernie Bot to the public after receiving approval from the authorities.
Shen Dou, executive vice-president of Baidu, said the Qianfan platform will greatly lower the threshold for the use of LLMs, and allow enterprises to use AI more efficiently.
LLMs necessitate a higher demand for data and knowledge in professional fields, and for talent that can fine-tune specialized models based on diverse industrial demands, said Lu Yanxia, research director at market consultancy IDC China.
They have triggered a new AI wave and brought fresh business opportunities for domestic AI servers, cloud computing and chip companies, Lu said.
According to a report from global consultancy McKinsey &Co, generative AI will add between $2.6 trillion and $4.4 trillion in annual value to the global economy, and have a significant impact across industrial sectors.
Banking, high technology and life sciences are among the industries that could see the biggest impact — in terms of the percentage of their revenues — from generative AI.
Other Chinese tech giants such as JD and SenseTime have also launched industry-specific AI models in recent months.
JD unveiled its large language model ChatRhino in July, which can be used in a wide range of fields, including retail, logistics, finance and health, as the company aims to bolster digital transformation and upgrade various industries using AI.
The model will be deployed within JD's core business areas in the second half of this year, the company said.
JD has accumulated huge amounts of data and knowledge from extensive industrial scenarios, and it will strengthen cooperation with industry partners to promote technological innovation, said Xu Ran, CEO of JD.
SenseTime has developed a Chinese-language medical LLM built on a vast amount of medical knowledge and clinical data. This model can provide multi-round conversation capabilities for health consultation and guidance services, and help doctors improve diagnosis and treatment efficiency.
To gain a competitive edge in the global AI chatbot race, Chinese AI companies should devote more resources to improving computing power, algorithms and data quality, and step up investment in basic scientific research, said Pan Helin, co-director of the Digital Economy and Financial Innovation Research Center at Zhejiang University's International Business School.