'Boot camp' recruits shed excess kilos
Share - WeChat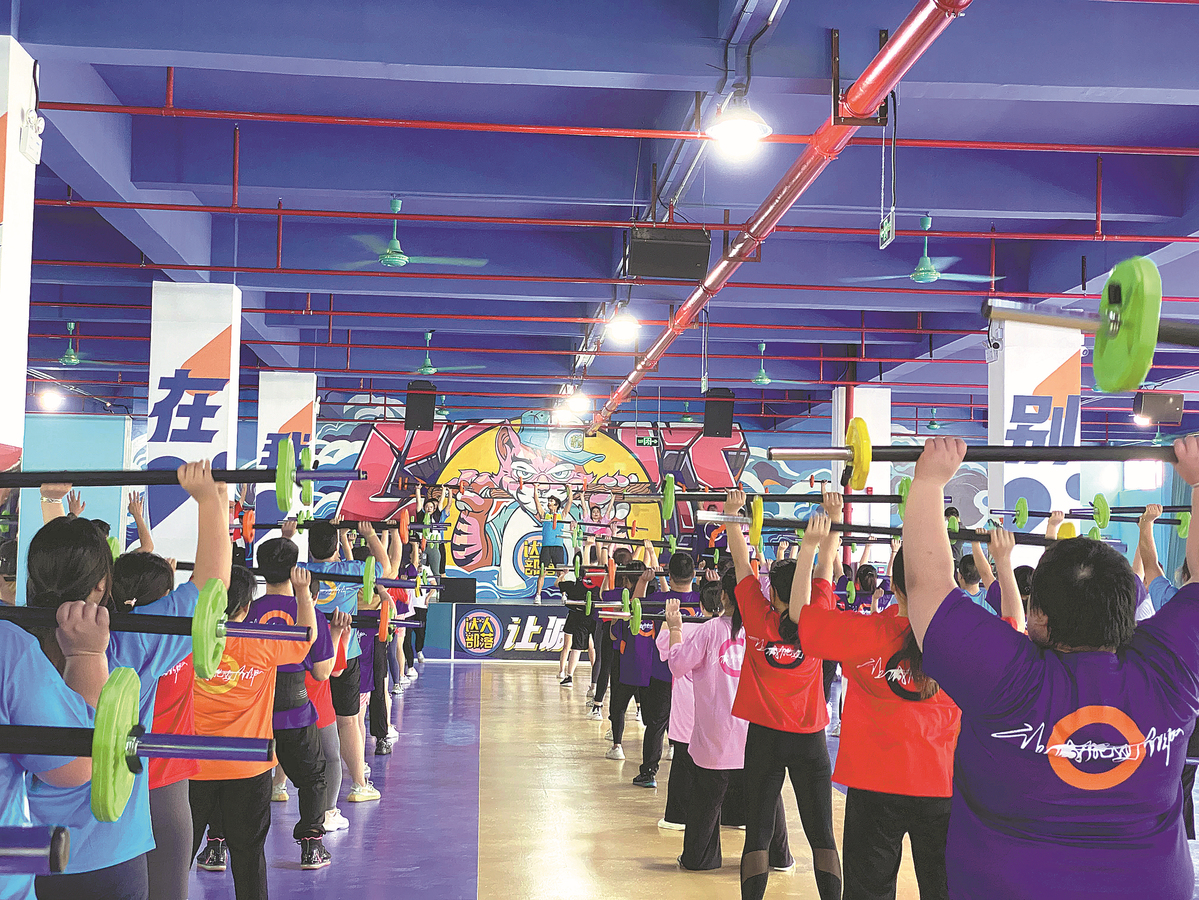 More young people join fitness programs to get in better shape
Chen Shuling has long been doing everything she can to lose weight.
In the past two years, she has signed up twice to join a weight reduction "boot camp" program in Dongguan, about an hour's drive from her home in Shenzhen, Guangdong province.
Each time, Chen spent several weeks receiving training in the form of military drills.
"A former colleague of mine mentioned this program to me, and I checked it out before deciding to join," said the 28-year-old, who works for an international trade company.
Before she signed up for the boot camp, Chen, who has always been relatively athletic, often ran for an hour on her own.
"However, I tended to eat more than I should when I socialized with friends. I also thought that exercising by myself was not that effective," she said.
As she considered herself a little chubby, Chen wanted to lose weight by doing sports.
She went to the training site in 2021 to view its facilities and the way in which it is run, including exercise arrangements and accommodations.
"The venue was well-equipped, with an anti-slip mat on the floor. The cook was from Guangdong, so I thought the food would be very acceptable for me. In addition, the trainers promised not to put me on too strict a diet," she said.
Being something of a veteran exerciser, Chen knew exactly what she wanted.
She ruled out several other programs after finding they had poor exercise equipment or bad management. "It's important to prioritize safety," she said.
When Chen was between jobs in 2021, she stayed in the Dongguan training facility for two months, after considering the benefits and disadvantages of such a program.
She exercised for three to four hours throughout the day. "It was a packed schedule, so I was never bored," she said.
Chen made every effort to follow the training instructions. When she didn't feel she could do certain exercises, she said the trainers helped her find alternatives.
She developed a healthy lifestyle at the training center.
The program's trainees were only allowed to eat the lightly flavored healthy food offered at the facility. Takeout meals were forbidden.
"Even if you had moments of weakness and wanted to slip back into your old habits, you had to follow the rules, as the place was well monitored," Chen said.
The intense workout regime deterred her from taking food to social engagements and also helped her get to bed and rise earlier than previously.
Chen spent 6,000 yuan ($822) for the two-month experience, during which she lost just over 15 kilograms. She believes it was money well spent.
She was so satisfied that she went for a second round of training from September last year to January this year, during which she lost 10 kg.
"During the pandemic, I didn't want to cook or stay cooped up at home. The training center seemed like a great place to go," she said.
Membership grows
More young Chinese are enrolling for fitness training programs to get in better shape.
Han Juncheng, co-founder of Jianfeidaren Go Change Now, a weight-loss boot camp franchise, has seen its membership rise in the past decade.
"There are about 1,500-2,000 boot camps nationwide, and 80 percent of them can accommodate more than 100 members at a time," said Han, whose camps boast about 4,000 members.
"Some people are not satisfied with their lives and want to find an outlet to improve themselves, while others need to relieve work pressure," Han said.
"These camps first emerged in first-tier cities and cost at least 20,000 yuan to join," he added.
Popular livestreaming promotions on platforms such as Douyin and Kuaishou have resulted in more training facilities being established in smaller cities and rural areas, leading to a drastic reduction in charges.
"Some of these camps only ask for 3,000 to 4,000 yuan," said Han, who started as a fitness trainer in 2003.
Many parents have sent their overweight children to receive instruction from Han during vacations.
"The children didn't realize exactly how the training affected them, but some showed signs of accepting the instructions I gave them," he said.
Although he put the children through several drills, some of his charges negated the beneficial effects of these exercises by relapsing into bad eating habits at home.
As a result, Han came up with the idea of summer training camps to offer the children a better lifestyle.
In addition to regular workouts, faculty members were brought in to explain nutrition and offer psychological counseling.
"We opened three campsites in 2011, which were attended by a total of about 1,500 children. The camps went really well, and the children didn't put on weight afterward," Han said.
As these positive results saw the children's parents wanting to join the camps, Han extended his business from Shenzhen to Sanya, Hainan province, and some 20 other cities.
Each session lasts for 28 days and some of them take place at schools, where there is better management. Charges range from 8,000 yuan to 20,000 yuan, depending on the services provided.
A detailed hospital examination is required to join a camp.
"People with hypertension have their blood pressure monitored before breakfast, during training and before bedtime to observe any changes," Han said.
"For those with diabetes, a nutritionist provides guidance, and their blood sugar levels are measured."
As the participants build up their strength, the workouts are intensified.
Han said that some 20 percent of his members return for more training.
"A number of them like staying here and they even bring their friends along," he added.