Green, digital transition boosts high-quality growth of services trade
China Daily | Updated: 2023-09-11 09:18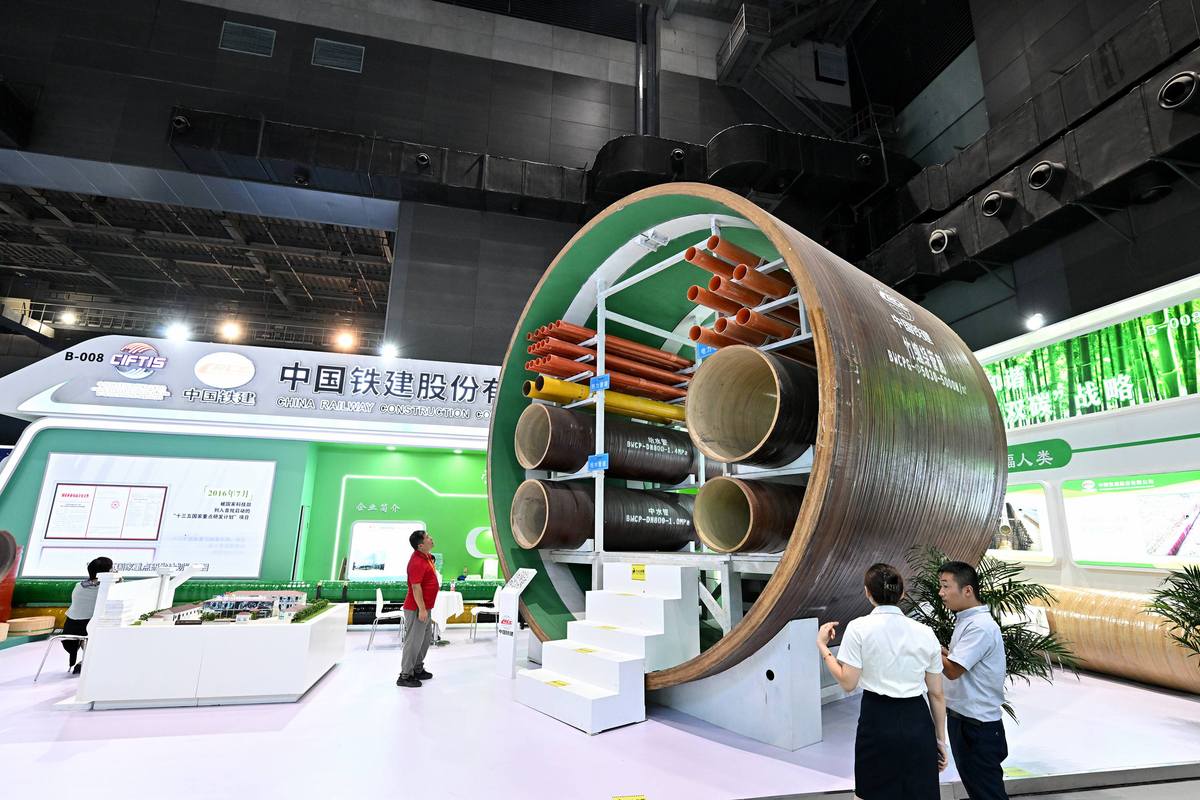 BEIJING — China's high-quality development featuring a digital and green transition has provided crucial support for the services trade and opened up new space for foreign companies.
Themed "Opening-up Leads Development, Cooperation Delivers the Future", the 2023 China International Fair for Trade in Services was held in Beijing from Sept 2 to 6, with the digital and green drive as a major feature of the event, which had several related themed fora and exhibitions of cutting-edge services, technologies and business models.
Embracing digital future
Digital technologies, including the internet of things, artificial intelligence and blockchain, were a bright spot at this year's service trade fair, with multinational companies flocking to tap opportunities.
At this year's event, Intel China, participating in the fair for the second time, showcased technologies and solutions in the areas of AI, personal computers, data centers and smart retail sales.
Zhou Bing, vice-president of Intel, said CIFTIS featured "vitality and opportunities", adding that the company announced cooperation with many Chinese partners at the fair.
The vast blue ocean of China's digitalization drive has provided massive global market potential. The country's digital economy exceeded 50 trillion yuan ($6.8 trillion) for the first time in 2022, accounting for 41.5 percent of GDP.
In the first half, the country's digitally delivered services trade increased 12.3 percent year-on-year, 3.8 percentage points higher than the total services trade growth rate.
China has intensified its policy support to create a sound digital business environment. In August, the country unveiled guidelines to attract foreign investment, including measures encouraging multinational companies to grasp growth opportunities in the country's digital economic development.
The Ministry of Commerce also announced at the CIFTIS that 16 more e-commerce parks had been listed as national e-commerce demonstration bases this year.
Tapping green potential
Visitors to 2023 CIFTIS needed only to scan a QR code on the fair's poster with a mobile phone and fill in travel information. The system then estimated carbon emissions generated. If the low-carbon standard was met, the visitor received a chance to win an environmentally friendly gift.
"2023 CIFTIS plays an important exemplary role in key areas, such as green and low-carbon transformation," said Zhao Bingdi, president of Panasonic Corp of China.
Panasonic, which participated in the fair offline for the first time, set its theme as "Green Impact". "We should grasp green and low-carbon business opportunities and constantly expand the application fields of products and services," Zhao said.
China unveiled at 2023 CIFTIS that it will establish a national voluntary greenhouse gas emissions reduction trading market and support the services sector's role in green development.
Michael Bi, managing partner of EY Greater China Markets, said China's move to vigorously promote the development of green transformation further broadens the market space for foreign companies and provides new trade growth drivers.
He added that EY China also released a white paper titled, "Green Power Trading: Accelerating Green Energy Consumption "at the services trade fair to provide suggestions for enterprises to reduce carbon dioxide emissions.
Xinhua