US House speaker calls for impeachment inquiry into Biden
Xinhua | Updated: 2023-09-13 09:12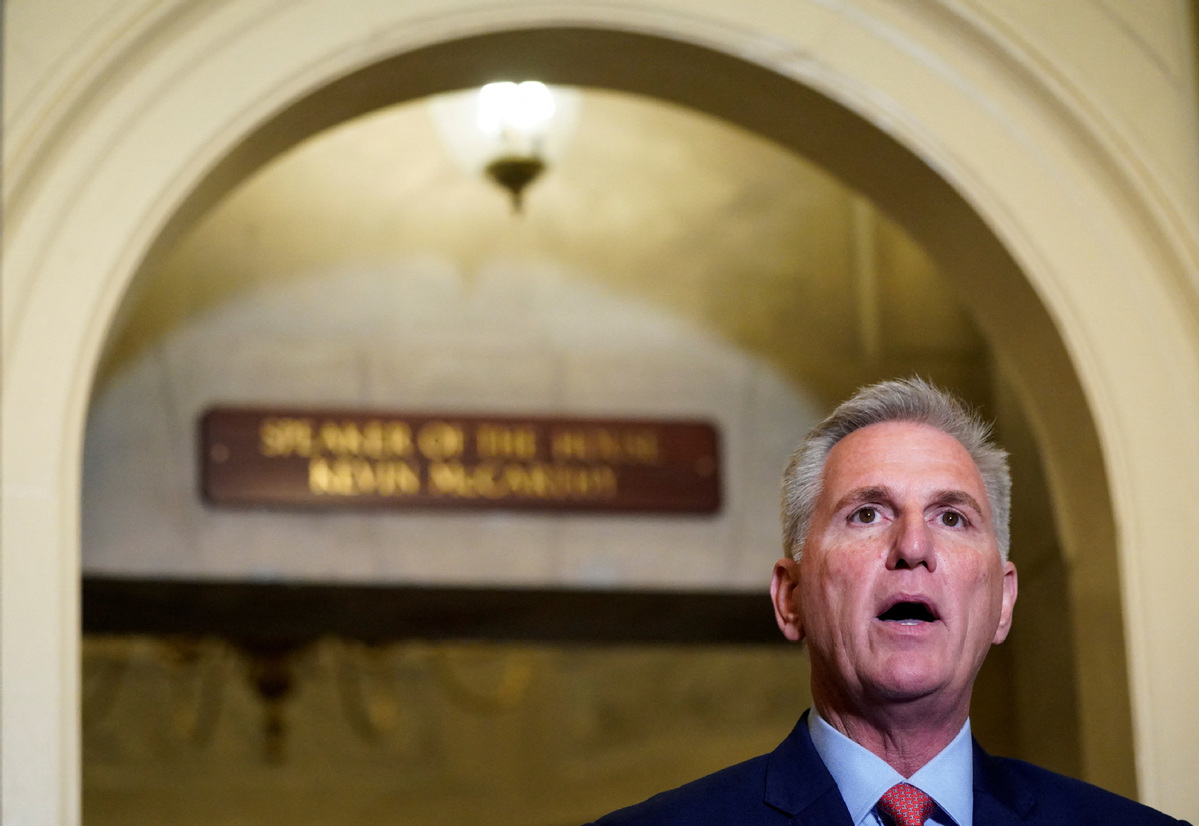 WASHINGTON - US House of Representatives Speaker Kevin McCarthy, a Republican, on Tuesday called for opening an impeachment inquiry into Democratic President Joe Biden, citing allegations of corruption.
"I am directing our House committees to open a formal impeachment inquiry into President Joe Biden," McCarthy told reporters at the Capitol.
McCarthy said the House Oversight Committee's investigation has found a "culture of corruption" around the Biden family as Republicans probe the business dealings of his son, Hunter Biden, from before the president took office in 2021.
"These are allegations of abuse of power, obstruction and corruption, and they warrant further investigation by the House of Representatives," he said.
The Republican leader has been under pressure from his party's right flank for months to open an impeachment inquiry into the 80-year-old president, who is running for reelection in 2024.
Some Republicans on far right even have threatened to oust McCarthy from his speakership if he does not move swiftly enough on such a probe.
The White House and Democratic lawmakers immediately denounced the impeachment push as politically motivated.
"House Republicans have been investigating the president for 9 months, and they've turned up no evidence of wrongdoing," White House spokesman Ian Sams said on X, formerly known as Twitter.
"The illegitimate impeachment inquiry launched by Extreme MAGA Republicans is regrettable, reckless and reprehensible. It is a political revenge tour that lacks any factual or constitutional basis," House Democratic leader Hakeem Jeffries said on social media. "Democrats will defend the truth and fight right-wing extremists at every turn."
The impeachment push also came as former President Donald Trump, who was twice impeached by the House but acquitted by the Senate, faces four separate criminal indictments while running for his party's 2024 presidential nomination to face Biden.
"This is a transparent effort to boost Donald Trump's campaign by establishing a false moral equivalency between Trump -- the four time --indicted former president" and Biden, who faces "zero evidence of wrongdoing whatsoever," said Rep. Jamie Raskin, the top Democrat on the House Oversight Committee.
An inquiry is a step toward impeachment. A spokesperson for House Speaker Kevin McCarthy said on Tuesday that the House is not expected to vote on the impeachment inquiry.
According to The Hill, if McCarthy does try to move forward with a formal House vote, it will be tricky.
McCarthy is already facing resistance to the idea of an impeachment inquiry from a number of moderates, putting into question whether he would have the votes to launch the probe, the report said.
With Democrats expected to oppose the effort, McCarthy can only afford to lose a small number of Republican votes in the slim GOP majority, it said.