BRI to boost China ties with ASEAN, Mideast
Share - WeChat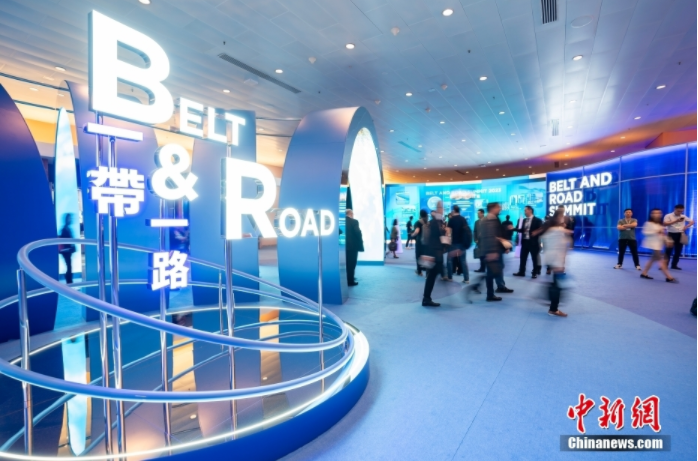 Further exchanges and closer partnership with the Belt and Road Initiative are expected for China with Southeast Asian and Middle East countries, senior officials said in Hong Kong.
The special administrative region hosted the 8th Belt and Road Summit and related events to mark the 10th anniversary of President Xi Jinping's proposals for jointly building a closer China-ASEAN community with a shared future and the Belt and Road Initiative.
ASEAN Secretary-General Kao Kim Hourn, noting there are many BRI-related projects taking place in different ASEAN member states, said the bloc welcomes China to continue expanding its investment in ASEAN and connect it with the Master Plan on ASEAN Connectivity 2025.
"The purpose is to bring greater prosperity to the people," said Kao.
Kao told "The Dialogue" forum, held by the Research Hub on Institutions of China, University of Hong Kong, that it is important for ASEAN to look at ways to strengthen and leverage its partnership with China, which is solid and built on long-term trust.
"We have so many other areas of cooperation that bring the people closer together," said Kao. He added that he hopes the two sides can update the bilateral free trade agreement to version 3.0 and make it more relevant to businesses.
To build a closer ASEAN-China community, Kao said key focuses should include cooperation and collaboration, connectivity, contribution, and commitment.
He said he also hopes to see more people-to-people exchanges between the two sides so young people can better understand each other and work together for a shared future.
This year's BRI summit held special forums for the Middle East for the first time. Ahmed Helal Al Blooshi, Executive Director, Economic Strategy Sector, Abu Dhabi Department of Economic Development, said currently China is the largest non-oil and goods trading partner of the UAE, which is also in a position to provide access to African markets.
He also said the technology sector stands out as an economic driver of key growth for Abu Dhabi and they were extending a warm welcome to Chinese expertise in helping fulfil their objectives. Abu Dhabi's robust logistics affirmed its natural position to support China's BRI plans, he added.
"When China succeeds, so does Abu Dhabi," said Al Blooshi.
Saleh Majid Al Khulaifi, Deputy Undersecretary for Industrial Affairs and Business Development of Qatar, made a pitch to foreign businesses looking to expand into regional markets and urged investors to look to Hamad port, which "is the newest port in the region with the most available capacity."
"Our participation in the Belt and Road Summit reflects our deep belief in multilateral trading systems and the need to enhance deep cooperation with different countries in the world," said Khulaifi.
Khalid Saeed Al Shuaibi, president, Oman National Program for Investment & Export Development, said that Oman is currently experiencing a new dynamism in its economic environment and investment landscape, something which they like to call "Renaissance 2.0" through their comparative and competitive advantage, tourism, mining and renewables.
Through national vision "Oman 2040", Al Shuaibi said they were "reengineering the way we do business", streamlining procedures that would better support companies and investors.
Business opportunities abound, according to panel speakers. Jerry Li, founder and managing partner of Saudi-focused venture capital firm eWTP Arabia Capital, said collaboration between Hong Kong and the Middle East will see a rosy picture in areas, including financial and new energy sectors.
Li said the Middle East has abundant energy resources and proactive regulatory policies, but their digital infrastructure development still has large room to improve, especially in the areas of transportation and communications.
Ahmed Obaid Yousef Al Qaseer, CEO of Sharjah Investment and Development Authority, noted that the Gulf Cooperation Council countries are seeing a rise in economy.
Another shift in big growth is we've seen a rise in many sectors especially green tech, green economy…I think green sustainability is something we look at in the region, especially in the UAE – 2023 in the UAE is the year of sustainability," he said.
The Belt and Road Initiative will continue to enhance connectivity between the regions, creating new trade routes and investment opportunities, said Ali Al Ebrahim, founder and CEO of COFE, a Kuwait-based online coffee marketplace.
Contact the writers at kelly@chinadailyapac.com.