A new Middle East in the making
Share - WeChat Regional countries are seeking a balance in their relations and greater autonomy on the world stage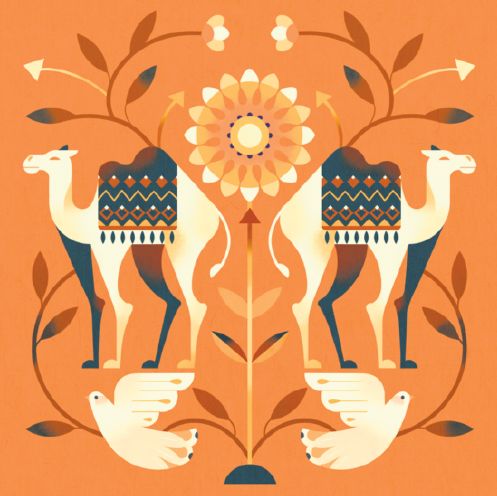 Following a decade of misery after the "Arab Spring", the Middle East is entering a new era. The main feature of this era is that regional countries are advancing economic reforms domestically, pursuing "a thaw in relations "with other countries, and seeking greater independence and autonomy on the global stage.
In an increasingly multipolar global landscape, Middle Eastern countries no longer want to pick sides in the strategic competition among great powers, but rather aspire to act autonomously. Such a change is conducive to the formation of a multipolar world. One that opposes the export of ideology by Western countries and supports all countries in the world in exploring development paths suited to their national conditions.
Previously, no matter whether during the Cold War rivalry between the US and the Soviet Union or the US hegemony that began when the Cold War ended, there existed a clear division of blocs among Middle Eastern countries. However, as the world's major powers' capabilities in interfering in, controlling and exerting influence on Middle Eastern affairs has decreased, major Middle Eastern countries have notably increased capability in independence, autonomy and their balancing of major powers.
Countries such as Saudi Arabia, the United Arab Emirates, Qatar, Turkiye, Iran and Israel are increasingly acting on their own initiative, and becoming critical players in multipolar regional politics. These regional powers seek to strike a balance among major international powers such as the United States, the European Union, Russia and China, with great room for diplomatic maneuvers never seen before. Never before has the political scene in the Middle East seen so many equal protagonists, nor such a complex mix of camps.
Middle Eastern countries aspire to achieve a dynamic balance in their relations with the major international powers by adopting different foreign policies based on the agenda, the situation and the timing. They cooperate with Russia and bargain with the US on issues related to the oil price, work closely with China on economic issues, and still value the US on security issues.
On March 10, China, Saudi Arabia and Iran issued a joint statement in Beijing stating that Saudi Arabia and Iran had agreed to resume diplomatic relations within two months. After that, a thaw in relations across the region, which had been prepared for over three years, suddenly accelerated. On April 12, Tunisia and Syria agreed to resume diplomatic ties, and Bahrain and Qatar agreed to resume ties the same day, a dizzying series of developments. An array of diplomatic breakthroughs has occurred in a region once known to the world for wars and turmoil, like a blossom of relations all of a sudden.
The resumption of diplomatic relations between Saudi Arabia and Iran has presented a major opportunity for China to promote peace in the Middle East. Different from other regional hot button issues, over the past three years, both Saudi Arabia and Iran have demonstrated a strong desire to repair relations. Prior to the Beijing talks, the two countries had held eight rounds of talks in Iraq and Oman and made some positive progress. Despite the mutual consent, negotiations over the resumption of ties required the mediation of a reliable and credible major country. China was both willing to play such a role and capable of doing so.
China's foreign policy toward the Middle East has become increasingly proactive and comprehensive. During the Cold War, China considered the Middle East as a "middle ground" in global politics and viewed Middle Eastern affairs from the perspective of major country competition. During that period, China attached top priority to security issues in its Middle East policy, aiming to prevent the hostile powers from controlling the Middle East and indirectly posing a military threat to China.
After the end of the Cold War, as the security threat posed by some major international powers to China decreased, economic development has become the center of China's national strategy. Economic issues have also become the top concern of China's Middle East policy, with China maintaining a level of detachment toward Middle Eastern affairs. The first China-Arab States Summit, held in December 2022, was a milestone in China's Middle East policy — as it marked a shift from economy-centered policies to comprehensive policies concerning economic, political and security issues. Mediating the resumption of diplomatic ties between Saudi Arabia and Iran was the first manifestation of China's new Middle East diplomacy.
With tensions between major powers at the highest level since the Cold War, the US is sparing no efforts to coerce other countries to pick sides. Countries in the Middle East, however, are striving to strike a balance between major powers. The power structure of the Middle East has entered a multipolar era. In the meantime, with the US withdrawing from its Middle East strategy, other major countries such as China are attaching greater significance to the region, and China's relations with Middle Eastern countries are increasingly close.
Under the pressure of the global energy transition, the strategic focus of Middle Eastern countries is shifting from geopolitical competition toward economic development, which necessitates an improvement in the diplomatic environment. Driven by both political and economic factors, the Middle Eastern region has ended the turbulent times since the Arab Spring in 2011, and is entering a new era featured by political rapprochement and economic growth.
Domestically, Middle Eastern countries have attached top priority to economic development in national strategies, with economic reforms in full swing. Historically, Middle Eastern countries paid high attention to security issues due to too many wars, subversive activities, infiltration, coups and religious hostilities. Even now, the Middle Eastern region has the heaviest military burden (military expenditure as a share of GDP) globally. However, in recent years, Middle Eastern countries have been shifting the focus of their national strategies toward economic growth. It is the first time in the history of the modern Middle East that economic development, rather than politics and security, has become Middle Eastern countries' priority. The Arab world has ushered in an "Economic Spring".
Economic reforms in the Middle East have made remarkable achievements. The International Monetary Fund raised its forecast for the 2023 growth of the non-oil economy of Gulf Arab countries to 4.2 percent, according to its Regional Economic Outlook report for May 2023. The rate was 4.2 percent in 2022, too. In 2022, the Middle East attracted 6 percent of global flows of foreign direct investment up from 3 percent in 2019. Saudi women comprised 31 percent of the employed population in the first quarter of 2023, a huge jump from the figure of 16 percent in 2017. Abu Dhabi accounted for 14 percent of newly listed companies globally in the first quarter of 2023. Goldman Sachs estimated that foreign ownership of Middle Eastern equities climbed from 2 percent in 2017 to 10 percent in 2022.
It may be too soon to say a new Middle East has been created, but it's safe to say the region now has a new look and a new image.
The author is the director of the Institute of Middle East Studies at the China Institutes of Contemporary International Relations. The author contributed this article to China Watch, a think tank powered by China Daily.
Contact the editor at editor@chinawatch.cn.
Most Viewed in 24 Hours
China Views