ASEAN eyes closer China ties
By YANG HAN in Hong Kong and ZHANG LI in Nanning | China Daily Global | Updated: 2023-09-20 09:58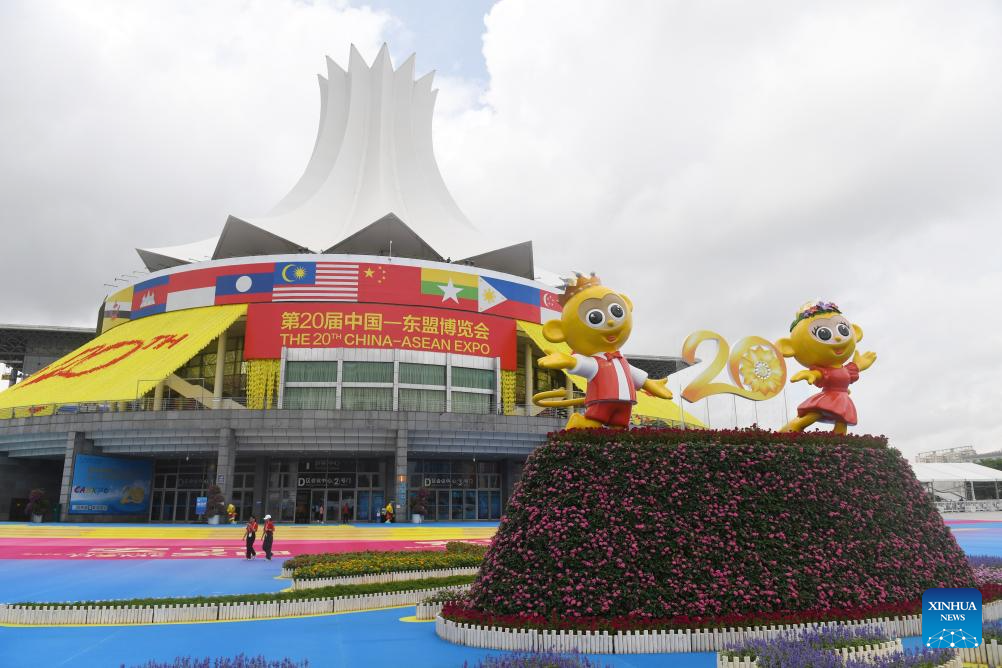 Ministers call for enhancing exchanges between Beijing, bloc at Nanning expo
Amid a rosy outlook on bilateral economic relations, officials from some Association of Southeast Asian Nations members said they expect to see greater integration between the bloc and China.
The value of total merchandise trade between ASEAN and China for 2022 is $722 billion and "I understand that, in fact, there is potential for further growth (and) the trade between China and ASEAN will grow by another $438 billion", said Low Yen Ling, Singapore's minister of state for the Ministry of Culture, Community and Youth, and Ministry of Trade and Industry.
"ASEAN and China can, by embracing all these important principles, really be a good, shining example to other areas in the world," said Low, noting the two sides should further enhance their connectivity and exchanges in a fast-changing and volatile global environment.
Low was speaking to the media in Nanning, Southwest China's Guangxi autonomous region, at the 20th China-ASEAN Expo, or CAEXPO, held from Saturday to Tuesday.
Under the theme "Work Together for A Harmonious Home and A Shared Future", this year's expo witnessed the signing of a record 470 investment cooperation projects, with the total investment amounting to 487.3 billion yuan ($66.8 billion), according to Xinhua News Agency.
A number of new initiatives were launched during the CAEXPO and related events, including the unveiling of the China-ASEAN Prosecutorial Information Exchange Center, the Beibu Gulf (Guangxi) Mercantile Exchange Interactive Spot-Futures Trading Platform, and China's Manganese Ore Price Index.
This year marks the 10th anniversary of Chinese President Xi Jinping's proposals of building a closer China-ASEAN community with a shared future and the Belt and Road Initiative.
Noting that Singapore was one of BRI's early supporters, Low said the initiative is important for fostering regional economic cooperation, and the city-state can play a role in infrastructure connectivity, financial connectivity, catalyzing third-party collaboration, and providing legal services.
Myanmar Commerce Minister Aung Naing Oo said a number of projects can be implemented under the China-Myanmar Economic Corridor, a key component of bilateral cooperation under the BRI.
Impressive project
Among them, a rail link between Kunming of China's Yunnan province and Mandalay of central Myanmar will be one of the most important, said Aung Naing Oo, adding that the economic corridor is an impressive project that will benefit the people of Myanmar.
Aung Naing Oo said Myanmar is one of the beneficiaries of the free trade cooperation, and he hopes negotiations for version 3.0 of the free trade agreement can be completed earlier than expected.
China and ASEAN have become each other's largest trading partners, and talks for version 3.0 are underway for a new round of economic and trade cooperation upgrade.
Aung Naing Oo said the Regional Comprehensive Economic Partnership will play a crucial role in future economic cooperation for ASEAN, China and other members.
Comprising 15 Asia-Pacific countries, including the 10 ASEAN states and China, the RCEP, the world's largest free trade pact, is now in effect for all its members after it came into force for the Philippines in June.
As China is the biggest trading partner and export market for the Philippines, Ceferino Rodolfo, undersecretary in the Philippines' Department of Trade and Industry, said it is important for his country to nurture this relationship.
Rodolfo said there are two things the Philippines is looking for in the RCEP, namely greater trade facilitation and investment promotion and collaboration.
In addition, Rodolfo said cooperation under the BRI can help enhance connectivity in the flow of goods, and fill gaps in the value chain.