Domestic aviation to leapfrog on travel boom
By ZHU WENQIAN | China Daily | Updated: 2023-09-21 09:25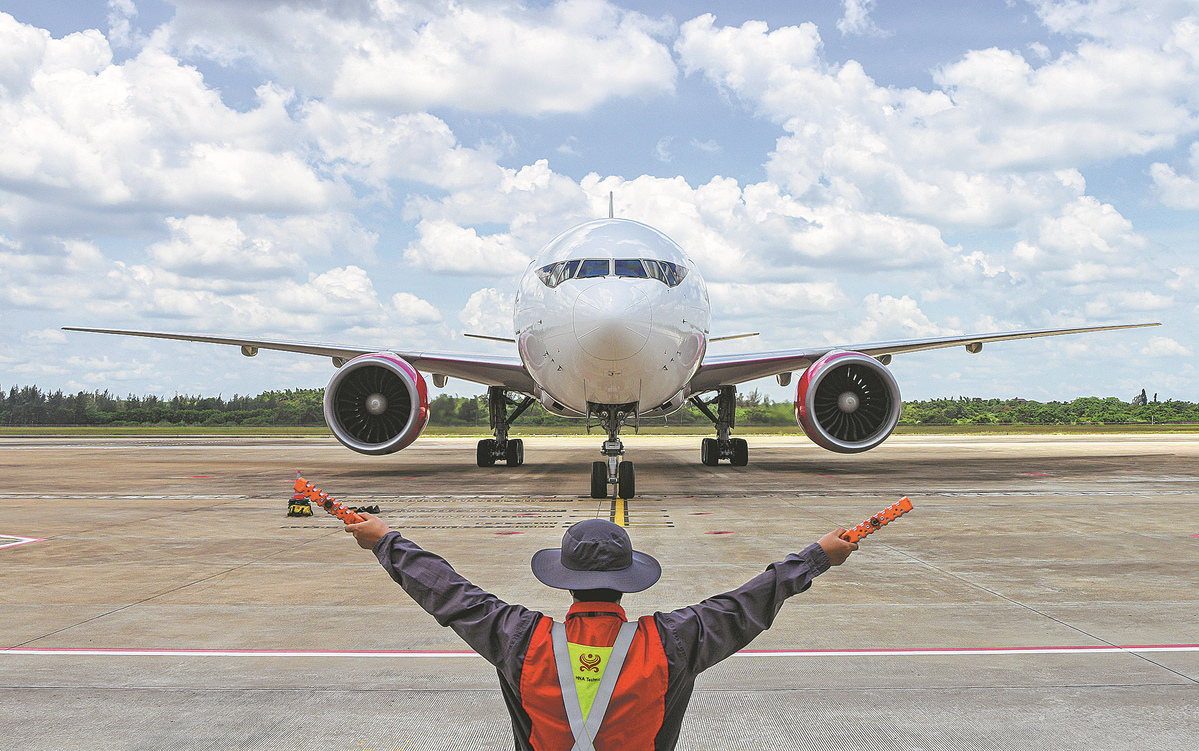 China's domestic aviation market will surpass those in North America and Europe to become the world's largest by 2042, driven by strong demand for commercial air travel and an expected doubling of the country's fleet size, US aircraft manufacturer Boeing Co has said.
Through 2042, China will need 8,560 new commercial airplanes, including 6,470 single-aisle ones, fueled by its economic growth well above the global average and an increasing demand for domestic air travel, according to Boeing's latest Commercial Market Outlook.
Over the next 20 years, China's commercial airliner fleet will more than double to nearly 9,600 jets. With the ongoing recovery in air travel, China will account for one-fifth of the world's airplane deliveries in the next two decades, Boeing said in Beijing on Wednesday.
"Domestic air traffic in China has already surpassed the pre-COVID levels and its international traffic is recovering steadily. China's resumption of international flights is led by the regional market in Asia," said Darren Hulst, vice-president of commercial marketing at Boeing.
"We have seen the resilience in the Chinese market, especially when looking at what happened in the past eight or nine months," Hulst, who visited China for the first time since the pandemic, said.
As China's economy and traffic continue to grow, Boeing's complete lineup of commercial jets would play a key role in helping meet that growth sustainably and economically, he added.
Along with demand for single-aisle jets, Chinese carriers will require 1,550 widebody airplanes mainly to support a growing network of international routes. With the further recovery of international flights, China is expected to show robust demand for new widebody aircraft and a need to replace older widebody aircraft with modern models, Boeing said.
Through 2042, China's commercial fleet will generate demand for $675 billion worth of aviation services including maintenance, repair, training and spare parts. The country will require 433,000 new aviation personnel, including 134,000 pilots, 138,000 technicians and 161,000 cabin crew members to serve its growing market.
Besides, the country's continued growth in e-commerce and express shipping will drive demand for 190 new freighter deliveries over the period. Its fleet size of freighters that supported the growth of e-commerce has quadrupled in the past 12 years, Boeing said.
The post-COVID-19 recovery momentum continued in July for passenger markets globally, according to the International Air Transport Association.
"Planes were full during July as people continue to travel in ever greater numbers. Importantly, forward ticket sales indicate that traveler confidence remains high. And there is every reason to be optimistic about the continuing recovery," said Willie Walsh, IATA's director general.
China's domestic air travel market is steadily picking up. In August, some 64 million trips were handled, up 98 percent year-on-year, a record high, according to the Civil Aviation Administration of China.
Currently, China is the second-largest market for Boeing and the largest for Boeing's European rival, Airbus.
Meanwhile, Commercial Aircraft Corp of China, or COMAC, will deliver the third domestically developed single-aisle C919 aircraft in October to China Eastern Airlines. China Eastern currently operates two C919 planes for daily flights between Shanghai and Chengdu, Sichuan province.