At UN, China V-P stresses development, open world economy
By ZHAO HUANXIN at the United Nations | China Daily Global | Updated: 2023-09-21 10:50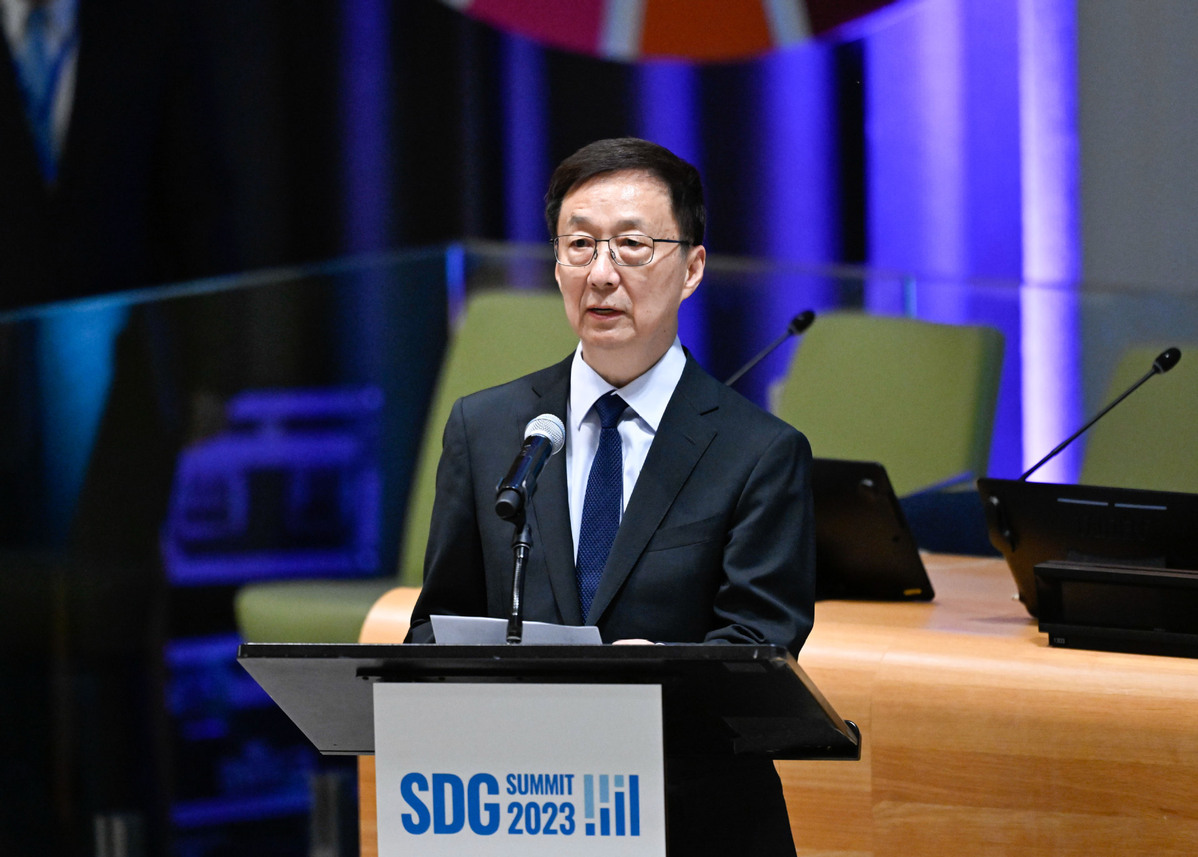 China advocates putting development at the core of the global agenda while building an open world economy devoid of decoupling and disruption of supply chains, Vice-President Han Zheng said at United Nations headquarters in New York on Tuesday.
Speaking at a leaders' dialogue during the two-day Sustainable Development Goals (SDG) Summit that ended on Tuesday, Han said global development is facing severe challenges, echoing an assessment from UN Secretary-General Antonio Guterres that halfway to the deadline of the 2030 Agenda, only 15 percent of the targets are on track.
The 2023 SDG Summit, held during the UN General Assembly High-Level week, gathered world leaders to reaffirm their collective commitment to the 2030 Agenda for Sustainable Development and its 17 SDGs, which represent a global promise to secure the rights and well-being of everyone on a healthy, thriving planet.
Han said the Global Development Initiative aims to promote more robust, greener and healthier global development.
"China implements the 2030 Agenda in tandem with its national medium- and long-term development strategies, and always integrates its own development with global prosperity and stability," Han said.
To accelerate the implementation of the UN 2030 Agenda for Sustainable Development, Han underscored the need to safeguard and practice a true multilateralism and to support the UN in playing a coordinating role in the implementation of the 2030 Agenda for Sustainable Development.
That includes efforts to promote the exchanges of development ideas, the alignment of policies as well as the matching of resources among countries, and to make the fruits of development benefit every country and every individual.
The vice-president also proposed building an open world economy.
"It is imperative to advocate openness and inclusiveness, oppose decoupling and disruption of industrial and supply chains, create a favorable external environment for the development of developing countries, and enhance the representation and voice of developing countries in global governance," he said.
Han also highlighted the role of technology and the global partnership for development.
He noted that countries should deepen practical cooperation in the fields of green development, new industrialization and digital economy so as to promote carbon peak and carbon neutrality pledges in a scientific and orderly manner.
As to revitalizing the global partnership for development, Han said developed countries should fulfill their commitments of development aid and climate financing, while developing countries should deepen South-South cooperation.
"It is necessary to fully mobilize the forces of all sectors of society and forge a synergy to promote development," he said.
China will help the countries of the Global South with concrete actions and continue to work with all sides to make positive contributions to achieving the sustainable development goals on schedule and building a global development community, he added.
Speaking at the close of the summit, Guterres said the political declaration adopted on Monday left world leaders with "a to-do list" to turn words into action to attain the Sustainable Development Goals.
"We must make the most of this summit's momentum to spur progress in the months ahead," the UN chief said.
Calling for the formation of a leaders group to deliver clear steps that enable the $500 billion per year needed for sustainable development to start flowing before the end of 2024, he also urged developed countries to finally meet their official development assistance target of 0.7 percent of gross national income, according to a press release.
Also speaking at the dialogue, Ajay Jha Kumar, director of the Centre for Community Economics and Development Consultants Society, said there were shortcomings in current partnerships.
Taking climate change as example, Kumar said the Group of 20 is accountable for more than 80 percent of global emissions but are likely to reduce emissions only by 10 percent by 2030, against the desired 50 percent.
Moreover, less than 14 percent of climate finance goes to least developed countries and less than 2 percent to small island developing states, therefore, he called for true partnerships that can deliver the necessary transformations to achieve the SDGs, according to a press release from the UN.