China's progress in meeting climate goals highlighted
Share - WeChat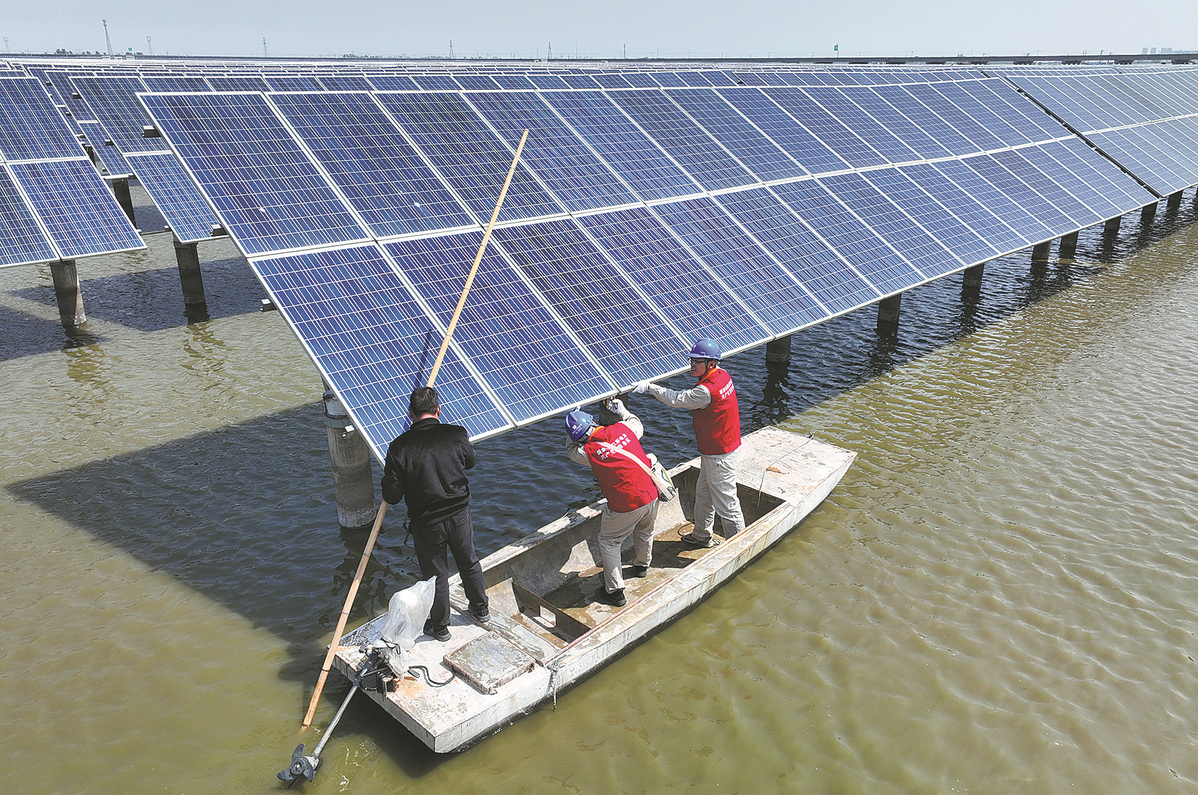 China has made remarkable progress on the way to achieving its ambitious climate targets, making use of policy tools and market mechanisms, a high-ranking government official said ahead of the third anniversary of the announcement of the nation's dual carbon goal, which falls on Friday.
On Sept 22, 2020, when addressing the general debate of the 75th session of the United Nations General Assembly via video link, President Xi Jinping announced that China aims to reach its carbon emission peak before the end of this decade and achieve carbon neutrality before 2060.
In an exclusive interview with China Daily, Lu Xinming, deputy head for climate change at the Ministry of Ecology and Environment, said that last year, the country experienced a consistent decline in its carbon intensity, or carbon dioxide emissions per unit of GDP. The installed capacity of renewable power generation exceeded 1.2 billion kilowatts, he said.
China's cumulative installed capacity for renewable power generation reached 1.32 billion kW in the first half of this year, exceeding that of coal-fired power for the first time, according to the National Energy Administration.
Such an achievement was fulfilled against the backdrop of China's uphill battle to achieve development and, at the same time, transform its growth model from resource-intensive to innovation-driven — a difficult path that few countries have taken before.
Remarks made by UN Secretary-General Antonio Guterres on Wednesday during the UN General Assembly climate summit indicated the difficulties and the significance of maintaining the right balance between economic growth and environmental protection.
"The move from fossil fuels to renewables is happening, but we are decades behind," Guterres said at the start of the one-day summit. "We must make up time lost to foot-dragging, arm-twisting and the naked greed of entrenched interests raking in billions from fossil fuels."
Lu said that China has made headway in tapping the potential of climate investment and financing as a tool in reducing carbon emissions. "We have strengthened policy incentives to guide more funds toward climate investment and financing."
The ministry, along with four other central government bodies, issued a guideline in October 2020, laying out systematic plans to promote the application of the tool, Lu said.
In December 2021, the People's Bank of China — the nation's central bank — launched a new monetary policy instrument to support carbon reduction projects through low-cost lending to financial institutions.
As of the end of June, the instrument has supported financial institutions by offering more than 750 billion yuan ($103 billion) in loans, which has helped reduce greenhouse gas emissions equivalent to over 150 million metric tons of carbon dioxide, according to Lu.
In a move to explore viable and innovative models for climate investment and financing, the ministry, along with eight other government bodies, launched pilot programs in 23 areas, including Beijing's Tongzhou district and Xinyang in Henan province.
In their joint endeavor to beef up financial support for tackling climate change and promoting low-carbon transition, the ministry signed memorandums of understanding with China Development Bank, Bank of China and Agricultural Bank of China, Lu said.
Last year, the ministry coordinated with regions across the country to assign two series of key projects for climate investment and financing to these banks, hoping to guide them into providing preferential financial services to quality low-carbon projects, he said.
In late 2021, the ministry issued a guideline that required certain enterprises to disclose information about their carbon emissions. The move is expected to help financial institutions and individual investors assess the need for the investments they are making and the climate contributions achieved in an accurate and timely manner, Lu said.
The official also highlighted the role of the country's carbon trading program, which is the world's largest in terms of the quantity of greenhouse gas emissions covered, in boosting climate investment and financing.
Inaugurated in July 2021, the program involves over 2,000 companies in the power sector, which annually emit over 4 billion tons of carbon dioxide.
Lu said that, as of the end of August, 248 million tons of carbon emission allowances had changed hands in the market, with a turnover of more than 11.5 billion yuan.
The program sends a price signal to the market, based on which financial institutions can better manage risks, guide investments and improve the quality of their assets and clients, he said. "Currently, the ministry is mobilizing relevant research institutes to jointly conduct a dedicated study on expanding the carbon trading program to more industrial sectors."
Lu also pointed out the marked progress in efforts to relaunch the China Certified Emission Reduction program, a voluntary mechanism that allowed companies to earn carbon credits by taking actions to reduce emissions such as promoting renewable energy generation and afforestation. The program was suspended in 2017.
Lu said that necessary infrastructure for relaunching the program has now been completed. "Relaunching the program as early as this year is our goal, and we will accelerate the preparation process to ensure concrete results," he added.