3D-printed medical devices gain ground
By ZHUANG QIANGE | China Daily | Updated: 2023-09-22 09:14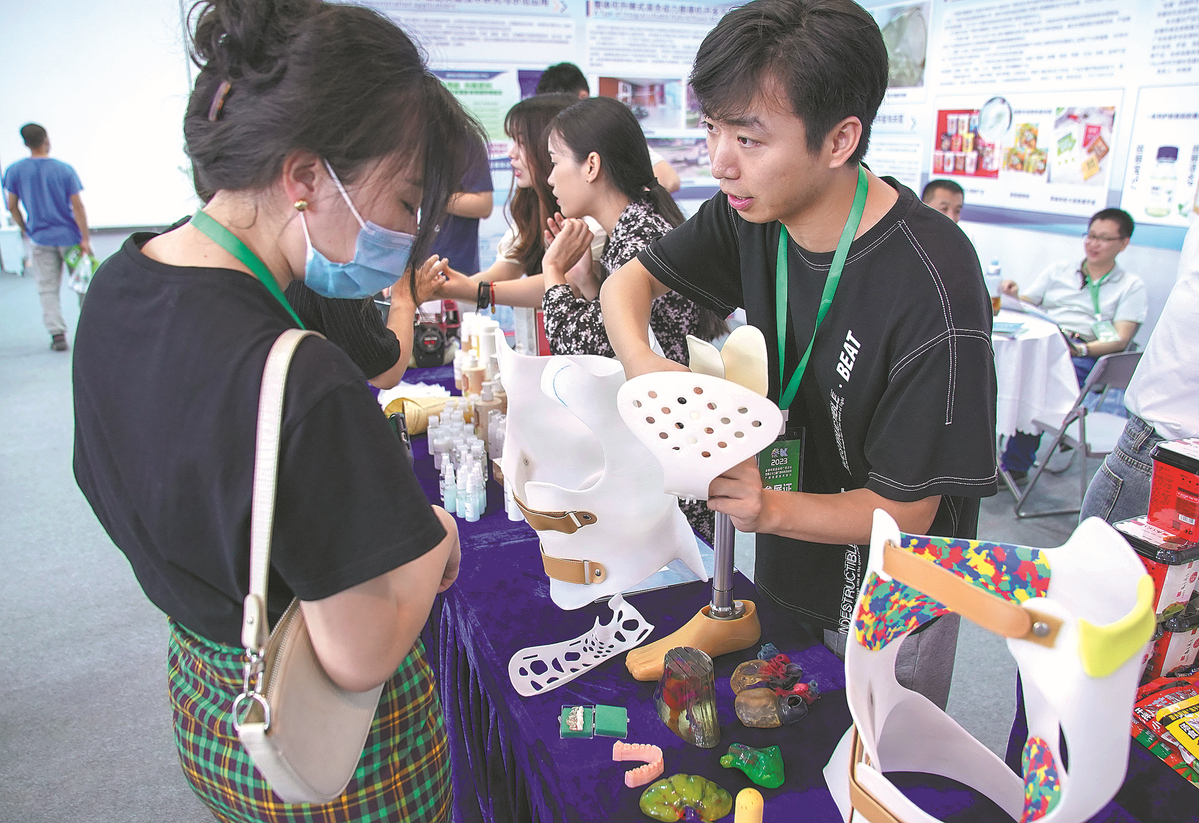 3D printing, a technology key to the medical devices market, has been offering vast opportunities for innovation and customization in medical solutions. 3D printing is attracting greater attention among hospitals and healthcare service providers as well as high-tech developers globally, according to an industry report.
In general, 3D-printed medical devices mainly include implants, surgical instruments, prosthetics, tissue engineering devices and others. 3D-printed medical implants are made using 3D printing technology to create complex geometries.
These provide applications in orthopedic, spinal, dental, hearing aids and other medical categories that are used by end-users such as hospitals, diagnostics centers, academic institutions and more.
According to a recent report from Exactitude Consultancy, the global 3D printing medical devices market is projected to reach $7.92 billion by 2029, up from $2.07 billion in 2020, at a compound annual growth rate of 16.1 percent from 2022 to 2029.
North America remains the largest region in terms of market size, taking up more than 41 percent of the global total, with the United States being the largest producer and consumer of such devices, the report said.
China has seen an increasing number of high-tech companies turn to these cutting-edge technologies in recent years.
Wedo-Bio, a medical device manufacturer based in Xi'an, Shaanxi province, said recently that its 3D-printed porous titanium cage — WedoCageTM — has achieved approval from the National Medical Products Administration.
With the approval, its 3D-printed cage can now be used for the treatment of degenerative spinal diseases, such as herniated discs, and is the first of its kind in the nation approved by the NMPA.
The company said its products are able to perform better than polyether ether ketone, or PEEK, cages, which are commonly used as a treatment for degenerative spinal diseases. The WedoCageTM recorded a fusion rate of 97.10 percent in the six-month postoperative tracking, which was higher than that of the PEEK cage — 85.29 percent.
"The approval of this product indicates a significant step forward in the development of additive manufacturing for medical devices, from single materials to composite materials, and from biologically inert materials to biologically active materials," said Wu Suhua, general manager of Wedo-Bio.
Since its establishment in 2017, Wedo-Bio has been ramping up efforts on key medical projects, and established cooperation with top institutes nationwide to help improve the nation's industry chains in related fields, Wu said, adding that a number of breakthroughs have been achieved in fields including bio-modification and medical additive manufacturing polymer composites research and development.
In the future, Wedo-Bio will continue technological innovation, promote the application of its sci-tech achievements, and seek new safer and more accurate and efficient solutions for patients, Wu said.
China has huge potential for applying 3D printing in orthopedics treatments, which is pending further R&D efforts of domestic enterprises and researchers, Liu Zhongjun, director of the Department of Orthopedics at Peking University Third Hospital, was quoted as saying by Guangming Daily.
More close cooperation between the two sides will boost the nation's independent innovation progress and expand the current product category, which will benefit more patients so that more high-quality cost-effective domestic products can be applied as choices for patients, Liu said.