Shaking up the batting order
Share - WeChat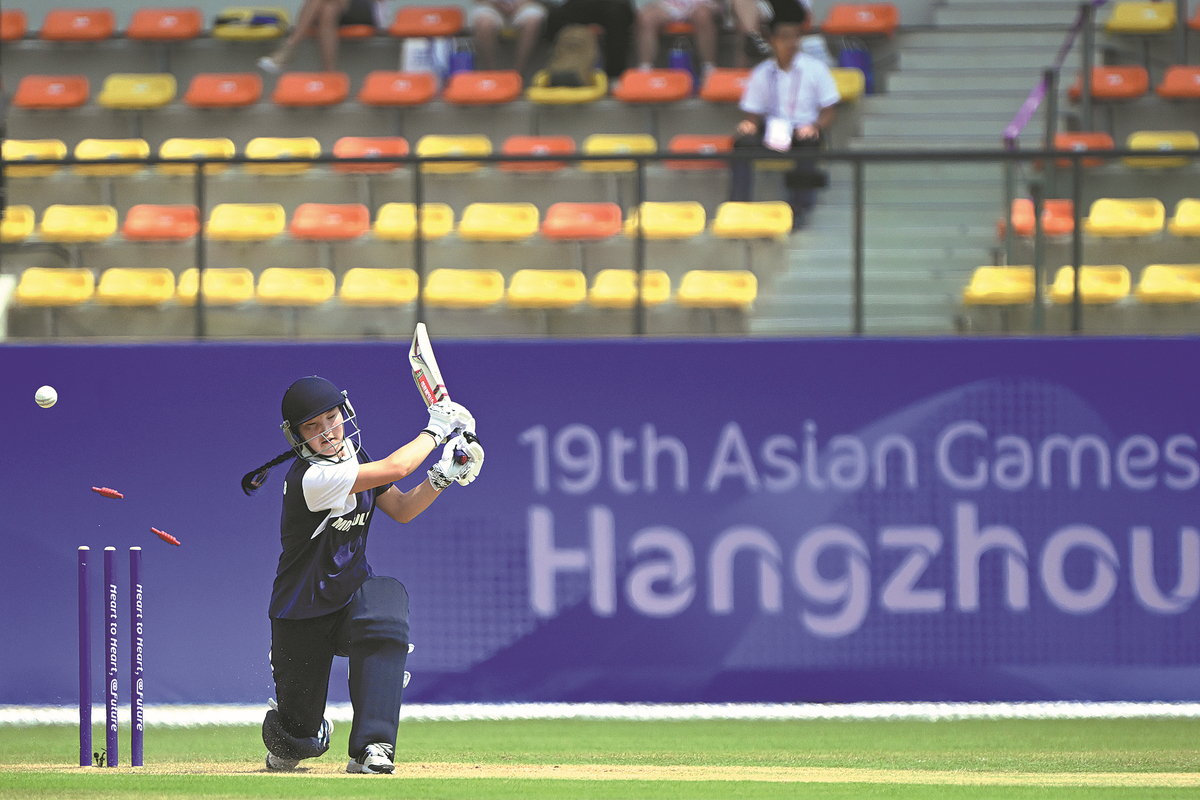 Inexperienced Mongolian team defies the odds and grabs spotlight at Asiad's cricket tourney
With the sport's continental powers set to jostle for gold, an unheralded Mongolian women's team has stolen the show as cricket returns to the Asiad.
A hugely popular team sport in South Asian countries, cricket is back on the Asian Games program following a nine-year absence, having been dropped from the 2018 edition in Jakarta.
Three from the powerhouse quartet of Pakistan, India, Sri Lanka and Bangladesh are virtually guaranteed to occupy the podium places, however debutant Mongolia's journey to the games against long odds has supplied an inspirational subplot at the tourney.
After opening with a 172-run defeat to Indonesia, Mongolia was thrashed by Hong Kong, China, by 180 runs on Wednesday to end its first Asian Games campaign with two losses and a mere 15 runs.
Despite the heavy losses, Mongolia's appearance in Hangzhou won a resounding thumbs-up from the sport's community.
Coached by David Talalla, a Sri Lankan who lives in Australia and captained Malaysia in the 1990s, the young squad of just 12 players arrived in China with only four bats — all donated just over a week ago by the French Ambassador to Ulaanbaatar.
"I'm really proud of the girls. I know we've only made 15 runs but none of our girls have played the game for longer than two years and we know what a technical game it is," Talalla said after the heavy loss to Indonesia at the Zhejiang University of Technology Pingfeng Cricket Field.
"We've only got a squad of 12.That's all we could afford to bring," added Talalla, who revealed his players were in tears after the opening loss.
"They're new to the game, they're very passionate about the game and they will only get better. It'll take time. We go through pain now, we'll go through pain tomorrow."
Team Mongolia, with an average age of 19, was established after the country acquired International Cricket Council associate membership in 2021. The squad prepared for the Hangzhou Asiad with second-hand protective gear and balls used for more than 100 overs, acquired from Talalla's acquaintances in Australia.
An unexpected donation then came to the team's rescue from an unlikely source.
"We have four bats for the whole team and, would you believe, the French ambassador donated all four of them to us 10 days ago," said Talalla, who was born in Malaysia and picked up cricket in Australia after moving to Perth with his parents as a 6-year-old.
"They don't play cricket in France, but the French ambassador's wife is English and she is very passionate about women's cricket. So on a recent trip to England, she bought most of the team kit."
Due to the long, unforgiving winters in their home country, the Mongolian cricketers had only been practicing on an artificial pitch at the Mongolian Friendship Cricket Ground, the country's very first venue for the sport built in 2016 supported by Battulga Gombo, president of the country's cricket association.
In a country where wrestling, archery and horse racing dominate, developing cricket was seen as a tall order for Gombo and his staff.
The ambitious enthusiast, however, built everything from scratch, supported by individual donors and overseas clubs, to develop the national squad and a burgeoning schools outreach program. The team's Asian Games debut is the result of all that hard work.
Tuesday's contest was the Mongolian women's first international game and first official match on real grass. Indeed, the Hangzhou trip was the first overseas experience for most of the squad.
"It's the first time they've even seen a turf pitch. For the outfield, that's probably a plus because it's so smooth out here — up at our ground it's bumpy. That was amazing, a real positive for them," said Talalla.
Khaliunaa Enkhbold, one of seven Mongolians to be dismissed without scoring on Tuesday, admitted to feeling a little embarrassed about the margin of the loss, but vowed to learn from the experience.
"Because it was our first ever international game, most of our players did not play as well as they do in our country," said captain Ariuntsetseg Tsendsuren. "We need to improve a lot of things, batting and bowling."
Regardless of the results in their Asiad debut, Talalla knows that, with age on their side, the Mongolian players will only get better with more international experience.
"The whole idea is the bigger picture — cricket in Mongolia, who would have thought it?" said Talalla, who coaches the team on a voluntary basis.
"Even myself, I've only been in the job here for five weeks as a high-performance coach, but six months ago I didn't even know they played cricket in Mongolia. I think most of the world didn't."
Now, thanks to their Asian Games adventure, it will not be the last that the world will hear of these plucky players.
sunxiaochen@chinadaily.com.cn