China's surging tennis stars set to ace the Asiad
Share - WeChat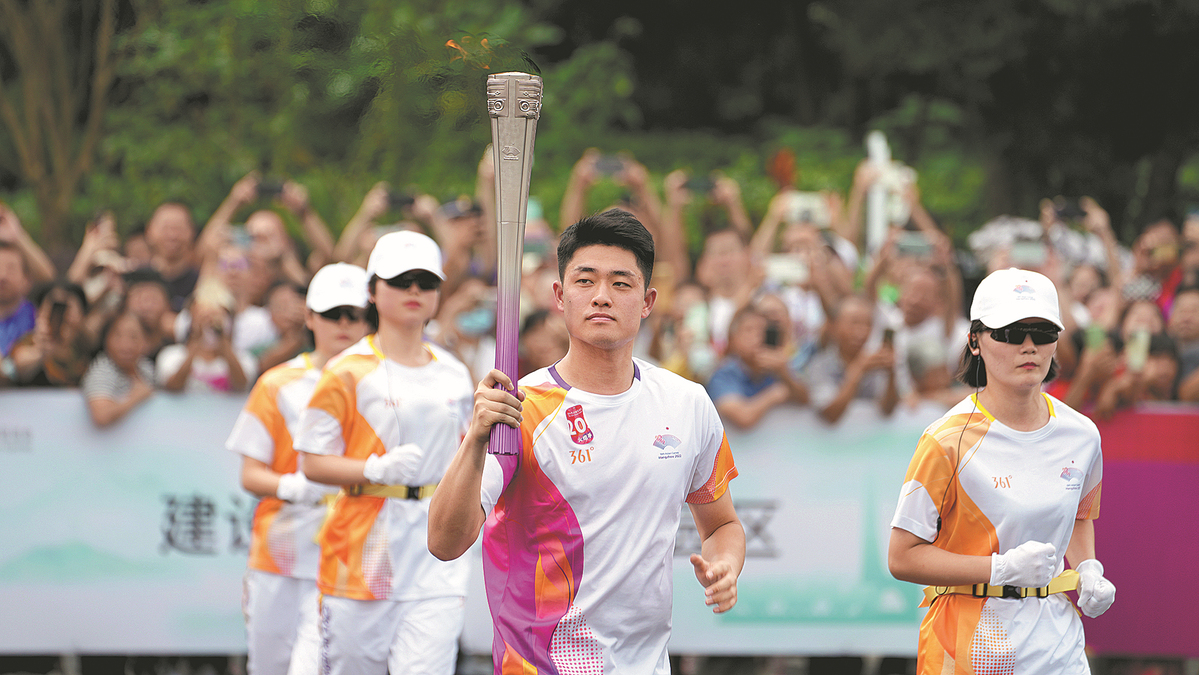 Proud to represent their country on their home court, China's top tennis stars are primed to serve up glory at the 19th Asian Games and continue their inexorable upswing this year.
With professional tennis returning to China after a four-year hiatus, the country's top players have opted to skip a series of pro tournaments, thereby sacrificing coveted ranking points and potential prize money, to answer the nation's call at the continental sporting gala.
Leading the host's golden charge in Hangzhou are men's world No 98 Wu Yibing and women's 22nd-ranked ace Zheng Qinwen, who both lifted their first titles on the ATP and WTA tours, respectively, this year and are raring to extend their winning momentum at the Asiad.
"Born and raised here, I feel like this might be the only opportunity in my lifetime to compete at the Asian Games in my hometown. I hope I can win some gold medals for sure," said Wu, a native of Hangzhou, who has signed up for both the singles and doubles tournaments.
After enjoying more global recognition on the ATP Tour this year, Wu anchored the Asian Games' torch relay by completing the final leg in Hangzhou on Wednesday morning.
He then witnessed the flame being moved into the lantern ahead of Saturday's opening ceremony.
His sense of pride in donning the Team China uniform made his decision to withdraw from the overlapping ATP events an easy one.
"It almost made me cry," Wu said of his emotions during the torch relay. "As a representative of China's new generation of athletes, I will try to present an image of Chinese youth as bright as the flame," said the 23-year-old, who became the first man from the Chinese mainland to lift an ATP Tour title by winning the Dallas Open in February.
Joining Wu in the men's draw in Hangzhou is China's top-ranked player Zhang Zhizhen, who is expected to double the host's chances of winning a first men's tennis gold medal at the Asiad in 33 years. Pan Bing was the last man to achieve that feat in 1990.
As the undisputed favorite on the women's side, Zheng, who reached the US Open quarterfinals earlier this month to mark her best run at a major, didn't mince her words when asked about her ambitions in Hangzhou.
"My goal is of course to win it all, but I'd like to keep my feet on the ground and take one solid step at a time," said Zheng, who ran a leg of the torch relay on Tuesday in Quzhou.
"I don't put too much pressure on myself. As long as I can approach the matches one round at a time and I am as relaxed as I can be, the result will take care of itself."
As a competitive force on the WTA Tour, Chinese women have dominated on the continental stage by bagging all four singles and two doubles gold medals at the Asiad since the 2006 edition in Doha.
Another golden clean sweep looks to be within reach in Hangzhou, with Team China boasting two more top-50 players — No 31 Zhu Lin and No 37 Wang Xinyu — in the women's singles draw.
In the doubles, experienced women's pair Yang Zhaoxuan and Xu Yifan will bid to retain their 2018 gold, while the Wu-Zhang partnership is a formidable force in the men's draw.
The tennis competitions at the Asiad swing into action on Sunday at the Hangzhou Olympic Sports Centre Tennis Centre, also known as the "Small Lotus" due to its petal-shaped design, and will run through Sept 30.