HK's 'Flying Fish' scales new heights
Share - WeChat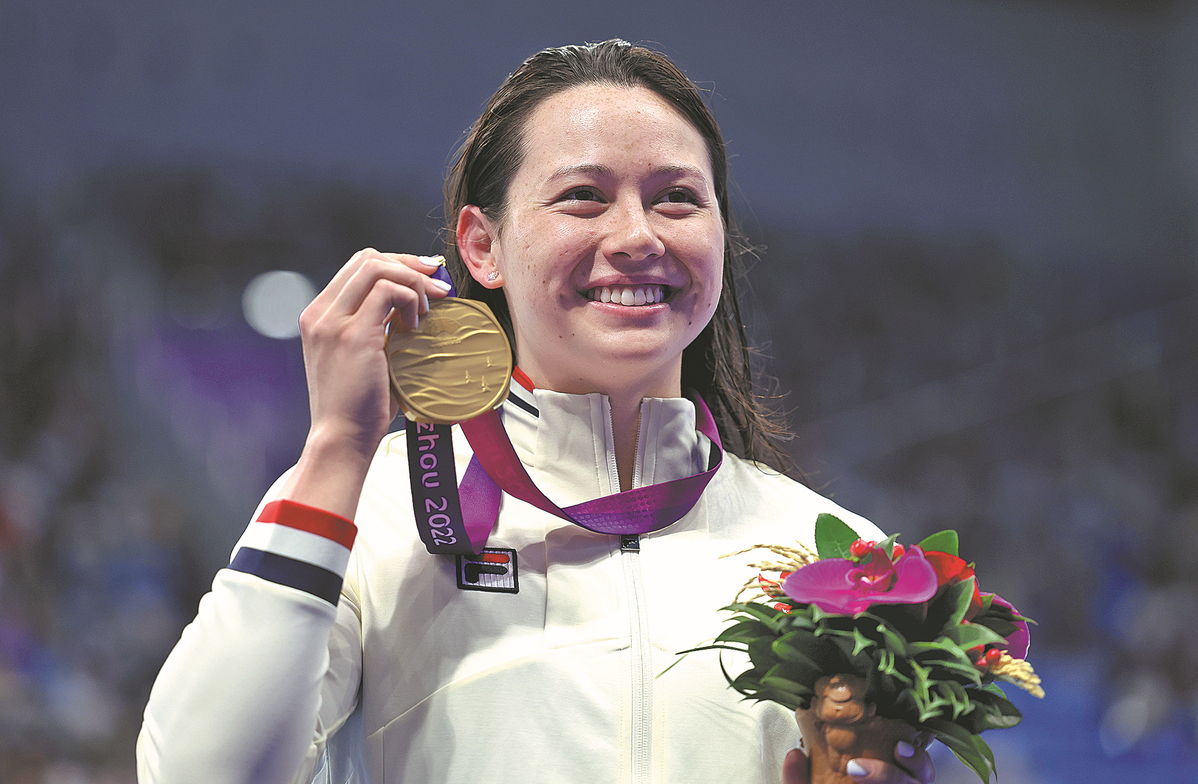 Surrounded by reporters, Siobhan Haughey switched seamlessly between English and Cantonese as she shared her joy at smashing the Asian women's 200m freestyle record (1:54.12) to claim gold at the Hangzhou Asian Games on Monday.
On Tuesday, she completed a golden double with victory in the 100m free final.
The 25-year-old, born to an Irish father and a Hong Kong mother, won Hong Kong's heart when she represented her native city instead of Ireland at the Tokyo Olympics. There, she claimed Hong Kong's first Olympic swimming medals — silvers in the 200 and 100 free.
"I have been asked on many occasions why I didn't represent Ireland. Even my teammates were surprised at my decision to represent Hong Kong. I told them, 'Yes, indeed, I can represent Ireland. But I was born and raised in Hong Kong and feel connected to Hong Kong. I am proud of representing Hong Kong," Haughey once said.
A glimpse into Haughey's upbringing offers some clues about her determination to represent her home city.
Dubbed Hong Kong's "Flying Fish", she was born in 1997, when the city returned to the motherland. She and the city grew up together.
Haughey first took formal swimming lessons when she was 6 years old. The training sessions were dull and lonely for the little girl, who longed to hang out with friends. The years of repetition frustrated her and made her want to quit.
Her exceptional talent, however, was plain to see, and coach after coach urged her parents to persuade her to keep going. Gradually, she also realized that quitting was the easy way out, whereas persevering brought a sense of satisfaction.
At 11, Haughey was in the crowd to witness legendary US swimmer Michael Phelps clinch eight gold medals at the Beijing Olympics. After that, she set her sights on one day reaching the Olympic Games herself.
Her hard work paid off in 2013 when she won 100m freestyle gold at the world junior championships. This was the first time that Haughey's athletic feats had focused the world's attention on her home city, which made her proud.
At the 2021 FINA Short Course World Championships, Haughey broke the 200m free world record (1:50.31) to become Hong Kong's first swimming world-record holder.
Haughey has so far bagged three medals at the Hangzhou Games — gold in the 200m free gold, and two bronze, in the 50m breaststroke and women's 4x100m freestyle relay.
While she is not afraid of pushing herself, she also knows when to step back. At the 2022 World Aquatics Championships, she made a last-minute decision to pull out of the competition due to an ankle injury.
"Being an elite athlete also means knowing how to take care of yourself... it's also important to take a step back and keep my long-term goals in mind," she said at the time.
Her willpower to persist has been key to her longevity in the pool, and has also benefited her academic studies.
When Haughey began high school in Hong Kong, the workload increased significantly and she again considered giving up swimming.
However, she could not bear to leave behind her hard-earned achievements, so instead decided to get up at 5 am every morning to train. Sometimes, she even woke up at 3 am to do her homework before heading to the pool. Her efforts paid off when she achieved excellent results in her exams to gain admittance to the prestigious University of Michigan.
She has already planned for life beyond the pool — pursuing a career as a child psychologist — showing there is so much more to Haughey than being a "Flying Fish".