UK is falling behind in race to accept EVs
By JULIAN SHEA in London | China Daily Global | Updated: 2023-09-28 09:09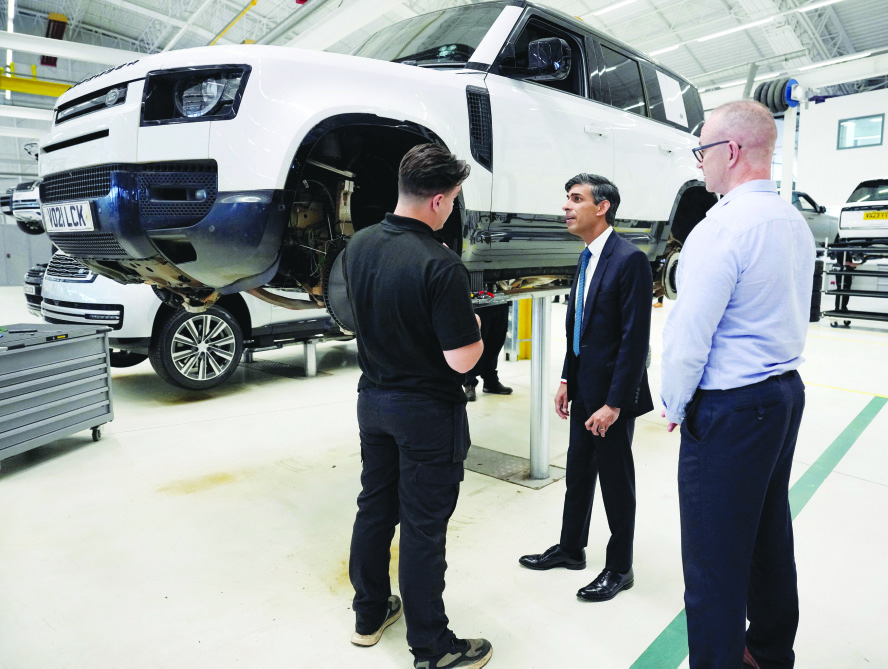 Cost, uncertainty blamed for sluggish sales growth compared to EU nations
Newly published data shows the United Kingdom is in danger of being left behind in the race toward greater electric vehicle use, after sales figures from the last 12 months were half of those seen across the European Union.
The research, conducted by energy market analysis group Cornwall Insight and law firm Shoosmiths, showed that between July 2022 and July 2023, electric vehicle sales in the UK grew by 31 percent, as opposed to 60.6 percent across the EU.
The sales are from before Prime Minister Rishi Sunak's recent highly contentious redrawing of the government's steps toward achieving its net-zero goals, which included a five-year delay on the ban on new petrol and diesel vehicle sales.
Chris Pritchett, energy and infrastructure partner at Shoosmiths, said enthusiastic investment in facilities to promote electric vehicle use was being put at risk by moves that were "unforgivably" using net-zero as a political bargaining chip in the run-up to the next general election.
" (Original Equipment Manufacturers) and chargepoint operators are investing billions in the electric transition and progress has been rapid, but the government's screeching U-turn on policy threatens new investment into the UK's wider green industry, whether it's vehicle production, battery and semi-conductors, lithium extraction, or facilities to deal with end-of-life batteries," he said.
"More importantly, it frames net-zero as a political wedge issue ahead of the election, which is clearly aimed at dividing the consensus on meaningful climate action."
Energy prices and inflation are fueling reluctance to make the switch, as is so-called range anxiety, which relates to drivers' fears about running out of energy between charging points. Currently, the UK has more than 11.3 electric vehicles for every publicly-accessible chargepoint.
"Despite strong progress, the UK could now be at risk of falling behind much of Europe in the transition to electric vehicles," said Cornwall Insight research analyst Jamie Maule.
"While we are still seeing growth, the removal of incentives, infrastructure delays, and wider policy uncertainty remain significant hurdles for EV expansion in the UK."
Uncertainty caused by Sunak's measures, which he insists are not a backtracking but a way of hitting targets by a more "pragmatic, proportionate, and realistic approach", had, Maule added, "cast uncertainty over the UK's EV market".
"Only by reaffirming our commitment to EV infrastructure growth, bolstering incentives, and rekindling investor and consumer confidence, can the UK reclaim lost ground and position itself among the leading nations in Europe for EV adoption," he said.
In the long term, however, Pritchett said he was upbeat about the future of EV growth in the UK.
"I'm confident, though, that our business leaders in the sector will continue to set the pace on the EV transition, a rapidly-converting public will join the ride, and this week's frustrating setbacks will ultimately be nothing more than a bump in the road," he said.