Alshaa holds high the desert tourism banner
Share - WeChat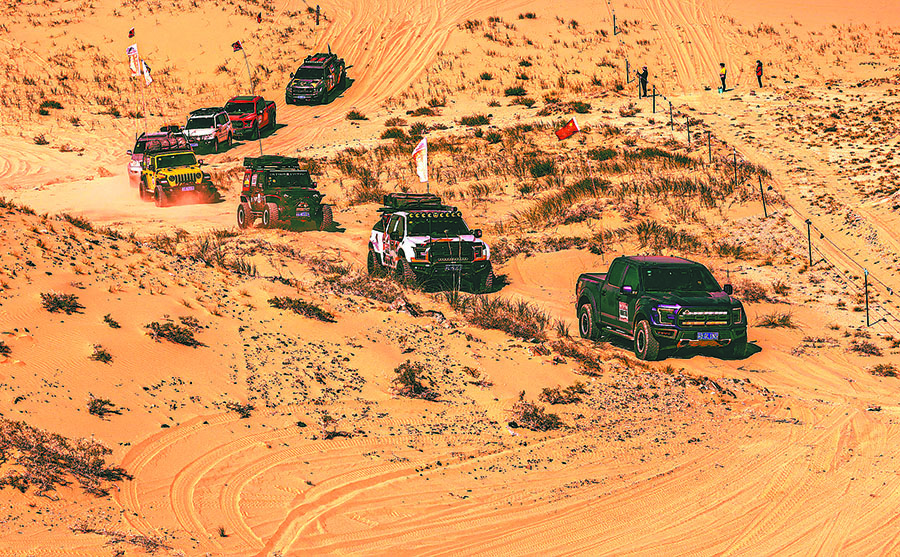 Cultural Festival fast turns into a carnival, with off-road rallies being star attraction
Among the more than 30 activities of the 19th Badain Jaran Desert Cultural Tourism Festival, to be held in the Alshaa League of Inner Mongolia from Oct 1 to 5, the ALXA Festival, an off-road rally, is one of the most popular.
Alshaa has many tourist attractions, including the 49,200-square-kilometer Badain Jaran Desert, the third-largest desert in China, famous for its unique mountains, singing sands, pellucid lakes, mysterious springs, enchanting temples, desert poplar woods and Bactrian camels, a spaceship launch site, rare stones, as well as intangible cultural heritages.
Since it was first held in Alshaa Right Banner in 2011, where the desert offers ideal tracks for off-road rallies, the ALXA (Alshaa) Festival has become the calling card of the banner. Over the past two years, the off-road rally has attracted participants from more than 100 racing clubs based in 27 provincial-level regions across the country. The rally this year has been divided into four sections: racing, entertainment, camping, and auto cultural and industrial exhibitions.
The desert cultural tourism festival is very important for Alshaa Right Banner, said Pan Xiaoyu, director of the culture, tourism, radio and TV bureau of the banner. "We have earmarked the functional areas of the venue, made extensive fire safety arrangements, beefed up security, established medical camps, and enhanced our emergency response capability to ensure the success of the event," Pan said.
On Sept 2, the racecourse through the Badain Jaran Desert entered the regional tourism authorities' list of the 10 most popular self-driving routes in the Inner Mongolia autonomous region. The course connects the spaceship launch site in Alshaa and the desert, offering drivers a unique, adventurous experience.
Besides, a new track was opened for this year's T3 rally. It connects the sand peaks, oases and other landforms of the Badain Jaran Desert to create the longest and most challenging track, with ascending levels of difficulty.
Despite the challenging nature of the course, it is open to all drivers for a test drive. Off-road vehicle enthusiasts can register through their clubs or on the spot now that the registration procedure has been further simplified. After registration, the participants can receive exclusive car stickers to enter the campground, which is open to only rally drivers and officials. With the car stickers, the participants can also visit some scenic spots in Alshaa and neighboring Gansu province for free. However, the participants in the rally and related activities need to purchase temporary insurance. Also, an app introduced earlier allows the participants to communicate and interact with the organizers and officials.
In recent years, with the support of the government and participation of off-road rally enthusiasts and tourists from home and abroad, the ALXA Festival has gradually become a popular desert off-road carnival and an international tourism event, bringing together competitive sports, cultural programs, desert exploration and leisure activities.