Poplars popular with people seeking different pleasure in arid land
Share - WeChat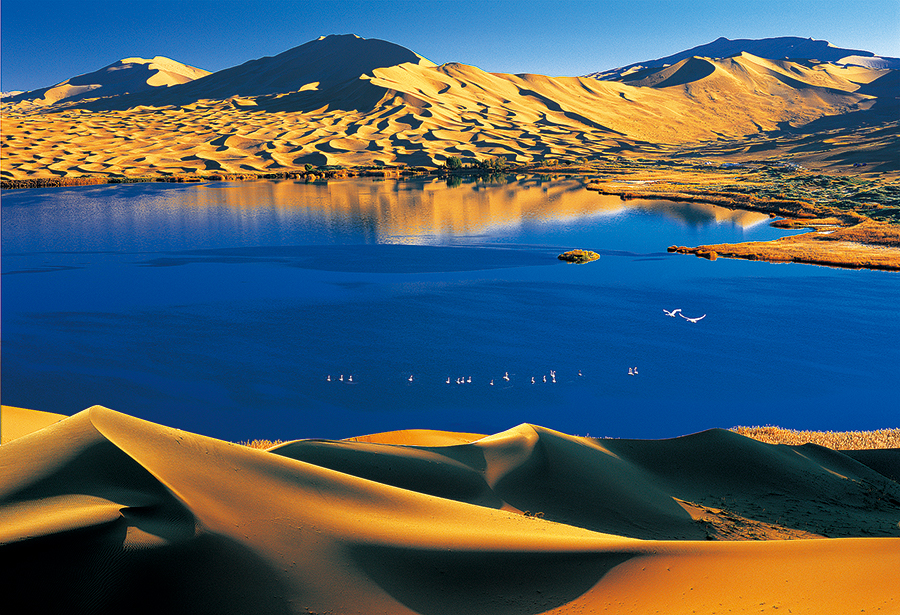 The 24th Ejine Desert Poplar Ecological Culture Tourism Festival opened on Sept 27 in Ejine Banner of Alshaa League, Inner Mongolia autonomous region.
During the festival, which will continue till the end of October, the Ejine Banner desert poplar ecological tourism area, a national scenic spot, will hold 21 activities related to culture, tourism, sports, sightseeing and research including a marathon through the desert poplar woods, a Mongolian prairie concert, a group wedding and a trade expo.
The desert poplar trees are adored by the locals; for them the tree embodies perseverance and vitality in the desert. They are drought-resistant and can survive even in harsh natural conditions.
In the fall, their golden yellow leaves add color and depth to the desert landscape, making the woods especially attractive for tourists and photographers. Incidentally, 99 couples have already tied the knot at a group wedding in the tourism area. They watched the Torghut wedding ceremony performance, took wedding photographs in the desert poplar forest, and received "love tokens" made of Alshaa stones.
Ejine officials hope the festival will help it realize their dream of transforming the banner into a globally famous tourist destination, a photography sketching center and a high-end cultural tourism destination.
The desert poplar tourism festival is part of the 19th Badain Jaran Desert Cultural Tourism Festival held in Alshaa League. Ejine has been holding the tourism festival at the end of September every year since 2000 to attract visitors to enjoy the beautiful natural sceneries, long history, rich culture and unique ethnic customs of the Ejine oasis. Indeed, it has become the most important large-scale tourism activity in Alshaa.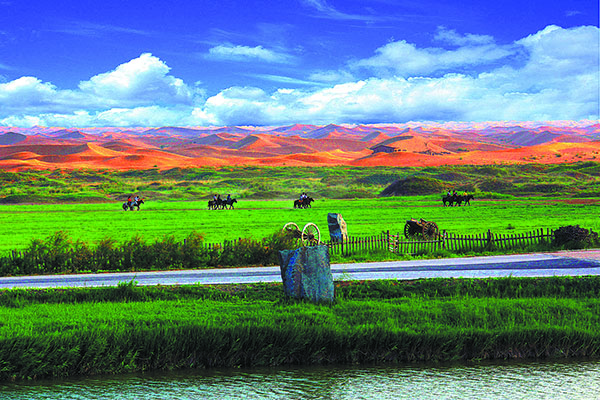 Camel-related activities
In November 2012, Alshaa was officially named "the hometown of camels in China". Since then, new forms of tourism including camel-related activities have been introduced and flourished in the league. Alshaa has taken advantage of its natural resources and the local culture in order to organize large-scale festival activities. The global attention it has attracted and the inflow of tourists have boosted the high-quality development of Alshaa, bringing tangible benefits to local residents.
Da Lai, 48, who belongs to the Mongolian ethnic group and owns the Mengyuan Travel Agency, said he is a direct beneficiary of the tourism boom in Alshaa. The impact of even the COVID-19 pandemic, Da said, was limited, because the tourists as well as his travel agency and tour guides strictly followed the COVID-19 prevention protocols.
"Many summer camp activities and parent-child tour projects are being organized this year," Da said. He employs 10 travel agents, while many of his herdsmen friends also work for his agency on a daily basis as tour guides when there is an excessive influx of tourists.
Da said he has received at least 3,000 tourists so far this year, the figure was about 1,000-2,000 last year. Although September is a tourist offseason, his campgrounds for the Mid-Autumn Festival and National Day holiday that stretches from late September to early October have already been booked days in advance.
Fun in Alshaa
Tourists visiting the Tengri Desert, a desert similar in size and close to the Badain Jaran Desert in Alshaa Left Banner are mostly veteran tourists or experts. Some of them said they have more fun in Alshaa than in the desert in Dubai.
Da believes desert tourism is still in its fledging stage in China, and the Tengri Desert has better traffic facilities than the Badain Jaran Desert. "That's why it will see the number of tourists increasing every year. Hiking in the desert provides the tourists a unique experience, as each person has his or her own way of interpreting and appreciating the beauty and vast expanse of a desert," Da said.
"We have been facing fierce competition from neighboring Gansu province and the Ningxia Hui autonomous region," Da said.
Perhaps that is why the local government helps us to modernize infrastructure, standardize services and improve management. We have been invited to take part in tourism promotion activities in Guangdong province and the Guangxi Zhuang autonomous region, Da added. "We still have a lot to do to explore Alshaa's potential in tourism development."
Zhong Yanmei, 33, a hotel manager and an avid traveler, visited Alshaa in August with her family after watching a video clip on a social media platform. Zhong and her family drove in their own car to reach Alshaa and spent three days on the Tonghu grassland, where a meadow meets the desert. She has recommended it to her friends.
"It is not only the breathtaking natural landscape but also camel riding, horse riding, sand surfing and the evening bonfires that have enriched our diverse traveling experiences," Zhong said. She hopes to check into a new hotel that has opened in the scenic area next time, so she can immerse herself in nature and enjoy Mongolian culture.