Chinese Jiang and Zhang shoot down 10m air pistol mixed team gold at Hangzhou Asiad
Share - WeChat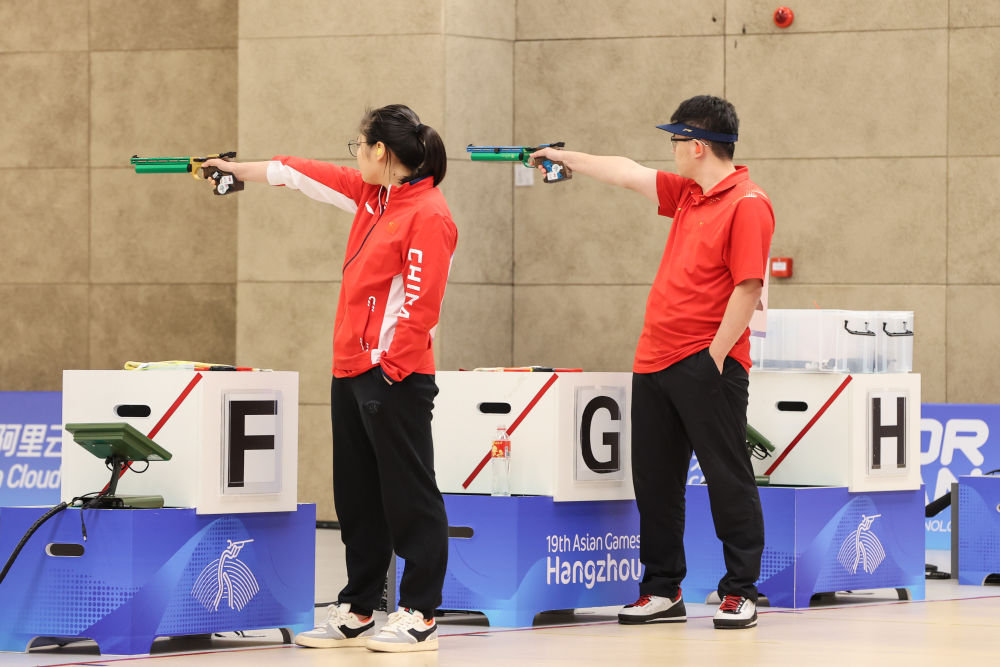 HANGZHOU - China's Jiang Ranxin and Zhang Bowen edged their Indian rivals in the 10m air pistol mixed team event of the Hangzhou Asian Games to win the gold on Saturday.
At the 2023 Shooting World Championships, both Jiang and Zhang won their individual titles of 10m air pistol. Therefore, the pair formed one of the top favored teams in this event.
In the final, they had tied with the Indian shooters 11-11 and 14-14 before the last round, when the Chinese team shot 21.0 points while the Indians scored 20.4. In the end, China won the champions 16-14, with Indian shooters Sarabjot Singh and Divya Thadigol Subbaraju snatching the silver. Participants from Iran and South Korea shared the bronze.
This is Zhang's first Asian Games gold medal, after he failed to win the championship in men's 10m air pistol team and individual competitions.
"After two days of training and under the coach's guidance, I corrected some of the errors I made in previous events and got a good result. Next, I hope that I could improve my comprehensive ability to prepare for the Olympic Games," said Zhang.
Jiang Ranxin won her second Asian Games gold after being crowned in women's 10m air pistol team event.
"I was a little behind at the beginning, and I felt I was holding my team back," she said after the match, "The coach helped a lot. After calling a timeout, she told us to focus on ourselves and not to worry. Then I adjusted my form."
Sunday is the last competition day of shooting at Hangzhou Asian Games, which will generate gold medals in men's and women's trap events.