Construction of port boosts career prospects of young engineer
Share - WeChat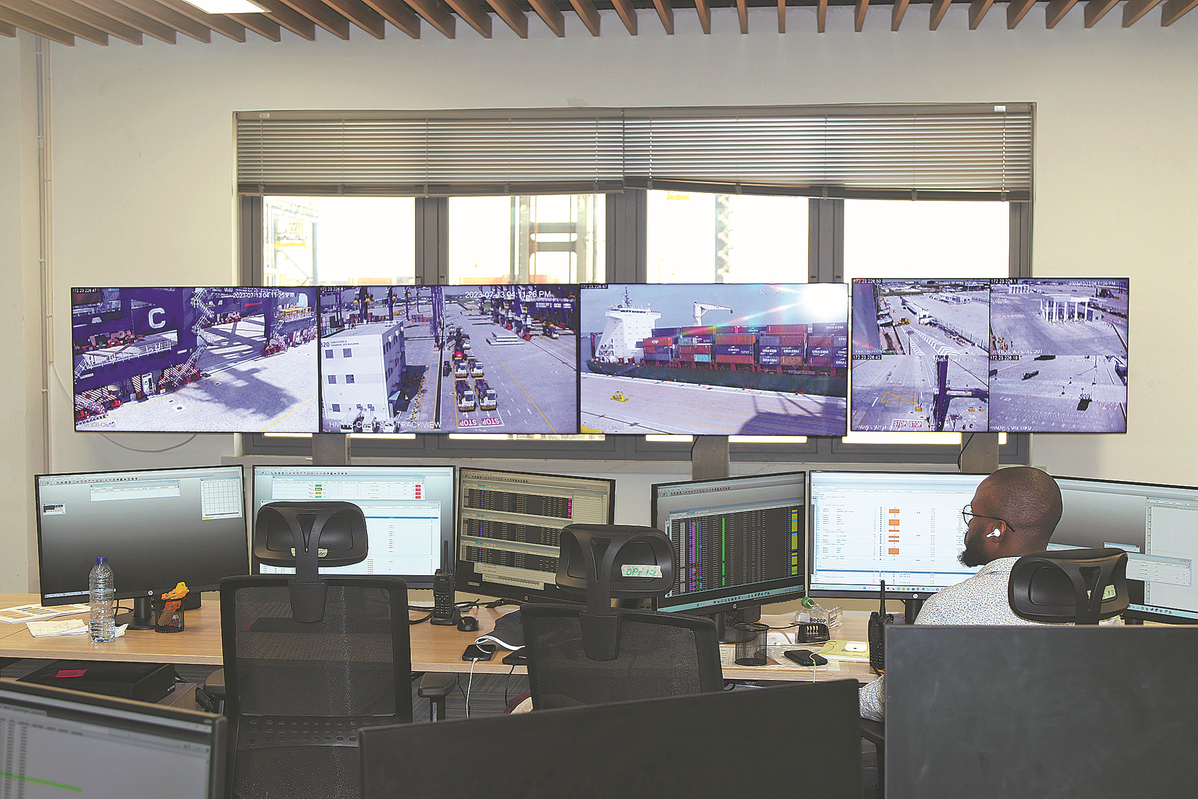 Before we settled down for a conversation, Mathew Oloyede, the civil asset manager at Nigeria's Lekki Deep Sea Port in Lagos, accompanied China Daily journalists on a tour of the $1.1-billion infrastructure located on a 90-hectare section of coastal land.
As they took in the vast expanse of the port from atop a ship-to-shore crane in operation at the port, Oloyede said it was his first time on the crane because he was afraid of heights.
Oloyede started his career as a young engineer in 2008 after his studies, and he was lucky to get a job at the Nigerian arm of the global manufacturing company Tolaram Group.
In 2020, when China Harbour Engineering Company and Tolaram Group started the construction of the Lekki Deep Sea Port, Oloyede got a big opportunity when he was appointed to work on the project.
"I studied for a bachelor's degree in architecture and I have a master's degree in housing and construction development. That is why, it was a good opportunity for me to work on-site as Nigeria and West Africa's only deep-sea port was getting constructed," he said.
Oloyede has witnessed tremendous growth in his career and personal life at a young age. He has risen through the ranks from a project manager to a project coordinator, and now, he serves as the civil asset manager overseeing civil assets at the port.
The engineer credits his career growth to the opportunities offered by the port construction.
"One of my philosophies in life is that your environment determines who you are. In Nigeria, we have very few marine infrastructure specialists. When I started working at the port, I was lucky to be mentored by a number of experienced marine architects, some of whom had worked in the Netherlands and some in China, and they helped me grow in my career," he said.
According to him, his biggest advantage was getting a chance to work with Chinese engineers involved in the conceptualization, simulation and training as the port project progressed.
He said the construction of the port is an opportunity to enrich Nigeria's knowledge in engineering because local engineers can witness and learn how to put up such a massive infrastructure from inception to construction and operation.
Apart from climbing up the career ladder, the engineer added that his personal life too has seen are markable change. A proud father of two daughters, he started his family while working on the project, which gave him financial stability at a time when jobs were hard to come by in Nigeria.
"With career development, I have witnessed remuneration growth as well," he said.
Oloyede believes the growth opportunities brought about by the port are significant as it can generate both direct and indirect employment for up to 170,000 people.
"Being the first deep-sea port in West Africa, I know the port will eventually make our country a maritime hub in the region with a huge positive impact on our economy. We have started offering services which we could not offer before in Nigeria like transshipment, where a bigger vessel can dock at Lekki port and we transfer the cargo to several other smaller ships as they move the goods further," Oloyede said.
The multipurpose port was completed in time despite the COVID-19 pandemic. It includes well-designed marine infrastructure such as container, dry bulk, and liquid terminals, which was constructed in a record time of two years, between 2020 and 2022. It also has three container berths, three liquid berths and one dry bulk berth.
otiato@chinadaily.com.cn