Rejecting call for cease-fire means killing more civilians
Share - WeChat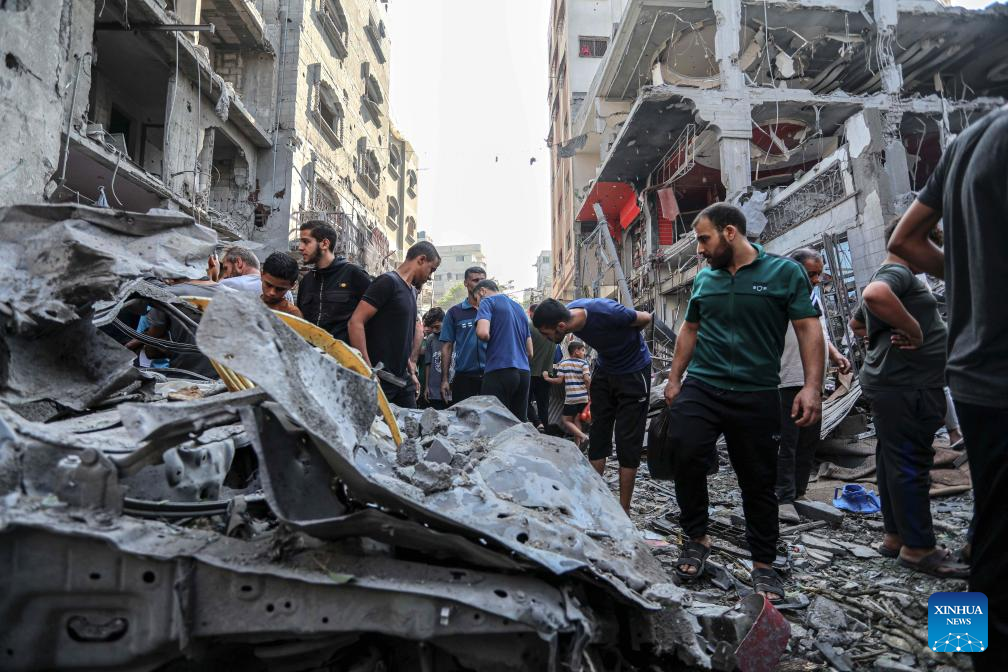 Leaders who have refused to call for immediate cease-fire in the Gaza Strip have become an accomplice to war crimes as a total of 8,805 people, including 3,650 children and 2,252 women, have been killed in Israel's bombardments over the past three weeks. The numbers are rising rapidly.
The situation has become so dire that UNICEF, the United Nations agency for children, said on Tuesday that "Gaza has become a graveyard for thousands of children. It's a living hell for everyone else".Almost half of Gaza's 2.3 million population are children.
Philippe Lazzarini, head of the UN Relief and Works Agency for Palestine refugees, told the UN Security Council on Monday that the entire population of Gaza is becoming "dehumanized". He decried Israel's "collective punishment" and said that a cease-fire has become a matter of life and death for the 2.3 million people.
The reckless, brutal bombing in densely populated areas has been truly appalling. On Tuesday, Israel claimed that it eliminated a Hamas official during its air strike in Jabalia refugee camp. No one knows whether the Hamas official was actually killed, but for sure dozens of innocent people, including children, were reportedly killed in the raid.
World Health Organization Director-General Tedros Adhanom Ghebreyesus on Tuesday denounced Israel's bombing around the Turkish-Palestinian Friendship Hospital, the main cancer facility in Gaza where services are no longer functional after Israel severed electricity supply (along water, food and medicine supplies) to Gaza, and restricted the entry of medicine and other supplies. In some hospitals in Gaza, doctors had to operate patients in the hallways, without anesthesia.
Despite the tragedy playing out in Gaza, Israeli Prime Minister Benjamin Netanyahu has dismissed global calls for a ceasefire or temporarily halt the fighting to enable emergency aid deliveries of food, medicine, drinking water and fuel. This is despite the warning by International Criminal Court's Prosecutor Karim Khan that blocking humanitarian aid could be a war crime.
The US administration has been an enabler of the humanitarian crisis. The Huff-Post reported on Oct 13 that US State Department officials instructed staff to make sure press materials do not include three specific phrases: "de-escalation/cease-fire", "end to violence/bloodshed "and "restoring calm".
The US is one of the 14 countries which last Friday voted against Jordan's motion at the UN General Assembly, calling for a sustained humanitarian truce leading to a cessation of hostilities. An overwhelming 120 countries, including China, voted for the motion in a powerful message by the international community.
Washington has fully endorsed Israel's military operations in Gaza. On Tuesday, US Secretary of State Antony Blinken was speaking at a Senate hearing for $14.3 billion in military assistance to Israel when he was disrupted by angry protesters, not once but multiple times with their palms painted "bloody" red and repeatedly yelling "cease-fire now" and "you have blood on your hands".
The US insists that a "cease-fire will only benefit Hamas". But for the rest of the world, a cease-fire will help save countless, innocent lives in Gaza.
The White House's indifference to the suffering of Palestinian people is shocking. US President Joe Biden challenged the accuracy of the death toll in Gaza instead of condemning the slaughtering of civilians, prompting the Palestinian health ministry in Gaza to publish the full list of names with ID numbers of the more than 6,000 people killed.
Calling for a cease-fire has also become politically incorrect in parts of Europe. Paul Bristow, a Conservative MP, was fired on Monday from his government job at the Department for Science, Innovation and Technology after urging British Prime Minister Rishi Sunak to call for a "permanent cease-fire" in Gaza.
But like US leaders, Sunak was also alone as demonstrated by the half a million people pouring into the streets in London on Saturday in support of Palestine and calling for a cease-fire.
History will prove that those who refused to call for immediate cease-fire have blood on their hands.
The author is chief of China Daily EU Bureau based in Brussels.
Most Viewed in 24 Hours
China Views