CIIE's key global role hailed
By XU WEI in Beijing, LIU ZHIHUA and CHENG YU in Shanghai | chinadaily.com.cn | Updated: 2023-11-06 00:31




Share - WeChat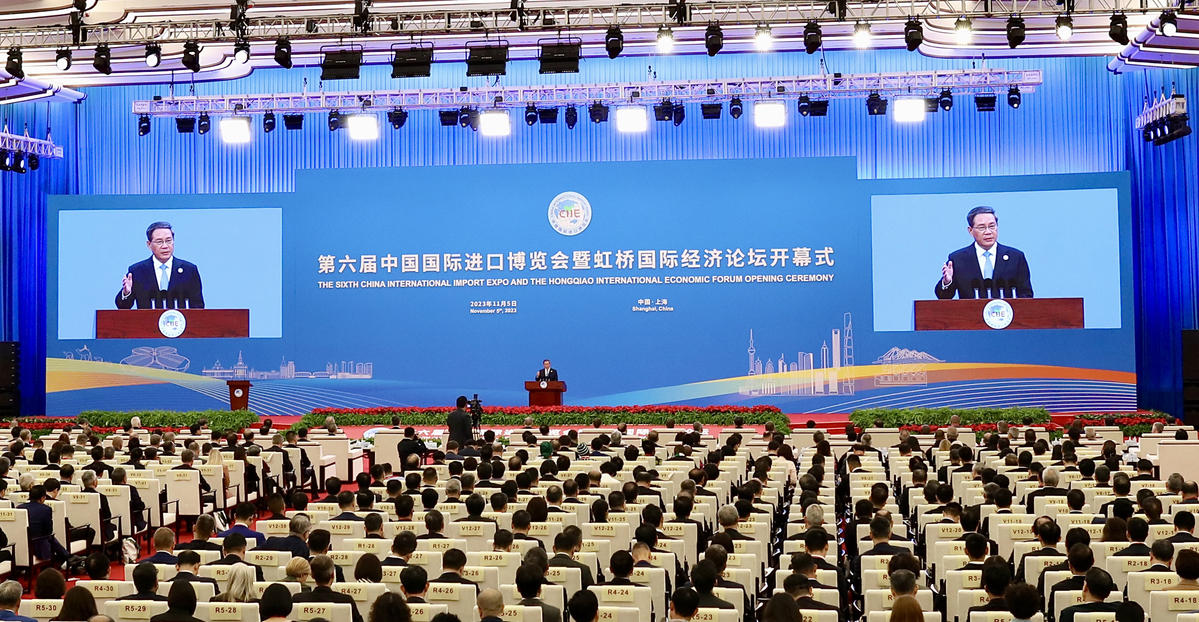 President Xi calls for intl solidarity; dividends to be huge, Premier Li says
China will always provide important opportunities for global development, and the nation will remain committed to high-level opening-up and driving economic globalization in a more open, inclusive, balanced and win-win direction, President Xi Jinping said on Sunday.
In a letter to the sixth China International Import Expo, which opened in Shanghai on Sunday and runs through Friday, the president emphasized the need for various nations to stand in solidarity and jointly seek development amid the sluggish global economic recovery.
The CIIE, first held in 2018, has leveraged the strengths of China's huge market and serves as a platform for international procurement, investment promotion, people-to-people exchanges and open cooperation, which has contributed to fostering a new development pattern and global economic growth, Xi noted.
He laid out expectations that the annual expo can elevate its function as a gateway to the new development pattern and present new opportunities to the world with China's fresh development.
The expo should fully amplify its role as a platform for facilitating high-level opening-up, make the Chinese market a major one shared by the world, further provide shared international public goods and services, and facilitate the building of an open global economy, so that the whole world can benefit from win-win cooperation, Xi said.
Premier Li Qiang, in his keynote speech at the opening of the expo, reiterated Beijing's commitment to advancing opening-up with greater market opportunities, proactively expanding imports and further creating immense dividends for the world by putting in place negative lists for cross-border trade in services.
China's imports of goods and services are expected to reach a cumulative $17 trillion in the next five years, he said.
The nation will move forward with opening-up with better alignment in rules, and it will develop more high-level opening-up platforms such as pilot free trade zones and the Hainan Free Trade Port, he said.
He repeated China's readiness to join the Comprehensive and Progressive Agreement for Trans-Pacific Partnership and the Digital Economy Partnership Agreement as part of broader efforts to widen market access and protect the legitimate interests of foreign investors.
Li pledged to advance opening-up with greater impetus for innovation, including steps to bolster cooperation in innovation, share the outcomes of innovation and break the barriers that constrain the flow of innovation elements.
He highlighted the need to deepen reform in the digital economy sector and enable the free flow of data in a lawful and orderly manner.
Beijing will firmly uphold the authority and effectiveness of the multilateral trading system, fully participate in the reform of the World Trade Organization, and firmly promote the stability of global industrial and supply chains, he added.
The expo's opening ceremony brought together about 1,500 representatives from 154 countries, regions and international organizations.
The premier met separately in Shanghai with Cuban Prime Minister Manuel Marrero Cruz, Serbian Prime Minister Ana Brnabic and Kazakh Prime Minister Alikhan Smailov, who were among leaders attending the ceremony.
The leaders visited expo booths after the opening ceremony.
Global trade experts and business leaders at the ceremony hailed China's firm determination to expand opening-up, which they said will inject positive energy into the world economy and the development of companies across the world.
Rebeca Grynspan, secretary-general of the United Nations Conference on Trade and Development, said: "As President Xi has said, development is not a zero-sum game. One nation's success does not mean another's downfall.
"In a multipolar world, healthy competition, trade based on internationally agreed rules and greater cooperation must be the way forward," she said.
The CIIE is a powerful and well-established platform and a symbol of China's commitment to balanced trade relations with the rest of the world, especially with developing countries and small and medium-sized enterprises, she added.
Wang Lei, global executive vice-president of UK company AstraZeneca and president of its China branch, said the company is deeply impressed by Chinese authorities' strong signals to uphold globalization and expand opening-up.
"We will announce the latest investment progress in China during the CIIE and will always increase investment in the country on research and development, innovation and production capacity," he said, adding that the Chinese economy is stable and the company is determined to deepen its roots in China.
Toshinobu Umetsu, president and CEO of Japanese company Shiseido's branch in China, said that amid the global economic downturn, China's determination to build an open economy has injected much certainty and vitality into the world economy.
"China's huge market potential and leading economic growth have benefited the sustainable growth of Shiseido and many other multinationals. Shiseido's confidence and determination to invest in China have never been weakened," he said.
United States-based multinational companies, in particular, are very bullish on their business prospects in China.
Jin Fangqian, vice-president of Gilead Sciences and general manager of its China operations, said that China, with its ever-improving business environment, is set to provide more growth opportunities for multinational enterprises as the country expands opening-up.
Will Song, global senior vice-president of Johnson & Johnson, said the company firmly believes that China's development will give new impetus to the world's development, and China's innovation will play an increasingly important role in the global arena.
"During recent years, we have seen an acceleration in the introduction of innovative products and services into China. Equally important, we continue to notice a rise in on-the-ground innovation happening among global collaborations," Song said.
"Johnson & Johnson is committed to supporting the Chinese government to build a high-quality healthcare system to serve the Chinese population, as well as making contributions to China's modernization. The next era of innovation is here in China," Song added.
Contact the writers at xuwei@chinadaily.com.cn