Albania agrees to help Italy with new arrivals
By JONATHAN POWELL in London | China Daily Global | Updated: 2023-11-08 10:04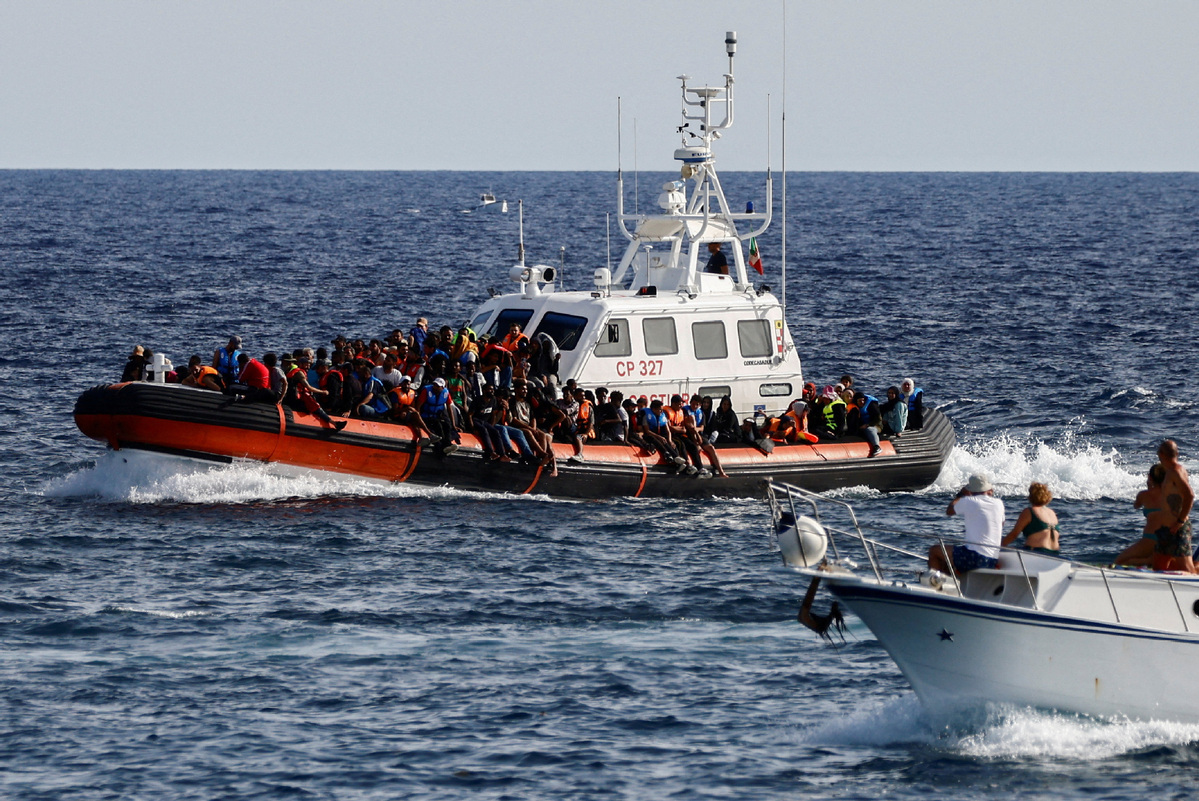 Italy has reached an unprecedented agreement to build two migrant centers in Albania, marking the first arrangement of its kind between a European Union member country and a non-EU state, with the aim of providing temporary accommodation for migrants rescued at sea.
Announcing the initiative alongside Albania's Prime Minister Edi Rama at a news conference in Rome, Italy's Prime Minister Giorgia Meloni said: "Illegal immigration is a phenomenon no EU member state can handle alone."
Italy will bear the cost of constructing the two centers in the port of Shengjin and in the Gjader area in northwest Albania, with a vision of housing approximately 3,000 people by the centers' opening next year, and escalate their capacity to process 36,000 migrants annually, reported news agencies.
Tirana would manage migration flows as part of the deal, said Meloni.
"Italy is Albania's top trading partner," she added. "There is already close collaboration in the fight against illegality."
Meloni, who is leader of the rightwing nationalist Brothers of Italy party, came to power last year and has vowed to manage immigration, yet Italy has experienced nearly double the number of migrant arrivals year-on-year, with more than 145,000 people arriving in the country by sea so far this year compared to approximately 88,000 last year, reported Politico.
With the influx of migrants from outside the EU, far-right parties across Europe, gaining momentum in polls through anti-immigration campaigns, are demanding a stricter stance on migration.
Sources in the Italian prime minister's office, cited by The Guardian newspaper, described the agreement as "historic", not only for Italy, but for the "entire EU".
The initiative will only target migrants rescued at sea by Italian boats, and not those who reach Italian shores, said Meloni.
According to the Italian premier, minors and pregnant women will not be sent to the centers, and Albania will deport migrants whose asylum requests are rejected by Italy, with the centers falling under Italian jurisdiction and external security to be provided by Albania.
The BBC reported Meloni as saying that, although Albania is not an EU member state, "it is already behaving like one". She added that she believes "Albania is, for all intents and purposes, a European country" and voiced support for it gaining EU membership.
Speaking in Italian, Rama said Albania has a warm relationship with Italy. He said: "Everyone can see this is a difficult situation for Italy. Geography has become a curse for Italy, because if you arrive in Italy, you arrive in the EU. But when it comes to managing these arrivals as the EU, we know how things go."
The arrangement has drawn fierce criticism from opposition politicians in both Italy and Albania.
Quoted by The Guardian, Riccardo Magi, the president of the left-wing More Europe party, said: "They are creating a sort of Italian Guantanamo, outside of any international standard, outside of the EU without the possibility of monitoring the detention status of the people locked up in these centers."
Agence France-Presse quoted Italy's Green party leader Angelo Bonelli as saying the agreement was a "blatant violation of conventions and international law".