ASEAN meet covers regional security issues
By LEONARDUS JEGHO in Jakarta | China Daily Global | Updated: 2023-11-17 09:16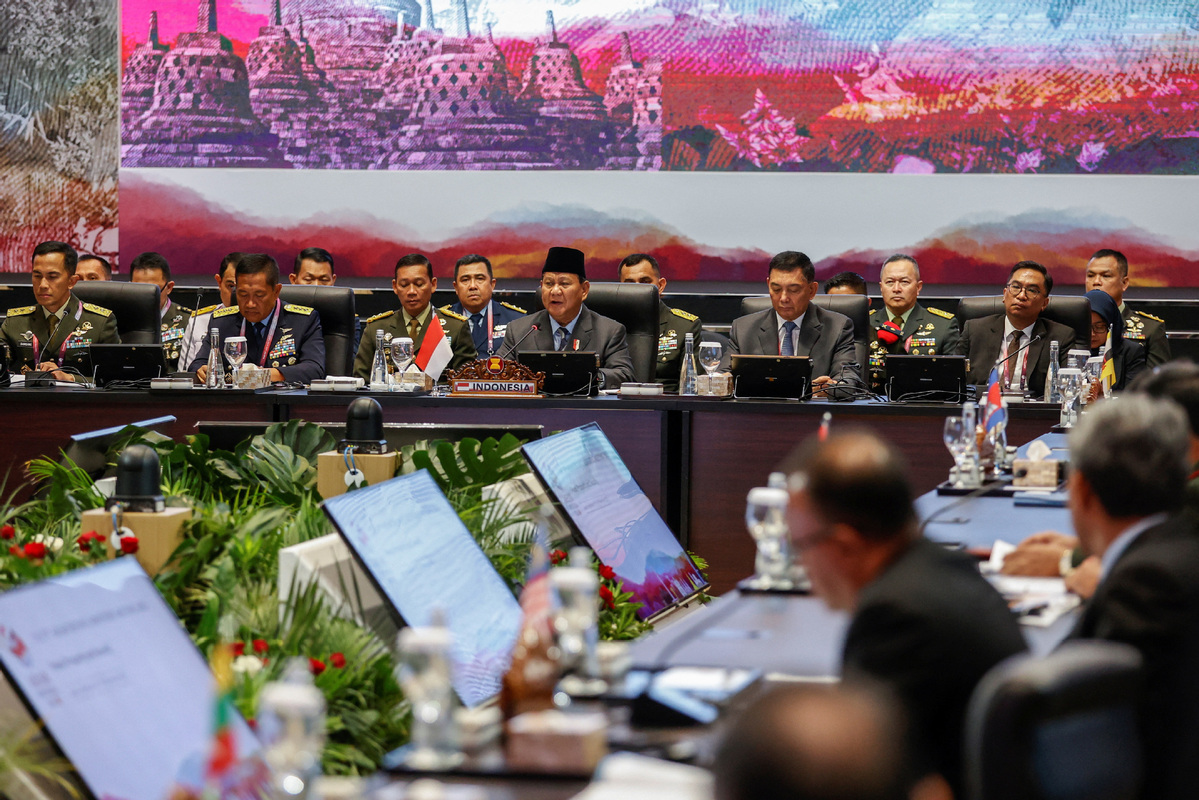 Defense ministers' agreements include counterterrorism and humanitarian aid
Defense ministers of the Association of Southeast Asian Nations and representatives of their forum partner countries reached a number of agreements on issues related to regional security in the past two days.
The agreements reached by the ministers and delegates at the meetings included maritime security, counterterrorism, humanitarian aid, disaster mitigation, peace maintenance operations, military medical affairs, actions against mines, cybersecurity, and women's roles in peace maintenance activities.
Indonesian Defense Minister Prabowo Subianto said on Thursday that a statement from the meetings was asking countries with great influence to use it for ending the Gaza conflict.
Subianto chaired the 17th ASEAN Defense Ministers' Meeting, or ADMM, in Jakarta, on Wednesday, when ministers agreed to strengthen defense and security cooperation among its 10 members. Timor-Leste as its observer member attended this year's meetings for the first time.
On Thursday, he chaired the 10th ASEAN Defense Ministers' Meeting Plus, or ADMM-Plus, a platform with its eight dialogue partners Australia, China, India, Japan, New Zealand, the Republic of Korea, Russia and the United States.
The forums aim to strengthen security and defense cooperation for peace, stability and development in the region, Subianto said.
ASEAN members are discussing the possibility of more countries joining its forum of defense ministers.
"Several countries have registered to join and it is being discussed as any decision made in this forum must be made as a consensus," Subianto told the media on Thursday after the meetings. Those countries requesting to join include the United Kingdom, France, and the European Union.
Subianto said ASEAN is not a military pact but an economic cooperation bloc that constitutes quite a big market, and he supports additional countries joining the ADMM-Plus considering the current development of geopolitics.
On Wednesday, the ASEAN ministers agreed to deepen defense cooperation in building regional resilience in the post-pandemic era and support cross-pillar and cross-sectoral coordination.
Their statement said the ministers also underscored the significance of maintaining regional peace, stability and safety while pursuing peaceful solutions to disputes in accordance with international law.
Peace, stability
"Peace and security are fundamental building blocks for economic prosperity and social progress," Subianto said in his opening speech at the annual meeting of ASEAN defense ministers. "Without peace and stability, it is impossible to attract investment, promote trade and ensure the well-being of our peoples and societies."
Answering reporters' questions on the South China Sea issue, Subianto said: "Surely, we will continue to push for efforts to produce a code of conduct, a permanent procedure, which is meant to avoid possible misunderstanding, possible and unintended incidents as we do not want to see a rise in tensions."
He also said he was concerned about the situation in Myanmar. "We support Myanmar's efforts to find a peaceful and durable solution."
On Wednesday, the ADMM also discussed a number of defense and security issues such as the dynamic of geopolitics and strategy in regional and global contexts, defense cooperation within the ASEAN framework, as well as cooperation between ASEAN and its key partners, which, together with ASEAN, form ADMM-Plus.
Yang Han in Hong Kong contributed to this story.
The writer is a freelance journalist for China Daily.